9-1-1 Spoilers: Buck's Mission To Find Christopher Is 'Do Or Die'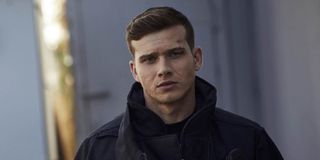 Spoilers ahead for Season 3 of 9-1-1**.**
Tis the season for tsunamis. Last night, Fox's 9-1-1 delivered an intense episode that finally brought the heavily teased tsunami to the shores of Los Angeles. Oliver Stark's Buck was at the Santa Monica Pier with Eddie's son Christopher, and they were two of the first characters to suffer through the disaster. In the midst of it all, Buck fought for both their lives, though Christopher was lost in the flooding at the end of the episode. His fate is still up in the air, though (while another character's fate is no longer in question).
While fans may not find out what happened to Christopher until next week, Oliver Stark promises that Buck will do his best to find him, but that it's a precarious situation. Speaking with TheWrap, Oliver Stark opined about what Buck will be going through in Episode 3 and the immense responsibility he'll feel when attempting to find and save Christopher. In his words:
Basically, everyone should ready their tissues and prepare for a huge emotional aftershock. Buck will be frantically searching for Christopher in Season 3, Episode 3, and the episode photos sadly haven't offered any clues as to whether Christopher actually survived. Thus, everyone is left biting their nails, waiting for either dreadful or hopeful news.
What makes matters worse is that Christopher has cerebral palsy, and at only eight years old, he may not have been able to wade his way through the torrential flooding. What will Buck even tell Eddie (Ryan Guzman), Christopher's dad, when he sees him again? It's a tough situation all around, and there's no doubt that Buck will be wracked with guilt until he's found.
The tsunami on 9-1-1 truly did a number on the characters, and what made things even more realistic was the mixture of practical and CGI effects. Showrunner Tim Minear revealed that they used the gigantic water tanks from Titanic and built whole streets (and a ferris wheel) that could then be destroyed in the wreckage. It made the impact of the tsunami that much more intense and terrifyingly real.
Fans will hopefully see Chistopher's safe return in next week's episode of 9-1-1, which airs Mondays at 8 p.m. ET on Fox. If you're looking to have more TV in your lives, be sure to check out our complete list of every new and returning show premiering this fall.
Your Daily Blend of Entertainment News
Thank you for signing up to CinemaBlend. You will receive a verification email shortly.
There was a problem. Please refresh the page and try again.