Empire Showrunner Addresses Hakeem's Absence From Final Season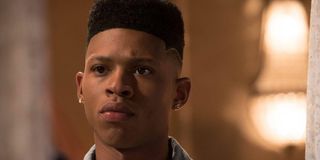 Empire Season 6 has only aired three episodes, but fans have noticed the absence of Bryshere "Yazz" Gray's Hakeem. The youngest Lyon son has been notably missing from two of the three episodes and he only appeared ever so briefly in the Season 6 premiere. After Jussie Smollet's exit from the show, it's become suspicious for an actor to go missing. However, there's a good reason for why Hakeem hasn't been on Empire.
Though it was revealed that Jamal Lyon had moved away for good last season, Hakeem's absence hadn't really been explained on the show. Per TVLine, Empire showrunner Brett Mahoney says that the reasons for Hakeem's absence were hinted at in the Season 6 premiere when he declared he wanted to be an actor.
It's a bit odd considering that Hakeem had never expressed a passion for acting prior to the Season 6 premiere and it still doesn't explain Bryshere Gray's abrupt, but temporary, leave of absence. While sources revealed that his leave is primarily due to "personal reasons," it's unclear what that entails or when he'll be back.
Bryshere Gray is the second Lyon to disappear from Season 6. Jussie Smollet's high-profile and controversial arrest earlier this year ended with him being written off of Empire. Smollet had been arrested for allegedly fabricating an assault, though the charges were later dismissed. Still, his run on the show ended with his marriage in Season 5, Episode 16. It was later explained that he was "taking a sabbatical from the family" and moving with his husband to London.
Although Hakeem will be gone for an undisclosed amount of time, Empire has a lot of other running storylines to keep fans occupied. Season 6, Episode 2 saw Cookie being held at gunpoint by Damon Cross. In Episode 3, the show went through with the threat and Damon wound up shooting Cookie in the leg. After spending some time being angry with Lucious and Cookie's conniving ways, Damon finally exacted his revenge. As all things on Empire, Damon's success didn't last long, although the episode teased that he might be gone for good.
Empire Season 6 was announced as its last, with Terrence Howard recently revealing that he wanted to be "done with acting" after the show ends. Whether or not that happens remains to be seen. Until then, fans can enjoy watching Howard as Lucious and Taraji P. Henson as Cookie for one more season.
Empire Season 6 airs Tuesdays at 9 p.m. ET on Fox. In the meantime, be sure to check out our complete guide to every new and returning show premiering this fall.
Your Daily Blend of Entertainment News
Thank you for signing up to CinemaBlend. You will receive a verification email shortly.
There was a problem. Please refresh the page and try again.