Empire Showrunner Explains What Happens To Jussie Smollett's Jamal In Season 6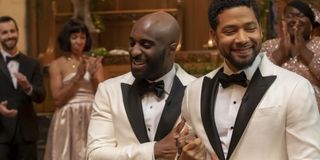 TV writers are no strangers to rewriting storylines or character arcs when something in real life affects a series' season. Superstore wrote in America Ferrera's pregnancy at the end of Season 3, while Friends added in Monica and Chandler's struggle with infertility to echo Courteney Cox's own experiences. Empire is now doing something similar with Jussie Smollett, who was written out of the show at the end of Season 5 following a controversial and high-profile arrest.
Jussie Smollett, who played Jamal Lyon on the successful Fox series, got tangled up with the law earlier this year when he stated that he'd been attacked by two men who used racial and homophobic slurs. Later, Smollett was arrested for allegedly fabricating the whole ordeal and lying to police about it, but the charges against him were finally dismissed in March. The case and the bad publicity he was getting didn't bode well for his run on Empire, and in June it was confirmed that he would not return to the show.
In Season 5, Episode 16, "Never Doubt I Love," Jamal finally married Kai and that was the last we saw of Jamal. So how will the show explain his absence? Empire showrunner Lee Daniels spoke with TVLine about how the series will handle Smollett's departure and what lies ahead in terms of Jamal's future.
Jamal and Kai will therefore stay in London. For what it's worth, Jamal's storyline at least ended on a happy note. Having spent five seasons being at odds with Lucious, played by Terrence Howard, Jamal struggled for a long time with his father's disapproval, with Jamal's sexual orientation being a major point of contention. Not only that, the Lyons family has always been in the public eye living a fairly dramatic life, so Jamal wanting a break from all of that makes sense within the scope of the story.
Prior to Jussie Smollett's departure, it seemed Fox and Lee Daniels were still open to keeping Smollett on Empire, and the actor was even signed on for the show's sixth season. So it came as a bit of a surprise when the offer was rescinded and Smollett found himself out of a steady job.
The show must go on, however, and Empire recently cast Lethal Weapon actress Keesha Sharp in a recurring role. Sharp will play Paula Wick, a doctor with a lot of compassion, though no other details about her character have been confirmed.
Empire Season 6 will premiere Tuesday, September 24 on Fox at 9 p.m. ET. For all your TV needs, make sure to check our handy fall schedule.
Your Daily Blend of Entertainment News