The Orville Season 3: Why Moving To Hulu Is Great For Seth McFarlane's Show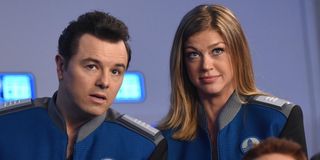 The Orville went out with a bang in Season 2, and just when fans were getting antsy about whether or not Fox would renew it for Season 3, some interesting Orville news surfaced. Fox opted not to order up for Season 3, but it would be headed on over to Hulu to resume its story of Captain Ed Mercer and the rest of the Orville crew, and everyone involved was pumped, at least on the show side of things.
Fans' responses to Hulu's pick-up of The Orville was mixed. On one hand, fans will be getting bigger episodes of The Orville in Season 3, but then there's the downside that anyone who doesn't have Hulu will now need to pay a subscription fee to resume watching the former network (i.e. free) television series. Some may feel like it's a big bummer that The Orville Season 3 is shifting to streaming, but there are plenty of reasons to be psyched about the upcoming episodes.
Longer Episode Times
While it is a bummer that The Orville will have a shorter episode count for Season 3 on Hulu, it's worth noting that all eleven installments will have longer runtimes. That means more time to play out episodic arcs and, apparently, more time for Bortus to hop on the mic. While it's not exactly known yet how much additional time viewers will get, the current word is that Seth MacFarlane's space drama will get an additional 12-15 minutes an episode in Season 3.
The main takeaway here is that, despite the shake-ups, The Orville Season 3 will overall be just as long as Season 1 or Season 2, time-wise. As an additional positive, more minutes in each episode means more time for wacky sub-plots, and less impetus to cut scenes solely to fit with network constraints. It may not feel like a big deal, but I'll be surprised if audiences aren't commenting on the show's improvement with this bonus time added on.
No Network Restrictions On Hulu
As mentioned above, there are some hard and fast rules that producers have to follow with shows airing on major television networks. Time restrictions are a big part of the rules, sure, but there's also the expectation to uphold the guidelines of common decency. The FCC has a lot of regulations, and violating any one of them can potentially lead to big fines for a network, and additional repercussions for shows like The Orville.
Now that the show is on Hulu, I wouldn't be surprised if The Orville Season 3 got slightly raunchier. Granted, going too over-the-top with it would jeopardize the classic Star Trek formula the series used for inspiration, but going into its third season, it wouldn't be surprising if series started further differentiating itself from old school Star Trek adventures. Leaning into Seth MacFarlane's penchant for raunchy humor would be one way of doing that, though MacFarlane may also want to keep The Orville distanced from Family Guy comparisons.
Traditional Television Ratings No Longer Matter
If there's one common enemy that most science fiction television shows have, it's the traditional television ratings structure. Many classic shows have been a victim to low viewership over the years, and even Star Trek got cancelled in its original run. The Orville's fate was unknown at the end of Season 2, in part due to a slowly dwindling viewership, so it was a legitimate question whether or not Seth MacFarlane's series would survive to see Season 3.
Of course, The Orville Season 3 will still be subject to audience viewership measurements and demo-related stats, though it's worth noting that overall viewership and subscriber growth are often more important in the world of streaming. As long as enough people are signing up and logging in to watch The Orville, then fans would hopefully be safe in believing this show will see more seasons on a digital platform than it ever would've on traditional network television. That's certainly worth the price of subscription in my eyes.
Continuing The Orville Opens The Door For Spinoffs
The Orville put a lot of effort into expanding its central lore and fleshing out the areas that the crew lives in and visits. Typically, showrunners who take that route aren't only looking to expand the narrative territories in just one series, but are also interested in opening the door up to potential spinoff tales to be told elsewhere within this universe.
Back when The Orville Season 3 was still likely destined for Fox, the odds of a spinoff felt very low, given the expenses and lack of room on the schedule. Now that it's on Hulu, where original content is king and schedules don't exist, it isn't so hard to see a reality where, at some point down the line, fans get word about development on a new series that further expands on the rich universe that Seth MacFarlane and his Orville crew are working so hard to build.
Fox Has A Notoriously Bad Reputation With Great Sci-Fi
Imagine if Fox had renewed The Orville for Season 3, and the move to Hulu never happened and was never an option. Ratings would likely start to fall – The Orville's ratings were already down from Season 1 – and all of a sudden, the show starts getting bounced to different days of the week, it gets frequently mentioned in on-the-bubble conversations, and cast members start heavily encouraging fans to keep tweeting out encouragements to watch the show. Hypothetically speaking, of course.
Seth MacFarlane's The Orville is a great show, but we've seen terrible things happen to good genre shows on Fox, such as Firefly, Terra Nova, and even Sleepy Hollow, which went through a quasi-reboot before getting axed. The Orville might have survived indefinitely at Fox, but history dictates it could've just as easily been the next Terminator: The Sarah Conner Chronicles, Almost Human, or Futurama. (Isaac does have a shiny metal ass for others to kiss.) Basically, The Orville Season 3 arriving at Hulu was a gift, and it eliminates the possibility of MacFarlane's live-action dramedy becoming yet another great sci-fi that Fox sacrificed.
Are Star Wars And Star Trek A Part Of The Orville Universe? Seth MacFarlane Actually Responds
Will you be paying to see The Orville make its debut on streaming? Sound off on our poll and keep in mind that the Seth MacFarlane series is set to arrive on Hulu in late 2020. CinemaBlend will continue to report on all the biggest details ahead of Season 3, so stick with us for that and for all the latest news happening in the world of television and movies during the fall season.
This poll is no longer available.
Your Daily Blend of Entertainment News
Mick likes good television, but also reality television. He grew up on Star Wars, DC, Marvel, and pro wrestling and loves to discuss and dissect most of it. He's been writing online for over a decade and never dreamed he'd be in the position he is today.
Your Daily Blend of Entertainment News
Thank you for signing up to CinemaBlend. You will receive a verification email shortly.
There was a problem. Please refresh the page and try again.