Arrow's Stephen Amell Previews 'Best Episode Ever' Coming In Final Season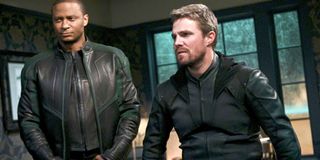 Arrow's eighth and final season premiere aired last night and it was a callback to the pilot in so many ways. It felt old, but different, but that's mainly because Oliver wasn't on his own earth, but had gone to Earth-2 to acquire Dwarf star particles for The Monitor. While it was a great episode and a strong start to the season, series star Stephen Amell teased that it's actually Season 8, Episode 6 that is the "best episode ever."
Stephen Amell is nothing if not a hype man for Arrow. The actor, who plays Oliver Queen on the Arrow-verse series, is usually on social media, teasing fans about what to expect from the season and dropping in behind-the-scenes nuggets.
Prior to the Season 8 premiere, Stephen Amell took to Twitter to share his excitement for the sixth episode of the season, which will be directed by none other than his co-star, David Ramsey, who plays John Diggle. If fans thought the premiere was one of the best episodes, then Amell assures viewers they haven't seen what the best of Arrow Season 8 will look like just yet.
Never one to leave his friend hanging, David Ramsey responded in kind.
The sweet exchange was just an example of the bond they share and how much they enjoy working together. It also worked to ramp up the excitement for what's to come this season.
If that wasn't enough, David Ramsey wants the chance to direct Stephen Amell again, so it leaves the door open for either Oliver to show back up in the Arrow-verse at some point, or Ramsey could direct an episode of Amell's new Starz series, Heels. The latter is more of a possibility considering that the "Crisis on Infinite Earths" crossover has fated Oliver to die.
Speaking of Oliver's fated death, the Season 8 premiere of Arrow immediately began with his new mission for The Monitor. The cosmic entity didn't reveal what he needed the Dwarf star particles for, but he was adamant that Oliver do his bidding regardless. Still, the Green Arrow struggled a bit with leaving his family behind while he's in the midst of a mission and the countdown to the end of his life. Being a hero is hard.
If the premiere is any indication, Arrow Season 8 is gearing up to be a great season (even though the show killed off Earth-2 and its inhabitants). However, given the hype from Stephen Amell and David Ramsey, we'll be waiting with bated breath for Episode 6 specifically.
Arrow airs every Tuesday at 9 p.m. ET on The CW following The Flash. For all of your TV-watching needs, be sure to check out our fall TV guide with every new and returning show set to premiere through November.
Your Daily Blend of Entertainment News
Thank you for signing up to CinemaBlend. You will receive a verification email shortly.
There was a problem. Please refresh the page and try again.