Castle Rock's Lizzy Caplan Explains How Her Annie Wilkes Is Different From Stephen King's Misery Movie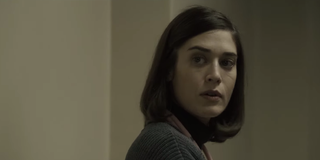 Hulu offers more than just The Handmaid's Tale (and extensions of that smash hit) to audiences. Other original programming, like Castle Rock, is proof that the streaming service is more than capable of delivering quality horror shows as well. The show, which exists within a unique multiverse based on Stephen King's horror books, will be venturing into a whole new world in Season 2. However, don't expect Lizzy Caplan to be emulating Kathy Bates' version of Annie Wilkes.
Lizzy Caplan, most notable for playing the snarky Janis Ian in the forever quotable Mean Girls, is no stranger to the television landscape. She's appeared in Masters of Sex, Angie Tribeca, and New Girl. However, landing the role of a young Annie Wilkes in Season 2 of Castle Rock may be one of her most challenging roles to date.
Stephen King's world is vast and Castle Rock provides a fascinating new perspective of his books, uniting them in a shared universe. King's books are so popular, though, that many of his characters have already been played in movies. It can often become difficult for actors to portray characters without trying to copy what's been done before.
The same happened with Lizzy Caplan as she prepared for Castle Rock Season 2. Speaking with Variety, the actress discussed the ways in which her take on Annie Wilkes will be different than Kathy Bates' portrayal of the character in 1990's Misery.
It's clear Lizzy Caplan doesn't want to take away from what Kathy Bates did with the character, which makes sense considering there are so many layers to Annie Wilkes left to explore.
Lizzy Caplan goes on to explain that the Annie of Castle Rock is at a different stage in her life than she was in Misery, making it easier for Caplan to work in a fresh take. It also helps that Season 2 will be more of a prequel to Misery rather than an exact adaptation.
No matter what Lizzy Caplan does with the role, she's talented enough to pull it off and make it her own.
Castle Rock returns to Hulu for Season 2 on October 23. In the meantime, be sure to check out our complete guide to every new and returning show premiering through November.
Your Daily Blend of Entertainment News