Castle Rock Season 2: What We Know So Far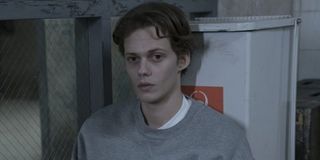 It's 2019, and the world is jam-packed with adaptations from one of the greatest authors of the modern era. From the slew of Stephen King adaptations that are out there, however, there is one newer one that dares to make an original tale using characters from the author's novels, references, and his most iconic fictional location. Castle Rock was an ambitious idea, but a strong cast and great story made it one of 2018's best shows.
Now, the series is set for Season 2, and is looking to re-invent the wheel with a fresh story that, as of this writing, doesn't seem to have a major connection to Season 1's story. Here's what we know about the upcoming season so far, including who's involved, and what Stephen King works fans may want to check out ahead of its airing.
What Will Castle Rock Season 2 Be About?
The official synopsis for Castle Rock Season 2 tells of a feud between warring clans that will boil over when a very famous Stephen King character gets stuck in Castle Rock. That character is none other than Annie Wilkes, who audiences may remember from the hit novel and film Misery. The synopsis sounds a lot like a prequel of sorts to Misery, as the character is only characterized as a "budding psychopath."
Annie isn't the only Stephen King character along for the ride, as Reginald "Pop" Merrill and John "Ace" Merrill will be featured in an adventure that seemingly pits the family against a budding Somali community in Castle Rock. Explicit tensions have yet to be laid out, but we do know that a Somali community center is planned for the area, which could have those against the Somali presence up in arms. For now, we can only speculate!
When Will Castle Rock Season 2 Premiere?
While Castle Rock was given a season renewal fairly early into its Season 1 run, we still have yet to receive a timetable for when to expect it. Season 1 was a summer release, but with production on Season 2 only just starting in March, it doesn't seem likely the show will be ready by this summer. Still, with production underway, it's not entirely impossible for this to arrive sometime before 2019's end.
Who Has Been Cast For Castle Rock Season 2?
Season 1 of Castle Rock featured an impressive cast, and it looks like Season 2 will have the same level of talent on board. The Season 2 cast is stacked with talented veterans, actors and actresses in their prime, and young rising stars with promising futures. Let's take a look at the famous faces set to appear in the anthology's next chapter.
Lizzy Caplan - Annie Wilkes
The Mean Girls and Masters of Sex actress is playing the role of Annie Wilkes, which was formerly played on screen by Kathy Bates. Bates won an Oscar for her portrayal, so Caplan has some shoes to fill as she'll try to play the character in the days before she was trapping authors within her house and breaking their ankles in a gruesome way. Ugh, hopefully there won't be any of that in Castle Rock.
Elsie Fisher - Joy
Eighth Grade breakout actress Elsie Fisher has landed yet another big role, and Castle Rock has her in a part that will play right off of Lizzy Caplan. Fisher will play Annie Wilkes' home-schooled teenage daughter, Joy, who begins to wonder if her mother is going off the deep end. We're assuming she eventually finds out that's the case, and hopefully gets away from her mother before some of that rubs off on her (or she ends up dead)!
Tim Robbins - Reginald "Pop" Merrill
Castle Rock is continuing its trend of enlisting actors with a history of appearing in Stephen King films by tapping The Shawshank Redemption's Tim Robbins to play a character from King's works: Reginald "Pop" Merrill. Things aren't looking great for Pop as he's said to be dying of cancer and facing a "reckoning" of sorts with his crime family. Not an ideal situation, but a role that Robbins will surely knock out of the park.
Paul Sparks - John "Ace" Merrill
Another member of the Merrill family is on board, as House Of Cards' Paul Sparks is taking on the role of John "Ace" Merrill. Ace is taking over the family's criminal business and apparently causing some mess with the neighboring Jerusalem's Lot that could cause some issues. That's not surprising, given Ace isn't an upstanding character in The Stand or the Stephen King novel Needful Things, so don't expect too much positivism from this character.
Matthew Alan - Chris Merrill
13 Reasons Why actor Matthew Alan is coming on as yet another member of the Merrill family, although it sounds as though he'll be more of a peacekeeper in the Merrill family. He's looking to keep tensions low between the family and the Somalians, probably because he's aware more than anyone how ugly things can get if tensions boil over.
Yusra Warsama - Dr. Nadia Omar
Yusra Warsama is one of the fresher faces on Castle Rock, with Hulu's original series listed as one of her more prominent roles. She's had some other work in shows like Call The Midwife, but her role as Dr. Nadia Omar may be a bigger chance to showcase her acting talents. Dr. Omar is a Somali medical director at a hospital in Jerusalem's Lot that will face some challenges which will put her knowledge to the test.
Barkhad Abdi - Abdi Omar
Captain Phillips breakout actor Barkhad Abdi is in Castle Rock, although sadly, not as a captain. Instead, he'll play Dr. Nadia's older brother who is leading a charge to build a Somalian community center in the area, and help deepen the group's roots in the area. He's also noted to be tough, so don't be surprised if he'll push back should the Merrill family or anyone else attempts to stop his plans.
Will Castle Rock Season 2 Connect To Season 1?
For now, it appears as though the stories of Castle Rock Season 2 and Season 1 are separate. With that said, both are set in the iconic town, and there's been no definitive word that none of the characters or events of Season 1 will be referenced or appear in the new adventure. As of this writing, however, we haven't learned that any actors from Season 1 will be reprising their roles.
Which is disappointing in some respects, especially with that surprising reveal at the end of Season 1 that teased one character with a huge connection to The Shining. Again, there's still a chance that that reveal or something else from Season 1 comes into the Season 2 story in some way, but we just don't know. For now, it appears this tale is strictly about the Merrills battling with Somalians, and Annie Wilkes slowly losing her mind.
What Stephen King Works Will Castle Rock Season 2 Reference?
Castle Rock isn't an adaptation of any particular Stephen King work, but rather a universe where the characters of his books co-exist and appear in entirely new adventures. Season 1 had a fair amount of references to Stephen King works, and it looks like quite a few King books and their characters will come into play in Season 2.
Misery
Misery is the tale of Paul Sheldon, who ends up injured and in the care of his super fan Annie Wilkes. It doesn't take long for Paul to realize Annie has a couple of screws loose, and he eventually learns she's a prolific killer who has killed some 70 odd people throughout her life. Infants, the elderly, the severely injured, and many other types have fallen victim to Annie, who just can't quit killing.
As previously mentioned, Season 2 of Castle Rock is a prequel to Misery. Given the character's age in the show, we can safely assume Annie's killed a healthy number at this stage in her life. This may speak further to that mental decline she's suffering from, which may slowly transition her to the person fans know from the book and movie. Her having a daughter was previously unknown, so we can't wait to see what happens there.
The Sun Dog
The Sun Dog is a novella that's a part of Stephen King's collection Four Past Midnight. It's the story "Pop" Merrill primarily appears in, and one that details his business as a money lender at high interest rates. He's also a dealer of paranormal goods on the side, which is primarily what The Sun Dog is about. Without getting into spoilers, one can assume Castle Rock Season 2 takes place before the events of this novella.
We're not for sure, but there's a good chance Pop's shop The Emporium Galorium will appear in this season, as well as some paranormal goods that could impact other characters. Castle Rock may sidestep that part completely, of course, although chances are Pop and the Merrill family have been brought into this adventure for more than just name recognition.
The Body
Another Stephen King novella, which many people more commonly associate with the wonderful film adaptation Stand By Me. This is an adventure that features a teenage John "Ace" Merrill, who is a rather brutal teenage bully of the young boys in the book. He's later revealed to have chilled out in his older years, and described as haggard later in life.
Adult John Merrill may not be as dangerous as he was in his youth, but it's never too late for that type of behavior to resurface at any point in life. John seems to play some part in the tension between the Somalians in Season 2, so don't be surprised if he isn't as relaxed in this adventure as latter King works he was featured in may imply.
Needful Things
Needful Things follows a future arc in Ace Merrill's story, in which he returns to Castle Rock desperate for money to pay off some drug dealers he's indebted to. He finds work, which inevitably finds him at odds with Sheriff Alan Pangborn. The two clash throughout the novel at various points, and while Ace isn't quite the dominant teenage bully he was, he's still capable of some truly wicked things.
The important thing to note here is the history Ace has with Alan Pangborn, who was one of the central characters in Castle Rock Season 1. Obviously, the Alan Pangborn we know who was played by Scott Glenn was killed at the end of Season 1, so, unless there are more transdimensional breaks the only option for Glenn to reprise his role as the sheriff would be a flashback to when Pangborn and Ace had their issues. Obviously, neither of these possibilities have been confirmed right now, so we'll have to wait to see what happens.
Who Will Serve As Castle Rock's Creative Team For Season 2?
Castle Rock Season 1 showrunners Dustin Thomason and Sam Shaw did a great job bringing Stephen King characters together for a critically acclaimed original story. Fans will be happy to know that both men will be returning for Season 2, and hopefully avoiding a sophomore slump as they essentially try to make lightning strike twice with a fresh concept.
Also back on board behind the scenes are executive producers J.J. Abrams, and the man who made this all possible: Stephen King. King's continued involvement is no surprise, especially given he was so high up on the show in Season 1. King's not above bashing things based on his work, and when someone is bold enough to be critical of a master filmmaker like Stanley Kubrick, it's safe to say no adaptation of King's work is above the author's criticism.
Where Can I Watch Castle Rock Season 1?
Castle Rock Season 1 is currently streaming on Hulu (opens in new tab), and a great watch for those looking for a classical creepy Stephen King-inspired tale. Binge it now, or re-watch the episodes as CinemaBlend continues to seek out updates on Season 2 and what's in store for the show's next chapter.
Your Daily Blend of Entertainment News
Mick likes good television, but also reality television. He grew up on Star Wars, DC, Marvel, and pro wrestling and loves to discuss and dissect most of it. He's been writing online for over a decade and never dreamed he'd be in the position he is today.
Your Daily Blend of Entertainment News
Thank you for signing up to CinemaBlend. You will receive a verification email shortly.
There was a problem. Please refresh the page and try again.