What Jason Momoa's Time On Stargate Atlantis Taught Him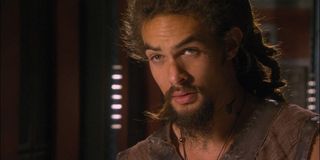 Jason Momoa is well-known for playing Aquaman in the DC Extended Universe films Justice League and Aquaman, as well as Khal Drogo in HBO's Game of Thrones, but he wasn't always such a household name. Now that he'll be starring in Apple TV+'s new series, See, Jason Momoa is back in Vancouver for the first time since his days on Stargate Atlantis, and being back there is reminding him of his time on the show and what it taught him.
It's been quite a long while since Stargate Atlantis was cancelled, but Jason Momoa does credit the sci-fi spinoff for teaching him the ways of the Hollywood machine. The series, which followed a group of military personnel and explorers who travel the galaxy to find the lost city of Atlantis, end up having to battle the Wraiths, who have threatened the civilization. Momoa first appeared in Season 2's "Runner," playing the character of Ronon Dex, a Runner who eventually joins the Atlantis Expedition.
Jason Momoa says his time filming Stargate Atlantis, which lasted for 78 episodes across the remainder of the show's run, was quite the learning experience for him as an actor. Here's how he put it in an interview with Esquire:
Of course, Stargate Atlantis wasn't Jason Momoa's first acting gig, but it was certainly the one that required the most from him and gave him the most material early on. Plus, it was his biggest break in genre TV at the time, with his previous roles coming on shows like Baywatch and North Shore.
Jason Momoa went onto say that being on Stargate Atlantis wasn't necessarily the best situation in all respects, but it was a steady job that taught him a lot about the ins and outs of filming that previous roles had not. Back then, the Aquaman actor had a lot less income to work with, too, so his life has utterly changed since the last time he filmed in Vancouver, often referred to as Hollywood North.
Interestingly, Jason Momoa has done a lot of sci-fi and other fantastical work since being on Stargate Atlantis, but his new Apple TV+ series, See, is his first venture into a dystopian future. The series, which also stars Luke Cage and Desperate Housewives alum Alfre Woodard, explores a future where the human race has collectively lost the ability to see. (Not something Game of Thrones fans would have wanted to deal with.)
Everything changes, however, when two children are born with sight. The series is helmed by The Hunger Games: Catching Fire director Francis Lawrence, and is set to premiere on AppleTV+ on November 1, 2019.
Want to know what else is coming to TV this fall? Check out our complete TV guide with premiere dates for every new and returning show through November.
Your Daily Blend of Entertainment News