Mariska Hargitay Reveals Why Law And Order's Olivia Benson Is Obsessed With Ruth Bader Ginsburg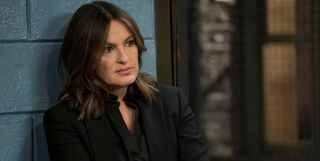 After playing Olivia Benson on Law & Order:SVU for 20-plus years, Mariska Hargitay's beloved character has finally been promoted to captain in Season 21. Recently there also came the relatively new addition of an office photo: that of U.S. Supreme Court Justice Ruth Bader Ginsburg. The inclusion of the photo isn't random, either, and the actress recently revealed she has a great fondness for Ginsburg, citing her as an inspiration for Olivia Benson on Special Victim's Unit.
Law & Order: SVU has remained a staple on NBC and, most recently, has gained some new viewership while streaming on Hulu. Even after two decades, the show and its cast are not ready to say goodbye. The longevity of the series has made Mariska Hargitay's Olivia Benson one of television's top TV detectives of all-time.
However, it wasn't until Olivia's promotion to lieutenant in the series' 17th season that the actress began to wonder who inspires her character. While appearing on Late Night with Seth Meyers, Mariska Hargitay gave the audience the scoop on why a photo of Ruth Bader Ginsburg has appeared in Olivia's office.
However, the photo isn't the only Ruth Bader Ginsburg-inspired memorabilia in Olivia's office. Mariska Hargitay also revealed that another prop of Ginsburg, a bobblehead-looking figurine next to Olivia's plaque, was given to her by her son. If it wasn't already made clear, Olivia Benson and Mariska Hargitay really love RBG.
The actress went on to say that she watched a movie about Ruth Bader Ginsburg and it changed her life, claiming she could "watch it on a loop." Now, Mariska Hargitay could be referring to one of two films about the supreme court justice, both of which were released last year, but RBG is specifically mentioned.
The two movies being On the Basis of Sex, which starred Felicity Jones as Ruth Bader Ginsburg and Armie Hammer as her husband, Martin D. Ginsburg and a documentary film called RBG. It was directed by Betsy West and Julie Cohen and includes several key moments from Ginsburg's life. The directors were able to interview her and join in on the supreme court justice's meetings.
You can watch the full video of Mariska Hargitay professing her love for RBG below.
Elsewhere in the world of Law & Order: SVU, the series recently included a reference to another NBC show, the Andy Samberg-starring comedy Brooklyn Nine-Nine. After 21 seasons, SVU knows how to keep it fresh and cool cool cool.
Law & Order: SVU airs Thursdays at 10 p.m. ET on NBC. For all your TV-watching needs, be sure to check out CinemaBlend's complete guide to every new and returning show premiering through November.
Your Daily Blend of Entertainment News