What Is Going On With Oliver Queen's Facial Hair In Stephen Amell's New Pic?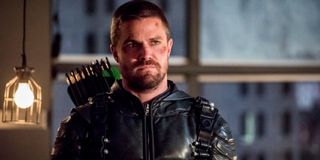 Arrow's Stephen Amell is fairly active on social media, always providing fans with dialogue teases, behind-the-scenes videos and photos, and praise for his costars and friends. The actor especially loves posting around crossover time and he's gone all out for this year's "Crisis on Infinite Earths" crossover so far. However, a new image gives Amell's Oliver Queen an entirely new look, possibly teasing another earth's version of the character.
Ever since Arrow's premiere back in 2012, fans have been clamoring to see the Green Arrow's famous comic book goatee. Now, Stephen Amell has always sported facial hair on the show, but it's never been quite as long as the comic book version of his character's famous look. But that could change very soon.
In an image posted to Stephen Amell's Twitter, the actor shared a side-by-side photo of himself and Colin O'Donnell (Tommy Merlyn) sporting the same facial hair look. Alongside the image was a caption that read, "Meanwhile on Earth 71…"
It could simply be Stephen Amell trolling fans, but there is a possibility that this is the Oliver Queen of Earth 71. Since part of Oliver's mission for The Monitor ahead of "Crisis on Infinite Earths" has been to drop in on different earths to acquire specific materials (like dwarf star particles), it's not impossible to think that Oliver could meet another earth's version of himself.
After all, Grant Gustin's Barry Allen has already done that while on a mission to Earth-2 in Season 2 of The Flash. The Arrow-verse shows have never shied away from bringing in doppelgangers, so there's definitely precedent.
There's also the fact that, while at San Diego Comic-Con, Stephen Amell mentioned that he could be playing more than one version of Oliver. Perhaps this is that version and the actor's offering a first glimpse for fans. The look definitely harkens back to comic book Oliver Queen, right down to the exceptionally long mustache. Take a look at the image below to compare.
Earlier this week, Stephen Amell posted about his final day of filming alongside Grant Gustin, but that doesn't mean Amell is actually done with the crossover. "Crisis" has been filming for the past month and, considering this is the final week, Amell may have felt comfortable dropping this little nugget to keep fans talking, but without actually revealing anything at all.
It'll be another month and a half before there's any confirmation about what this new look could mean for Arrow, but I wouldn't put it past "Crisis on Infinite Earths" to give Oliver his comic book facial hair before Arrow completes its eight-season run in January.
Arrow airs Tuesdays at 9 p.m. ET on The CW. The "Crisis on Infinite Earths" crossover kicks off with Supergirl on December 8, followed by Batwoman and The Flash on December 9 and 10. The "Crisis" will conclude with a two-hour block of Arrow and Legends of Tomorrow on January 14, 2020.
Your Daily Blend of Entertainment News