The Punisher's Jon Bernthal Sounds Ready For Frank Castle To Join MCU Movies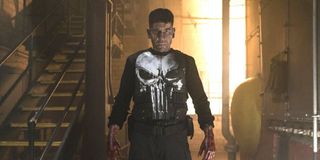 Jon Bernthal made his debut as Frank Castle in Season 2 of Daredevil and it wasn't long before Netflix ordered a solo series, aptly titled The Punisher. Unfortunately, Netflix cancelled The Punisher in February of this year after just two seasons. Bernthal, however, isn't interested in letting the character go anytime soon and wouldn't say no to transitioning his character into the Marvel Cinematic Universe.
Now that Kevin Feige has been promoted to Marvel's chief creative officer and Marvel has set the schedule for the next phase of MCU films, audiences have been wondering whether the characters who appeared throughout all of the Marvel Netflix series have a shot at being in the MCU. Like most comic book actors, Jon Bernthal was asked about this possibility.
In an appearance at Fandemic Tour Houston (via ComicBook), The Punisher actor made clear he doesn't have any specific character in mind that he'd like to play in the near future, but he would still want to play Frank Castle.
Does that mean The Punisher could show up in the MCU at some point? Jon Bernthal doesn't really know and even if he did, he wouldn't be able to talk about it anyway.
Jon Bernthal also jokes that Marvel would break the news to fans before he ever got wind of it. Still, Bernthal isn't against the idea of appearing in the MCU and if the creatives at Marvel did right by Frank Castle, then he'd be onboard.
Jon Bernthal's a talented actor, though, so he could play any character in the Marvel universe, but when asked if he would ever want to play anyone else in the MCU, his answer was simple.
That sounds fair enough, even though there aren't any actual plans to transition The Punisher to the big screen. Even if Kevin Feige and Marvel wanted Frank Castle in the MCU, Netflix made sure that the character couldn't appear in any live-action adaptation for at least two years after cancellation. Ouch.
That means that every Marvel Netflix show cancelled between October of last year and February of this year — including Luke Cage, Iron Fist, Jessica Jones, and Daredevil — won't be showing up anywhere in the Marvel universe for a while.
In fact, Marvel's future on traditional network television isn't looking all that bright in general. With the loss of head of Marvel TV's Jeph Loeb, the effects of his departure and of Kevin Feige's promotion are already being felt.
Last month, Hulu completely dropped their plans for a Ghost Rider series and Freeform announced recently that it was cancelling Cloak and Dagger after just two seasons. This definitely puts the future of Marvel's The Runaways in doubt, though the leading characters of Cloak and Dagger are still scheduled to crossover to the Hulu series in Season 3.
For those mourning the loss of these cancelled Marvel shows, Disney+ has plenty of Marvel content to look forward, including WandaVision and Loki. Be sure to check out our complete guide to every new show coming to Disney+, which is set to launch on November 12.
Your Daily Blend of Entertainment News