Hey, HBO, Take As Long As You Need To Make Game Of Thrones' House Of The Dragon Prequel Rule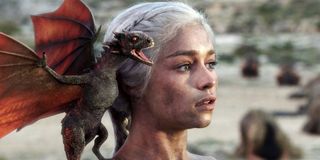 I would really love Hollywood to please take all of the recent Game of Thrones nonsense -- from the show's messy ending to the showrunners bailing on Star Wars to HBO bailing on the Naomi Watts prequel to HBO immediately announcing a new prequel -- as a lesson to slow the bleep down and focus on getting one thing right at a time.
If it were up to me, I would have waited before announcing the new Targaryen spinoff House of the Dragon. I might even have waited until they actually filmed an episode and approved it this time before taking fans along for another roller coaster. Instead, HBO doubled-down, announcing a full 10-episode straight-to-series order based on author George R.R. Martin's Fire & Blood.
HBO decided yesterday was the perfect day for that House of the Dragon news, perhaps to cleanse fans' Game of Thrones palates after the bad news came out about the first prequel spinoff in development. It was a shock to hear that showrunner Jane Goldman's prequel said to be following the Age of Heroes/Long Night storyline was completely killed off. It seemed like a done deal. But there were reportedly budget overruns, personnel problems, and creative differences.
Game of Thrones' own original pilot was infamously troubled and had to recast; the showrunners have talked about how painfully bad that pilot was and they were even told they had a "massive problem" to fix it. But at least their revised pilot made it to air and started this whole TV franchise. We may never get to see what went wrong with the prequel starring Naomi Watts, but just to bail on it is pretty stunning.
It was already stunning to hear HBO had, at one point, FIVE Game of Thrones spinoffs in the works. Author George R.R. Martin calls them "successor shows" and he was plugging the one that was just cancelled only a few months ago. There was another one written by Game of Thrones producer Bryan Cogman that already got the chop, and Cogman is now consulting on Amazon's Lord of the Rings series. After Cogman's show was declared DOA, GRRM said there were still three shows moving along nicely, including Jane Goldman's newly cancelled one and the one based on his book Fire & Blood.
So there's potentially still another Game of Thrones spinoff still to come after the Targaryen prequel that just got a straight-to-series order.
It's a little bit dizzying. I can only hope HBO decides to take a long time to work on House of the Dragon -- and only focus on that instead of also balancing with another Game of Thrones spinoff. There isn't exactly a huge call for more GoT content after the May 2019 series finale. HBO may have hoped fans would come away wanting more ASAP, but that is definitely not the case.
If anything, some fans were already grumbling that the final six-episode Game of Thrones Season 8 felt rushed because showrunners David Benioff and D.B. Weiss were already moving on to their Star Wars movies. But news just came out yesterday that D&D will no longer be working on a Star Wars trilogy, presumably because they're too busy with the other new deal they signed with Netflix. (Who doesn't have time for Star Wars? Seriously.)
So some Game of Thrones fans are now grumbling that we got a rushed and sloppy final season -- complete with an extra coffee cup and water bottles -- for nothing. I don't think D&D rushed the final season for Star Wars; I think they spent plenty of time making the final season, they just messed up with the story, the scripts, and the episode count needed for a satisfying conclusion. But they don't even seem to agree, and they've basically been in hiding since the backlash to the final season began.
I hope that HBO learned some lessons from the final season of Game of Thrones and didn't only listen to the people defending the series finale. Perhaps that came into play when the network decided to axe the Age of Heroes prequel. Maybe The Powers That Be finally decided it was time to think about quality control and not just assume anything with a "Game of Thrones" label was good enough.
I am willing to give HBO the benefit of the doubt and assume there was some kind of Come To Jesus moment where executives realized fans won't just watch anything Game of Thrones-related. And even if they were frustrated with those 1-million-plus petition signers, they must know they still need to win those petition signers back for another GoT show.
A lot of HBO subscribers at least considered cancelling the service after Game of Thrones. If House of the Dragon shows up and gets meh or low viewer numbers, well, not only is that a ton of $$$ down the drain, it cheapens what was once the network's flagship brand.
HBO can't afford a Game of Thrones fail after the finale backlash, and especially after one spinoff pilot was already killed after filming.
The stakes are pretty high for House of the Dragon. The series was co-created by George R.R. Martin and Colony co-creator Ryan Condal. Condal will be co-showrunner along with -- surprise! -- Game of Thrones's Emmy-winning director Miguel Sapochnik. He's the guy who directed "Hardhome," "Battle of the Bastards," "The Winds of Winter," "The Long Night," and "The Bells." So unless there are more lighting problems, the Targaryen spinoff should at least look great.
So I hope HBO slows its roll from here and doesn't rush House of the Dragon out of desperation to just get anything Game of Thrones-related on screen ASAP. A good story is always timeless, and that needs to be what matters most. Besides, even if it takes 10 years for this spinoff to air on HBO, maybe George R.R. Martin will actually be finished writing the final A Song of Ice and Fire books by then. Maybe.
The 2019 TV season is winding down, but keep up with everything still airing this year with our handy fall TV premiere schedule.
Gina grew up in Massachusetts and California in her own version of The Parent Trap. She went to three different middle schools, four high schools, and three universities -- including half a year in Perth, Western Australia. She currently lives in a small town in Maine, the kind Stephen King regularly sets terrible things in, so this may be the last you hear from her.
Your Daily Blend of Entertainment News
Thank you for signing up to CinemaBlend. You will receive a verification email shortly.
There was a problem. Please refresh the page and try again.