Lodge 49 And AMC's Trouble With Landing Its Next Signature Series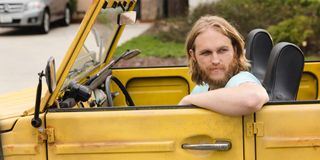 This week, AMC cancelled Lodge 49. It was the network's latest attempt at a brand new prestige series and it did very well with both critical and audience reviews. That was enough to help it earn a second season at the network, the comedy/drama will not be moving forward, leaving another hole in AMC's programming schedule.
Look, Lodge 49 starred Black Mirror's Wyatt Russell as Dud, a dude who didn't really have his life together but ended up getting invested in Lodge culture after joining The Order of the Lynx. While well-reviewed, it was little-watched, with its last couple of episodes only seeing .15 and .18 million total viewers tune in Live +Same Day, not even achieving half a million viewers in Live + 7 Day numbers for Season 2.
In short, it's easy to see why Lodge 49 was cancelled, despite it trying to compete on Mondays – typically a harder day for TV – and despite ratings not mattering as much as they once did. But I bring it up because it marks yet another AMC series that hasn't caught on.
There was a point between 2010 and 2013 when AMC was on the top of the world. The cabler was getting into the scripted game just when Peak TV was being coined and it was the network that was probably the peakiest of the Peak TV, the home to Breaking Bad and The Walking Dead, some of the biggest players on the market, but also home to shows with buzz, acclaim and invested fanbases such as The Killing, Mad Men and Hell on Wheels.
So what happened?
Well, a lot of things. First of all, having a big TV moment hinges on subscribers, and the younger generation in particular – who championed shows like Breaking Bad and The Walking Dead early in their runs – are cutting cable at a quick clip, or at least DVRing shows to watch at a later date.
This means that in general the numbers are down across the board. TV offers fewer watercooler moments than it used to be, although dedicated fans will still show up for programs they really love.
But AMC has a problem. Look, AMC still has buzzy shows, particularly in the Breaking Bad spinoff Better Call Saul and The Walking Dead, despite its viewership being on the downward trend at this point. To tie back in to Lodge 49, The Walking Dead's last episode did 3.31 million viewers in Live + Same Day, so people are still watching at a much higher rate than they ever watched poor Dud.
The problem is The Walking Dead is currently in its 10th season on the network. Yes, 10th! It's spinoff, Fear The Walking Dead, has already wrapped on Season 5. Better Call Saul has already dropped four seasons and won't even be back on the schedule until 2020, after having wrapped its last season in 2018.
Yes, AMC has another TWD spinoff coming and yes, people are still interested in properties like Better Call Saul, but the network is in dire need of a fresh new face – and one that audiences can really invest around.
Meanwhile, both Dietland and Lodge 49 were cancelled fairly swiftly, as was The Son. A lot of other projects in development, including stuff from the likes of Greg Nicotero, Robert Kirkman and Rainn Wilson, have not moved forward at the network. This includes a Thief of Thieves series and more.
Next in the pipeline AMC has a Jason Segel series Dispatched From Elsewhere and the colorfully titled Kevin Can F* Himself coming up, along with The Walking Dead spinoff and a few more things. Here's hoping at least one will be the breakthrough hit the network definitely needs.
Your Daily Blend of Entertainment News
Reality TV fan with a pinch of Disney fairy dust thrown in. Theme park junkie. If you've created a rom-com I've probably watched it.