Chicago Med Is Moving Way Too Fast With Its Newest Love Triangle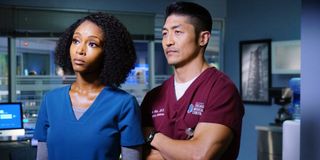 (Image credit: NBC)
Spoilers ahead for the November 6 episode of Chicago Med on NBC, called "Who Knows What Tomorrow Brings."
Chicago Med is the place to be in One Chicago for workplace love triangles, and just because the creepy love triangle of Philip/Natalie/Will is seemingly over doesn't mean Med is going without a triangle. In "Who Knows What Tomorrow Brings," Med threw a third party into one of the more solid relationships of Season 5: April and Ethan. Now, Dr. Marcel clearly has his eye on April, and April wasn't going the extra mile to discourage him. Already!
Well, this is what I get for talking about super strange love triangles on Med as if they were a thing of the past! The episode started with April and Ethan in a state of relative domestic bliss, with Ethan cooking a tasty breakfast for April before she had to run off to work.
Domestic bliss got a little weird when April realized he was cooking dishes designed for female reproductive health... and was tracking her ovulation with a calendar on the refrigerator. Apparently April and Ethan decided to actively try to have a baby. And this without even being engaged, when Ethan was talking about getting married just last week! Let it not be said that they waste time.
April was a little weirded out by Ethan basically tracking her cycle, and this just so happened to go down in the same episode that saw the lovebirds clash over how to handle the case of a soldier who went AWOL to attend her sister's wedding before winding up in the hospital, while sparks flew between April and Dr. Marcel.
Now, I'll be the first to admit that Med has fanned the flames of April and Marcel throughout Season 5 so far, and the idea of a love triangle with those two and Ethan wouldn't have been a shocker... down the line. After all, Dr. Marcel is kind of a flirt, he seemed pretty respectful of April and Ethan's relationship, and April didn't seem likely to stray from Ethan.
So, when Marcel leaned in to kiss April at his crawfish boil (thrown with Maggie), and April took her time in leaning away, I was pretty surprised. After all, if April was seriously planning a future involving kids with Ethan as recently as that morning, you'd think it'd take more than a fight over the treatment of a patient to get her leaning in for a kiss with another man!
I mean, crawfish is tasty, but it's not cheat-on-the-future-father-of-your-children tasty. This went from two characters kinda having some chemistry to a full-blown love triangle in under an hour.
The Chicago Med showrunners weren't kidding when they spoke to CinemaBlend about Dr. Marcel disrupting relationships! Luckily, Chicago Med didn't speed into this triangle so much that Ethan saw the almost-kiss, confronted April, and there was a huge blowout. Ethan instead showed up in the nick of time and apologized to April, even agreeing to ditch the ovulation calendar and do things April's way.
Did April and Ethan end the episode back on good terms with each other? Yes. Is this going to be the end of Ethan/April/Marcel? I very much doubt it. Hey, at least it's not complicated by a traumatic brain injury, an unbalanced fake fiancé, and a car accident leaving one doctor altered and questionable! That's something, right?
Find out what happens next for April, Ethan, and Dr. Marvel when new episodes of Chicago Med air on Wednesdays at 8 p.m. ET on NBC, ahead of new episodes of Chicago Fire at 9 p.m. ET and Chicago P.D. at 10 p.m. ET.
Resident of One Chicago, Bachelor Nation, and Cleveland. Has opinions about crossovers, Star Wars, and superheroes. Will not time travel.
Your Daily Blend of Entertainment News
Thank you for signing up to CinemaBlend. You will receive a verification email shortly.
There was a problem. Please refresh the page and try again.