Some Fool Told The Flash's Candice Patton She Ruined The Show And Her Reply Was Gold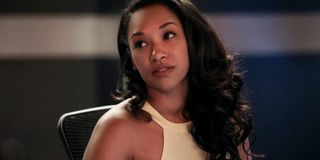 Ever since the announcement that Candice Patton would be playing Iris West-Allen on The CW's The Flash, haters have been after her. While many fans dearly love the character, some have called for Patton to be fired and have come up with empty excuses for why they just can't seem to get on the Iris West train. Even after six seasons being on the show, the attacks -- often race-related -- haven't stopped. Most recently, some fool told Patton that she ruined The Flash and she responded with best clap back ever.
Candice Patton recently posted a photo to Twitter from the set of The Flash. It didn't take long for the haters to flood her mentions and one bold troll even told her that "single-handedly ruined" the show. Patton's response was spectacular:
You can see the full exchange below.
This isn't the first time Candice Patton, who recently sported her natural curls in The Flash, has received such comments online and it sadly won't be the last. Over the summer, series star Grant Gustin (Barry Allen), after being called out for his silence on the hate Patton kept getting, stepped in and posted a PSA video to Instagram about the racist attacks his co-star has received over the last six years.
Grant Gustin declared that he had Candice Patton's back against the haters. "Iris is an African-American actress. She is black. She is beautiful. And she is our Iris and she is always gonna be," the actor said. In case anyone wasn't clear on that, Candice Patton is here to stay. Case closed. Prior to Grant Gustin's video, however, no one from the show or The CW network had ever publicly denounced the racist attacks against the actress.
When Candice Patton's role was announced in 2014, certain DC Comics fans took issue with the fact that Iris West was going to be played by a black actress. You'd think that after so many seasons of Patton as Iris they'd have grown tired of the recycled hatred (I know I have), but they're nothing if not relentless. Thankfully, The Flash's leading lady is resilient in the face of such criticism.
In Season 6 of The Flash, Iris West-Allen has been dealing with a lot. Not only did she lose her daughter, Nora West-Allen (Jessica Parker Kennedy), but she also received word from The Monitor that Barry "has to die" in the upcoming five-episode crossover, "Crisis on Infinite Earths." Additionally, the latest version of Harrison Wells, who could be good or bad, found traces of a multiverse particle called eternium on Iris, which piqued fans' interests and could have big implications for the back half of Season 6.
The Flash's next new episode airs Tuesday, November 19 at 8 p.m. ET on The CW. Also, keep an eye out for Candice Patton's Iris West-Allen when she crosses over to other Arrow-verse shows in "Crisis on Infinite Earths," which kicks of December 8 with Supergirl at 8 pm. ET.
Your Daily Blend of Entertainment News
Thank you for signing up to CinemaBlend. You will receive a verification email shortly.
There was a problem. Please refresh the page and try again.