Rick And Morty Season 4: Everything You Need To Remember About The Smith Family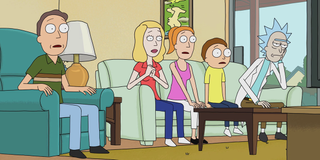 Rick and Morty is back for Season 4, and while fans may be super psyched to see the show back in action, they may have trouble remembering a few things. It's forgivable considering the plots for the Adult Swim series can be outlandish, and there's quite a gap between seasons. Unless fans have been binge-ing Season 3 in anticipation, they probably completely forgot what's on the horizon.
Don't worry, we got you covered. For those that forgot and don't have time to run through the entirety of Season 3 of Rick and Morty before the Season 4 premiere, here's the major things that were happening with the major characters in the Smith family.
Rick Sanchez
Perhaps the biggest shocker of Season 3 is that, for once, Rick didn't come out on top. He may still be as powerful and as reckless as he's ever been, but the mad scientist lost a lot of the respect of his family. Jerry was never a huge fan, but Morty, Summer, and even Beth realized a lot of the problems in their lives come from Rick's involvement in it.
Surprisingly, Rick agreed that he'd become a weaker link in the chain, and briefly considered leaving the Smith family. He stayed, though, and in one of the final scenes of the season, was the butt of a joke? I can't imagine Rick stands for this in Season 4, so fans should expect him to make a change if things continue, or the Smith family to realize the world is a much more dangerous place when Rick isn't being his usual self.
Morty Smith
Season 3 saw a change in Morty where the grandson sidekick actually took the lead and made some major moves in adventures. He also took some meaningful stands against Rick, and while the Season 4 trailer looks like Morty will still play the sidekick to his grandpa, maybe he'll get a little more trust from Rick in the upcoming adventures?
Morty took a stand for his family in the Season 3 finale, and one would have to think he'll want things to remain happy at home. I'd expect him to play the mediator this season between the rest of the Smiths and Rick, though may have to choose between Rick and his other "family." Also, don't forget a Morty now runs the Rick world, which could come into play at some point this season.
Beth Smith
In one of the crazier moments of Season 3, Rick offered his "daughter" Beth a crazy opportunity. He would clone her, and allow the original Beth to go live a new life while the clone stayed behind. Rick promised his daughter she could return to her original life if she wanted to, and the audience and Beth were left to speculate on whether she took the offer or not.
Is Beth a clone? That's probably a question that will be touched upon as Season 4 unfolds, and I'm eager to see how it plays out. For example, if Rick leaves the family and the original Beth did return, how would the two settle who stays with the family? What about reconciling with Jerry, was that something the original Beth would've done? So many directions this plot line could head.
Jerry Smith
After a season of being on the outs, Jerry Smith is back in place as the patriarch of the Smith Family. What's better is it seems like everyone in the Smith family is more or less sick of Rick, so things are looking pretty good for Jerry!
Of course, we know good things don't tend to last for Rick and Morty's favorite sad sack. While we'd love to see a "season of Jerry" where everything goes right, there's no denying it would be way more hilarious to see Jerry have more humiliating stuff happen to him.
Summer Smith
Summer was definitely a bigger part of adventures than she has been in Rick and Morty's past, and she had some pretty crazy things happen to her as well. Despite that, Summer didn't change a ton in Season 3, though she does seem to have the same general dislike of her grandpa as the rest of the family in the finale.
Summer generally has a better understanding of Rick than the rest of the family, perhaps because she's a bit like him herself. It would be great to see Season 4 of Rick and Morty further develop that relationship, though Summer might be the same supporting character she's been since the beginning. One never can really predict anything when it comes to this show.
Apparently, Rick And Morty Has A Lot Of Pickle Rick Outtakes, And Now You Can Watch Them
Rick and Morty airs on Adult Swim Sunday nights at 11:30 p.m. ET. Stick with CinemaBlend for major updates on the season and for the latest news happening in television and movies.
Mick likes good television, but also reality television. He grew up on Star Wars, DC, Marvel, and pro wrestling and loves to discuss and dissect most of it. He's been writing online for over a decade and never dreamed he'd be in the position he is today.
Your Daily Blend of Entertainment News
Thank you for signing up to CinemaBlend. You will receive a verification email shortly.
There was a problem. Please refresh the page and try again.