The Big Bang Theory's Original Pilot Was 'Just A Mess,' According To Chuck Lorre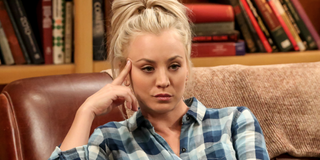 Now that The Big Bang Theory has completed its 12-season run, more of the minute details surrounding the early years of the show are coming to light. While it's hard to imagine anyone else but Kaley Cuoco playing Penny, series showrunner Chuck Lorre revealed recently that The Big Bang Theory's original pilot was a "mess," and that Penny's character was a much darker version.
The advantage of television is that stories and characters have a chance to evolve over time (if they're lucky). So, it's not surprising that The Big Bang Theory was initially conceived as a pretty different show before it successfully shifted to the pilot that fans are so familiar with. According to showrunner Chuck Lorre, the creative team initially had an entirely different pilot on their hands, and no one could quite grasp what it was they were looking for in terms of the female lead. In Lorre's words:
That "gentle" character he wanted around Leonard and Sheldon eventually morphed into Penny. In a segment featured on The Big Bang Theory: The Complete Series DVD and Blu-Ray (via ComicBook.com), Kaley Cuoco says that when she first auditioned for the show, it was for a character named Katie and she was a "dark, unhappy woman." She didn't get the part of Katie, of course, but after overhauling the entire pilot, Chuck Lorre revisited Cuoco's audition.
Here's how Kaley Cuoco, who is voicing the titular character in the animated Harley Quinn, put it:
Lucky for us, Chuck Lorre found the flaws in the earlier version of the character because it's hard to imagine The Big Bang Theory (which is making its way to HBO Max for its first taste of streaming), without Kaley Cuoco in the role of Penny. She truly made it her own and had great chemistry with the rest of the cast, namely Leonard (Johnny Galecki) and Sheldon (Jim Parsons).
If you're interested in seeing what this much darker version of the character looked like, though, look no further than to The Big Bang Theory: The Complete Series DVD and Blu-Ray. The box set, which features all 12 seasons of the show, several featurettes, a retrospective on Leonard Hofstadter, and it includes the original unaired pilot.
The Big Bang Theory: The Complete Series DVD and Blu-Ray is now available to own. If you're missing the comedy series, be sure to check out our complete guide to every new and returning show (including a ton of sitcoms) premiering through the end of the year.
Your Daily Blend of Entertainment News