The Big Bang Theory's Johnny Galecki Had A Great Reason For Wanting To Play Leonard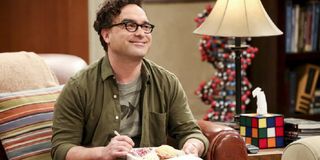 As cliché as it sounds, The Big Bang Theory did actually go out with a bang. Although Jim Parsons' Sheldon Cooper was the beating heart of the show's 12-season run, Johnny Galecki's Leonard Hofstadter was also a big reason for the show's continued success. A newly released retrospective video offers some insight on Leonard's evolution, as well as the reason why Galecki wanted the role in the first place.
Although CBS lost the rights to air The Big Bang Theory — the show will be available to stream on HBO Max — fans can relive Season 12 (and all the other seasons) when The Big Bang Theory: The Complete Series DVD and Blu-Ray is released on Tuesday, November 12. In a preview video discussing Leonard (via TVLine), Johnny Galecki explained exactly what drew him to the role.
The sitcom definitely changed the way audiences perceived the actor. The Big Bang Theory showrunner Chuck Lorre, who believed the series deserved more respect at the Emmy Awards, knew Johnny Galecki from his days as David Healy on Roseanne, and saw the potential in him while in the early stages of developing the CBS comedy. According to Lorre:
The Big Bang Theory grew to include several new characters after a couple of seasons, including Mayim Bialik's Amy. (Bialik is actually teaming up with Jim Parsons for a new show, which fans should be pumped about.) However, at the heart of the series remained the sometimes tumultuous, but always supportive, friendship between Sheldon and Leonard.
So, it's fitting that even before the show cast Johnny Galecki, who is also working on a new series with another The Big Bang Theory alum, series star and Young Sheldon narrator Jim Parsons says there was an instant connection between them in the audition.
As any TV fan will tell you, half the magic of any series is the chemistry between its cast and The Big Bang Theory truly lucked out with that for a dozen seasons of high-rated laughs.
The Big Bang Theory: The Complete Series DVD and Blu-Ray sets will be available to own on Tuesday, November 12. For more on what to watch this fall, be sure to check out our complete guide to every new and returning show premiering through the end of the year.
Your Daily Blend of Entertainment News