The Flash Has Finally Cast Ralph Dibney's Comic Book Wife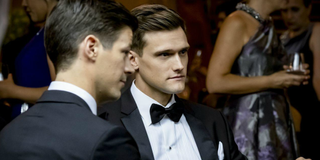 (Image credit: The CW)
In between all of the life-and-death lead-up to the "Crisis on Infinite Earths" crossover, The Flash has finally cast Ralph Dibney's comic book wife. It does not mean they will necessarily end up together on The Flash. However, casting the role of Sue Dearborn certainly brings the possibility a lot closer. Who is playing her?
Actress Natalie Dreyfuss will take on the role of Sue Dearborn on The Flash, per TVLine. Dreyfuss' most recent TV credits include an episode of the Will & Grace revival. In it, she played Jack's daughter-in-law, Emma. Dreyfuss also starred in the romantic comedy The Dating List (pictured below). On The Flash, she will play a character that has been teased for a while.
In fact, Sue Dearborn's introduction has been hinted at since The Flash's Season 5 finale, when Ralph picked up a case file with her last name on it. Sue is currently a missing person. In Season 6, he has continued his investigation all the while learning that his good friend Barry has to die. Ralph remains on the case, though!
Here is what you need to know about The Flash's version of Sue. She is described as fiercely intelligent with a "spitfire personality" to boot. Sue comes from a well-to-do family that is one of Central City's wealthiest. The Flash fans can prepare for a spark that lasts longer than a flash between Sue and Ralph.
The description mentions Ralph learning there is more to Sue than her reputation as a socialite. Thus, confirming that they will meet. Will they fall in love and get married? It's too soon to tell. The Flash may choose to take a different route.
As for the comics, Sue's story has a sad ending. In a 2004 storyline, she is murdered by Ray Palmer's wife, Jean Loring, in a convoluted attempt to get back together with him. Will The Flash ultimately mirror that as well? Ray Palmer is leaving Legends of Tomorrow, so that is a massive piece of the puzzle gone from the Arrow-verse.
Along with the mystery surrounding Sue Dearborn, The Flash has a lot of irons in the fire as it hurtles towards the massive "Crisis on Infinite Earths" crossover. Arrow has already revealed a huge betrayal as The Flash also tries to manage the villain Bloodwork. Meanwhile, there is still the question of Nash Wells being good or bad.
How will Ralph eventually finding Sue Dearborn fit into everything that is happening on The Flash? Well, fans are about to find out. No details are available just yet about when Natalie Dreyfuss will make her debut as Sue, so stay tuned. She is on her way!
New episodes of The Flash continue airing this fall on Tuesday, November 19, at 8 p.m. ET on The CW. You can currently watch past seasons of the superhero drama on Netflix, along with newly premiering content.
Your Daily Blend of Entertainment News