When Is Sue Dearborn Dibny Coming To The Flash? There Are Two Answers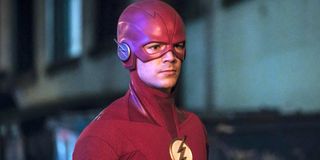 Much like it's hard to imagine Barry Allen (Grant Gustin) without Iris West (Candice Patton), Hartley Sawyer's introduction as Ralph Dibny in Season 4 of The Flash had fans immediately wondering when his future wife, Sue Dearborn, would be showing up on the show. Thankfully, it seems we won't have to wait much longer for her arrival in Season 6.
Ralph Dibny is one of those characters who deserves an award for most improved person on The Flash. Over the course of two seasons, he's gone through a tremendous amount of development, showcasing his strengths as a supportive friend and a private investigator.
In Season 5 of The Flash, Ralph spent a lot of time trying to help Cisco Ramon (Carlos Valdes) get over his breakup with Cynthia. However, he later revealed that he wasn't really cut out for love. Really, though, the show has been preparing him for the arrival of his comic book love interest, Sue Dearborn.
Speaking with TVLine, The Flash showrunner Eric Wallace says that, yes, Sue will finally show up on the show. When that happens, however, "is a huge spoiler."
That sounds a lot like a mystery wrapped in a mystery and it's something The Flash has been doing for every episode thus far. In Season 6, Episode 2, "A Flash of the Lightning," there were some big clues offered regarding a secret organization that collected a metahuman named Esperanza Garcia. It seems she was trained in the ways of being an assassin, so the organization could come back into play in the back half of the season.
As for Ralph, he's apparently been investigating the disappearance of Sue Dearborn for a while now and he hasn't come up with any substantial evidence as to her whereabouts. Beyond confirming that she will appear, though, The Flash has yet to announce anyone in the role. However, since the episode in which she'll show up is currently being written, fans should expect to hear about a casting announcement fairly soon.
Elsewhere, Barry is still dealing with the news of his impending death, which The Monitor confirmed needed to happen if the multiverse was to survive "Crisis on Infinite Earths." Season 6, Episode 3 will be the start of his training Team Flash for a world without him in it.
The Flash Season 6 airs Tuesdays at 8 p.m. ET on The CW. Need more Arrow-verse shows in your life? Be sure to check out our complete fall TV guide to all the superhero shows and more, along with their premiere dates and times.
Your Daily Blend of Entertainment News
Thank you for signing up to CinemaBlend. You will receive a verification email shortly.
There was a problem. Please refresh the page and try again.