NCIS' Wilmer Valderrama Always Pokes Fun At Mark Harmon For Being People's Sexiest Man Alive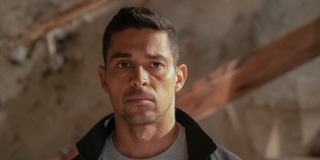 Being named one of the sexiest men alive can be both flattering and awkward. For NCIS star Wilmer Valderrama, it was surprising to be in People's "all glowed-up" section of their Sexiest Man Alive issue. He did indeed earn a spot in the magazine's 2019 list, which once presented co-star Mark Harmon with the much-coveted title back in 1986. Suffice it to say it's something Wilmer Valderrama always pokes fun at him for.
It's been three decades since Mark Harmon was named People's Sexiest Man Alive. While others have probably forgotten all about it, NCIS' Wilmer Valderrama, who joined the show in Season 14 and has another CBS series in the works, reminds Harmon about it "all the time."
For Wilmer Valderrama, being in the pages of the magazine was great because it was "nice to be thought of that way." He goes onto tell People that he actually shouldn't say that Mark Harmon is the sexiest man alive because it's hard to look him in the eyes. However, it's not because Valderrama is intimidated by his co-star. He jokes that it's because Harmon's eyes are so deep that you'll drown in them. Hubba to the hubba.
It sure sounds like they have a very fun rapport on the set of NCIS, which works out because the series itself is very dramatic and leaves little room for the characters to have a continuously fun time onscreen. The actor, who revealed he won't do motorcycle stunts because they scare his mom, has been at home on NCIS for a while playing Special Agent Nick Torres.
The show not only gives Torres plenty of action in the field, but also in the romance department. While Torres was supposed to be moving forward with Elena, it's his relationship with Ellie Bishop that will get more complicated soon. I'm sure Wilmer Valderrama will have to turn up his sexiest man alive smile to toward both Ellie and Elena if he's to make things work.
The series, which is bringing back Cote de Pablos' Ziva in a "life and death" situation, has been on for 16 seasons and, although Mark Harmon has an idea about when NCIS should end, it probably won't be anytime soon. Perhaps before the series is over, the silver fox Harmon will once again grace the pages of People as one of their sexiest men alive.
New episodes of NCIS air Tuesdays at 8 p.m. ET on CBS. As our favorite TV shows begin to air their midseason finales, be sure to check out the list of winter shows and their premiere dates with our complete midseason guide.
Your Daily Blend of Entertainment News
Thank you for signing up to CinemaBlend. You will receive a verification email shortly.
There was a problem. Please refresh the page and try again.