10 Non-Marvel And DC Comics That Need Their Own Streaming Shows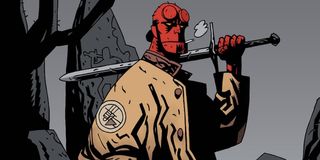 CinemaBlend participates in affiliate programs with various companies. We may earn commission when you click on or make purchases via links.
When you think of comic books, it's a good bet that Marvel and DC are the first companies that come to mind, and for good reason. The Big Two have been the driving forces behind superhero comics for decades, and they're churning out numerous movie and TV adaptations of their respective source materials each year. However, there are plenty of other comic book companies that have made the jump off the printed page, particularly where television is concerned.
Such TV series range from The Walking Dead and Riverdale on conventional television, to The Umbrella Academy and The Boys on streaming. It's that latter category that's the focus for today, because while there are plenty of non-Marvel and DC comic book series getting the streaming treatment soon, including Locke & Key, Jupiter's Legacy, Black Hammer, The Magic Order and Sin City, plenty of others should be joining that group.
As such, we've gathered 10 non-DC or Marvel comics that deserve to be adapted as a streaming series, and if you'd like to read any of these titles, Comixology is offering a free trial right now (opens in new tab).
Battle Angel Alita
James Cameron spent years getting a cinematic adaptation of the Battle Angel Alita manga series (opens in new tab) off the ground, eventually passing the directorial baton to Robert Rodriguez. While Alita: Battle Angel certainly built a sizable fanbase, it underperformed commercially, and there's still no word on if a sequel will get the green light. Assuming Alita 2 doesn't move forward, this property could thrive in a streaming setting. The original Alita manga was published across nine volumes in the 1990s, and two sequel series have kept this mythology going to this day. In other words, there's more than enough material for explore this crazy sci-fi world the cyborg protagonist lives in across multiple seasons, and certainly more in-depth than a film series could.
Hellboy
Hellboy returned to the big screen earlier this year with David Harbour inhabiting the eponymous role, but unlike the Ron Perlman Hellboy movies, this reboot was both a critical and commercial dud. Unlike Alita: Battle Angel, there's no question that this Hellboy continuity won't continue. Fortunately, following the success of The Umbrella Academy, Netflix has a first-look deal set up with Dark Horse Comics, and Hellboy might fall under the purview. Big Red has been around for over 25 years, and not only is TV a better venue to delve into the expansive Hellboy comics mythology (opens in new tab), it can easily spawn various spinoffs, like one centered on the B.P.R.D.
East Of West
Beginning publication in 2013, East of West (opens in new tab) is set in a dystopian version of the United States where the Civil War lasted for decades and the Four Housemen of the Apocalypse are running about to carry out The Message, the joining of three prophecies that signal the End of Times. This sci-fi Western has enjoyed critical acclaim throughout its run, and while there was an East of West TV series in development at Amazon Prime, creator Jonathan Hickman announced at this past San Diego Comic-Con that the series is no longer in development at that service. Hopefully Netflix, Hulu or the forthcoming HBO Max can snatch it up.
Saga
So far the comics I've mentioned should be live action adaptations, but Saga (opens in new tab) is so crazy that the only way it'll work is as an animated show, though maybe the characters could still be performed through motion capture. This comic seres from Brian K. Vaughn and Fiona Staples follows two alien warriors, Alana and Marko who fall in love with each other despite their respective races being at war with one another. The series is frequently narrated by their adult daughter, Hazel, who we watch grow up as she and her parents avoid being captured by the authorities on either side. While Vaughn wasn't initially interested in Saga being adapted for film or TV, he's since softened on that, so maybe a streaming arrangement can be set up.
Scott Pilgrim
Sometimes a good movie just doesn't do well at the box office, and that was the fate that fell upon Edgar Wright's Scott Pilgrim vs. The World. Still, with nearly a decade having passed since that movie came out, now would be a good time to revisit the original Scott Pilgrim series (opens in new tab) that was published between 2004-2010 across six volumes. Scott's printed page adventures could easily fill at least three seasons on Netflix, and because the final volume came out after the movie's release, you'd be guaranteed some different material towards the end of the run that wasn't present in the cinematic adaptation.
Lumberjanes
If you can't turn it into a movie, why not bring it to TV? Back in 2015, it was announced that the Boom! Studios comic book series Lumberjanes (opens in new tab) was being turned into a live-action movie over at 20th Century Fox, with Jurassic World 3's Emily Carmichael attached to direct. However, a lot changed for Fox in the following four years, and after Disney's acquisition of the studio, the Lumberjanes movie was reportedly cancelled. But this Eisner Award-nominated comic about girls encountering strange creatures and supernatural phenomena at summer camp deserves to shine on screen, and a TV adaptation could be a big hit among families, be it live action or animated.
Mage
Created by comic book writer and illustrator Matt Wagner, Mage (opens in new tab), which was first published in 1984 and returned for a stretch several years back, follows Kevin Matchstick, an alienated young man who meets a wizard named Mirth, who is later revealed to be the legendary Merlin. Mirth gives Kevin a mystical baseball bat that's really Excalibur, thus making Kevin a King Arthur figure, and he uses the bat to fight off supernatural threats. There was a Mage film in the works once upon a time, but nothing ever surfaced on that front, so now's a good opportunity to explore bringing the story to a streaming service, where it can be expanded upon.
The Wicked + The Divine
The Wicked + The Divine (opens in new tab) wrapped up its five year run this September, so Image Comics would be wise to consider translating this series for the small screen, especially considering that Universal TV optioned the television rights back in 2015. Set in modern times and influenced by pop music, The Wicked + The Divine is about a teenaged girl named Laura who meets The Pantheon, twelve individuals who learn they're reincarnated deities. They obtain fame and special powers, but on the condition that they die after two years as part of a 90-year cycle called The Recurrence. It's an interesting blend of ancient mythology with modern sensibilities.
Mouse Guard
Like Lumberjanes, Mouse Guard (opens in new tab) was a casualty of the Disney-Fox deal. In fact, it was the first movie to be cancelled after the merger, and that only stung more once director Wes Ball shared a proof-of-concept video that gave fans an idea of what the Mouse Guard movie would have looked like. Clearly the Mouse House isn't interested in spotlighting this group of rodents, but that doesn't mean this comic series doesn't deserve to shine elsewhere. A Mouse Guard animated series would do well on streaming, and even if it doesn't end up looking as fancy as what was planned for the movie, at least you'd be putting this beloved property in front of a lot of eyes.
The Manhattan Projects
No, this comic book series isn't about the development of the atomic bomb. The Manhattan Projects (opens in new tab) chronicles an alternate history where the United States used this undertaking to instead deliver creations that rest in the science fiction realm. The men behind the Project, like Albert Einstein and Enrico Fermi are still around, but their ideas are a lot weirder and arguably more dangerous, and many of these men have also been altered in strange ways, like Einstein having a doppelgänger from another reality and Fermi being a disguised alien. A Manhattan Projects movie might be too weird for general audiences, but find the right streaming home for it, and it could made for a wonderfully weird television show.
Feel free to share any other non-Marvel and DC comic book series you want to see be turned into TV shows that we didn't mention above. And stay tuned to CinemaBlend for all the latest updates concerning comics adaptations for both the big and small screens.
Connoisseur of Marvel, DC, Star Wars, John Wick, MonsterVerse and Doctor Who lore. He's aware he looks like Harry Potter and Clark Kent.
Your Daily Blend of Entertainment News
Thank you for signing up to CinemaBlend. You will receive a verification email shortly.
There was a problem. Please refresh the page and try again.