Locke And Key: An Updated Cast List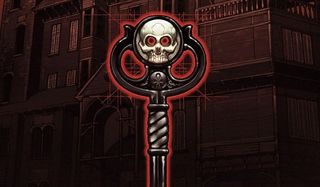 Netflix's Locke & Key is on the way, and barring some crazy turn of events that prevent this series from premiering yet again, the television adaptation of Joe Hill's iconic work is finally happening! With that said, take a look at the cast it has amassed so far, get some background on the characters and go over the resumes of the actors playing them.
Jackson Robert Scott- Bode Locke
Jackson Robert Scott will step into the role of Bode Locke, the young child who essentially gets the whole adventure started. After the siblings move into Keyhouse, he's the one that finds the ghost key and gets the whole adventure going in a truly wild direction. Expect to see a lot of Bode in Locke & Key, especially since Scott is the only actor to carry over from the original Hulu pilot.
Locke & Key will be one of the first major roles in Jackson Robert Scott's young career, although Stephen King horror fans may have seen him already once before. Scott played Georgie in the IT remake, and he's rumored to return in the film's sequel. He's also appeared on television a couple times, having played a young Troy Otto on Fear The Walking Dead, and a young character on Criminal Minds.
Connor Jessup- Tyler Locke
Connor Jessup is in as the problematic Tyler Locke, who's traveled a rough road on the way to Keyhouse. He's shouldering a lot of guilt in this adventure, but he'll still try to do right by his siblings and try to keep them safe in their new normal. Considering what lies ahead for the family, that will be a challenge.
Locke & Key is the first major television gig for Connor Jessup since 2017, when he played Coy Henson on American Crime. He was Ben Mason on Falling Skies before that, and got his start on the Australian kids television show, The Saddle Club. Will this Netflix original be his next big move in Hollywood?
Emilia Jones- Kinsey Locke
Kinsey Locke is the third sibling of the Locke children, and like her brother Tyler, she's trying to adjust to life at Keystone in Lovecraft. Suffice to say things are about as tough for her as they are the entire family, as she tries to cope with life in a new town while attempting to keep the details of her past secret.
English actress Emilia Jones got her start on House of Anubis, and has been a part of various shows and films ever since. This includes a character role in Doctor Who, as well as a part in Pirates of the Caribbean: On Stranger Tides. She's done film work beyond that, including a role in the film Brimstone alongside Game of Thrones actor Kit Harington. Should Locke & Key be successful, we can only imagine what she'll do next.
Sherri Saum- Ellie Whedon
Sherri Saum's Ellie Whedon is a character with ties to Lovecraft, and also has a connection to the father of the Locke children, Rendell. She knows a bit about the weirdness of Keyhouse based on her past experiences with it in her and Rendell's younger years.
Sherri Saum is one of Locke & Key's television veterans, with a long career of roles on various high profile programs. Now that her long run on The Fosters is through, Saum's right on to Netflix in her next big television role.That should hold her over at least until her next appearance on Good Trouble.
Griffin Gluck- Gabe
Griffin Gluck's Gabe is a boarding student at Matheson Academy, who Deadline says will befriend Kinsey. Gabe isn't a character in the Locke & Key books, so there's going to be a bit of mystery surrounding his character going into the series. Is he a combination of other characters or someone completely new to shake things up?
His character may be new to Locke & Key, but Griffin Gluck is no stranger to Netflix. Subscribers may recognize the actor as Sam Ecklund, one half of the crime-solving duo on American Vandal. Before then, legal drama fans may have known him as Mason Warner on Private Practice. Hopefully this talented young actor sticks around on Locke & Key for awhile, unless of course, he ends up being an awful person.
Darby Stanchfield- Nina Locke
Nina Locke is the mother of the children and living at Keyhouse with them. The loss of her husband, as well as some other events, have taken a toll on her about as much as the other children, so don't expect her to be a positive ray of sunshine. In fact, don't expect anyone to be a positive ray of sunshine in Locke & Key.
Darby Stanchfield enters Locke & Key on the heels of her long run on Scandal as Abby Whelan. Stanchfield has had a long career in television, and has appeared on dramas like NCIS, Mad Men, and General Hospital. As Nina, she'll try to do right by her children, although her past demons may inhibit her ability to do so at various points.
Laysla De Oliveira- Dodge
Laysla De Oliveira enters Locke & Key as Dodge, a demon that will cause some problems for the Locke family as they stay at Keystone. Perhaps that downplays the impact Dodge has on the series overall, but for those wishing to stay unspoiled, it's best to leave things at that.
Oliveira has been kicking around Hollywood since her role in Covert Affairs back in 2012, but really hasn't had much beyond character roles until now. Her role as Dodge will certainly give her much more screen time, and potentially a chance to elevate her career with a memorable performance.
Petrice Jones- Scot
Scot is described as a film nerd who leads a group of misfit teens called the "Savini Squad." Scot will be the first friend Kinsey makes at the Academy, and may even witness a somewhat embarrassing moment for the girl prior to their official introduction.
Jones plays Tal in The YouTube Red series Step Up: High Water, so Locke & Key won't be his first foray into the world of streaming shows. He was also briefly in Stan Lee's Lucky Man, so shows with a bit of supernatural twist are nothing new. Pertrice Jones has been listed as a series regular, so expect to see Scot popping around at least a couple times in Season 1.
Steven Williams- Joe Ridgeway
Steven Williams will enter Locke & Key as Joe Ridgeway, a teacher at Matheson Academy. Joe's character description explains he will establish a connection with the Locke family upon their arrival, and the character was an English teacher in the comics. His role in Season 1 will be recurring.
Williams has celebrated a long career in Hollywood that kicked off in 1975. Netflix subscribers can see him ahead of his Locke & Key premiere in the film Velvet Buzzsaw, but chances are audiences are well familiar with him from the various roles he's played on shows and films in the past. 2019 is a busy year for the actor, who will appear in Yellowstone and True Detective before the year is up.
Kevin Alves- Javi
Kevin Alves has the honor of playing one of the characters entirely new to Locke & Key. The recurring character will be Tyler's best friend, and is described as the "life of the party." As a carefree teenager, he's going to try and attempt to get Tyler to do the same. Obviously his role is a point of interest due to it being new, so it will be interesting to see how his presence impacts the series.
Alves comes into Locke & Key after a short stint on Shadowhunters, where he played Bat. He's also had short runs on Saving Hope, The Expanse, and Degrassi: The Next Generation. Now he's on Locke & Key, ready to pave a path with a fresh character that could make a big impact on the show.
Locke & Key is headed to Netflix, and we couldn't be more excited at CinemaBlend to see this project finally come to television. For a look at some things premiering before it, head on over to our midseason premiere guide.
Your Daily Blend of Entertainment News
Mick likes good television, but also reality television. He grew up on Star Wars, DC, Marvel, and pro wrestling and loves to discuss and dissect most of it. He's been writing online for over a decade and never dreamed he'd be in the position he is today.
Your Daily Blend of Entertainment News
Thank you for signing up to CinemaBlend. You will receive a verification email shortly.
There was a problem. Please refresh the page and try again.