Hawaii Five-0 Will Get 'Dark And Twisted' For Adam In Season 10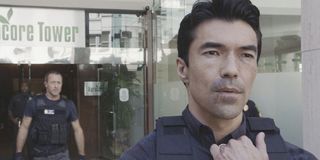 Ian Anthony Dale's Adam Noshimuri is in for a rude awakening in Hawaii Five-0's upcoming episode, "O 'Oe, a 'Owau, Nalo Ia Mea." After an intimate moment with girlfriend Tamiko is interrupted and she's kidnapped right in from of the character, Dale says things will get very "dark and twisted" for Adam.
Adam and Tamiko have taken the next step in their relationship, but that hopeful spark won't be a happy one for very long after she's taken by Yakuza rivals. Desperate to get her back, Adam will briefly abandon the Five-0, which has already suffered a recent loss, in search of Tamiko. Ian Anthony Dale previews that Adam's mission will get very intense. Here's what he said:
It sounds like Adam will go to any length to get Tamiko back, which possibly even includes breaking the laws he's sworn to uphold as a lawman. According to Ian Anthony Dale, that puts him "between a rock and a hard place" in terms of his relationship with the Five-0. Since he won't be involving his fellow authorities, it leaves him in a sticky situation.
However, this dark journey will circle back to Masuda's idea that Adam has always belonged with the Yakuza, even though he's been trying to avoid becoming that person his whole life. Speaking with TVLine, Ian Anthony Dale says Adam will struggle with the decision of simply giving into his "fate."
While Adam and Tamiko are suffering, though, Hawaii Five-0 is not all intensity and Man on Fire journeys. After experiencing a tunnel collapse in Season 10, it's good news ahead for Tani and Junior, who will "take the next steps toward finally (finally!) seeing what is right in front of them."
Perhaps it'll happen just in time for Hawaii Five-0's big two-part crossover with CBS' Magnum P.I. Ahead of the crossover, however, showrunner Peter M. Lenkov jokingly called to shelve a Season 3 episode of Hawaii Five-0 that referenced Tom Sellick's original run of the show instead of the reboot (which technically didn't exist yet). For Adam's sake, I hope that he isn't too far down the rabbit hole by the time the crossover rolls around.
Hawaii Five-0's Season 10 continues Friday, December 6 at 8 p.m. ET on CBS. The series' fall finale will air next Friday, December 13 and will return midseason January 3, 2020 — which is when the Magnum P.I. crossover will happen. For more on what's coming to TV, be sure to check out our 2020 winter and spring schedule.
Your Daily Blend of Entertainment News