Hawaii Five-0: Why Each Of The Major Cast Members Left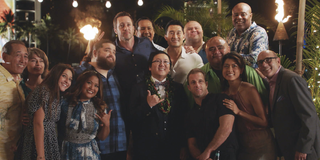 In the ten years since the CBS reboot reintroduced audiences to McGarrett and Danno, Hawaii Five-0's cast has seen some big changes go down. Most recently, Arrow vet Katrina Law joined the show as former military intelligence, and it's been heavily rumored that the show might be losing star Jorge Garcia, with his character Jerry likely having gotten shot in the Season 9 finale.
But rather than peeking into the unknowable future, we're looking back to all the past Hawaii Five-0 cast change-ups to talk about why each of those major cast members ended up bowing out of the CBS drama.
Grace Park (Kono Kalakaua)
Grace Park was one of Hawaii Five-0's O.G. stars, having been cast to fill the role of Kono Kalakaua, a character who was male in the original 1970s series. It was a smart move, too, as Park's Kono brought a badass female sensibility to the team, where she'd be just as quick to snipe someone as to take them down in hand-to-hand combat.
Why Did Grace Park Leave Hawaii Five-0? In one of the more controversial broadcast drama exits in recent years, Grace Park dropped out of Hawaii Five-0 in 2017 as part of a salary dispute. It was revealed that Park and co-star Daniel Dae Kim were getting paid 10-15% less than Hawaii Five-0's Scott Caan and Alex O'Loughlin, with CBS not relenting on discussing more lucrative contract negotiations in Park and Kim's favor. In fact, the network claimed that the two actors had been given "large and significant" raises previously, but those claims were thrown into question in the aftermath of Park and Kim leaving the show.
Over a year after leaving Hawaii Five-0, Grace Park came out in 2018 and finally spoke about her exit, though she held back on burning bridges, saying:
How Was Grace Park's Kono Written Out of Hawaii Five-0? Considering Grace Park left Hawaii Five-0 just a month or so after Season 7 had wrapped, there wasn't a chance to give Kono a proper sendoff. In the Season 8 premiere, it was revealed that the character had vacated the islands to join a sex trafficking task force in Carson City, Nevada. A handful of new cast members joined the show in Park and Daniel Dae Kim's wake, such as Meaghan Rath, Dennis Chun, Kimee Balmilero and Taylor Wily.
What Has Grace Park Done Since Leaving Hawaii Five-0? In the months after Grace Park left Hawaii Five-0, she could be seen in Judy Greer's indie comedy Adventures in Public School. But it was in 2018 where Park landed a role on ABC's emotional mystery drama A Million Little Things, which has become a big hit for the network.
Daniel Dae Kim (Chin Ho Kelly)
Having been the first star cast for the updated take on Hawaii Five-0, Daniel Dae Kim brought his genres skills from Lost and Angel (among other shows) to the CBS procedural to portray the character Lt. Chin Ho Kelly, who was played by Kam Fong Chun in the original. Chin was a jack of all trades, with studious brains to match his athleticism and brawn.
Why Did Daniel Dae Kim Leave Hawaii Five-0? As previously mentioned, Daniel Dae Kim and Grace Park were at the center of a pay disparity dispute with Hawaii Five-0 producers over reported discrepancies between their contracts and those of stars Alex O'Loughlin and and Scott Caan. CBS reportedly held on to the claim that O'Loughlin and Caan were the actual leads of Hawaii Five-0, and that Kim and Park were both supporting lead roles, despite the fact that their characters Chin and Kono were legitimately every bit as important and heavily marketed as Steve McGarrett and Danny Williams. Without any resolution from the dispute occurring, Kim and Park dropped out of Hawaii Five-0 ahead of Season 8, and it was another blow to CBS in terms of its diversity track record.
How Was Daniel Dae Kim's Chin Written Out of Hawaii Five-0? Considering Daniel Dae Kim wasn't around for any of the filming for Season 8, the writers had to give the character an offscreen farewell. It was explained in the Season 8 premiere that Chin had accepted a position in San Francisco to take over the Five-0 task force that was being organized within the San Francisco Police Dept.
What Has Daniel Dae Kim Done Since Leaving Hawaii Five-0? On the feature film side of things, Daniel Dae Kim was part of a notable recastng in David Harbour's recent Hellboy reboot, and he also co-starred in the popular Netflix rom-com Always Be My Maybe. He'll soon show up in the 2020 sci-fi thriller Stowaway opposite Anna Kendrick and Toni Collette. As far as his follow-up television work goes, Kim serves as executive producer of ABC's hit drama The Good Doctor, a remake of the South Korean drama of the same name, and he even joined the cast in Season 2 as a surgery chief.
Michelle Borth (Catherine Rollins)
Though Michelle Borth wasn't part of the main cast right when Hawaii Five-0 premiered in 2010, she entered the fray in the fourth episode of Season 1 as former Navy Officer Lt. Catherine Rollins. She quickly become an on-and-off romantic foil for McGarrett, and after taking a guest role in Season 2, Hawaii Five-0 promoted Borth to a series regular for Seasons 3 and 4. Borth left the show in a regular capacity after that, but fans watched Catherine come and go for years after. Her last appearance so far came in Season 9's 11th episode, directed by Carl Weathers.
Why Did Michelle Borth Leave Hawaii Five-0? It was revealed in 2014 that Michelle Borth would not be returning to Hawaii Five-0 in a regular capacity, and it looked for a second like Catherine Rollins wouldn't be returning at all. No specific reasons have ever been revealed for why Borth left the full-time gig on Hawaii Five-0, although it's known that her character was disliked by a section of the fandom. In any case, it's clear that the exit was partly amicable, considering Borth has returned seven times since Season 4 ended.
How Was Michelle Borth's Catherine Rollins Written Out of Hawaii Five-0? Initially, Michelle Borth's Cath was written off at the end of Season 4 with the explanation that she was remaining in Afghanistan to search for the son of a man who'd previously saved her life. She returned for Kono and Adam's wedding in Season 5, while Season 6 played up her and McGarrett's inability to maintain a lasting relationship, and her returns in more recent seasons have been for one-off missions.
What Has Michelle Borth Done Since Leaving Hawaii Five-0? Michelle Borth hasn't found another big TV role just yet to complement her time on Hawaii Five-0, though she did star in the Lifetime movie Devious Nanny in 2018, and will also star in the upcoming TV movie No Good Deed. 2019 saw Borth taking on the role of Super Hero Mary in the DC Comics action-comedy Shazam!
Masi Oka (Max Bergman)
Arguably best known for playing the time-jaunting lead in the fantastical drama Heroes, actor Masi Oka joined Hawaii Five-0's first season as the always genial medical examiner Dr. Max Bergman. While initially only a recurring role, Max and Oka were promoted to series regulars for Season 2, and over the years, his character's history (and Halloween costume choices) was explored, though much of his personal life remained offscreen, such as his marriage to Rumer Willis' Sabrina.
Why Did Masi Oka Leave Hawaii Five-0? Even though Masi Oka vacated Hawaii Five-0 during the same season that fellow Asian actors Grace Park and Daniel Dae Kim did, Oka's exit was not tied to those contract negotiations, and was already planned whenever he made his final appearance in the thirteenth episode of the final season. According to the actor, part of it was because the character had run his course, and part of it was because he had personal issues to take care of. Here's how he put it at the time:
How Was Masi Oka's Max Written Out of Hawaii Five-0? With everything about Masi Oka's exit planned, Hawaii Five-0 gave Max Bergman a winning farewell, with the character retiring from his medical examiner position in Honolulu and taking on a role within Doctors Without Borders. It was revealed Max would be returning to Africa for his new position, where he would also be celebrating life with his wife Sabrina.
What Has Masa Oki Done Since Leaving Hawaii Five-0? Masi Oka has yet to make any return appearances on Hawaii Five-0, but the actor did have a couple of small screen roles in the meantime. He took on his next live-action role on Amazon's award-winning Mozart in the Jungle, and also voiced a character in the animated Supermansion: Summer Vacation Special. As far as movies go, Oka appeared in the creature feature romp The Meg and will soon be heard in the animated Will Smith feature Spies in Disguise.
Taryn Manning (Mary Ann McGarrett)
Whenever Hawaii Five-0 was in its early days, the creators decided to bring in Sons of Anarchy vet Taryn Manning to portray Steve McGarrett's younger sister Mary Ann, who was played by Nancy Malone in the original series. Estranged from her brother at first, Mary Ann shows up and proves herself to be a problematic character, but one with room for redemption. She later become a doting mother after adopting a daughter, Joan, which helped to strengthen her relationship with Alex O'Loughlin's Steve.
Why Did Taryn Manning Leave Hawaii Five-0? While the specific details surrounding Taryn Manning's exit from Hawaii Five-0 don't seem to have ever come to light, the basic story is that the show's producers decided to go in a different direction with the central narrative as they went through Season 1. It was reported that the creative team wanted to explore more of McGarrett's professional life, while limiting how his personal life was handled. Here's how Manning explained it herself at the time, speaking to her Season 1 stint getting short-changed:
Though she no longer had the "Also Starring" status, Taryn Manning returned to Hawaii Five-0 as Mary Ann six more times over the years, most recently for Season 9's 23rd episode.
How Was Taryn Manning's Mary Ann Written Out of Hawaii Five-0? Mary Ann was part of an intense kidnapping in Taryn Manning's final Season 1 episode, but she obviously returned several times after that. Season 4 is when she adopted her daughter, which has been a core part of the character since. In her most recent appearance, Mary Ann required her brother's skills in peeping out her suspicious neighbor during her stay at an Airbnb. It's presumed she will return at some point in the future.
What Has Taryn Manning Done Since Leaving Hawaii Five-0? Since her technical exit from Hawaii Five-0 in 2011, Taryn Manning has appeared in over a dozen films, including All American Christmas Carol and Blackmail. But she is inarguably most known now for her work as Pennsatucky Doggett on Netflix's long-running prison dramedy Orange is the New Black, which aired its final season in 2019.
Lauren German (Lori Weston)
To date, Lucifer star Lauren German is the Hawaii Five-0 cast member who was around for the shortest amount of time, with her "Also Starring" stint lasting all of a single season. German was brought in as Special Agent Lori Weston, who was basically meant to be romantic fodder for Steve McGarrett while he was missing Cath. She ultimately came to realize that McGarrett wasn't over Cath, and that was that.
Why Did Lauren German Leave Hawaii Five-0? By many accounts, Hawaii Five-0 fans were not big on Lauren German's Lori, and did not wish to see sparks fly between her and McGarrett. Not a lot of noise was made about German's exit in Season 2, which was quickly followed by her landing a lead role on NBC's Chicago Fire. The actress seemed to hint at there being behind-the-scenes issues involved with the decision to write her off, reportedly saying at the time:
How Was Lauren German's Lori Written Out of Hawaii Five-0? With her final appearance coming in the episode "I Helu Pu," Lori ended up resigning after some international drama involving the governor and the Russian consulate. But not before she expressed her romantic feelings for McGarrett, who did not share in them.
What Has Lauren German Done Since Leaving Hawaii Five-0? Not long after her final episode of Hawaii Five-0, Lauren German joined the cast of the then-new Dick Wolf drama Chicago Fire, which kicked off NBC's One Chicago franchise. She left that drama going into its third season, at which point she landed the lead female role on the Fox-to-Netflix drama Lucifer, which is currently filming its final season.
2019 Fall TV Premiere Schedule: Dates For New And Returning Shows
At this point, all of the remaining Hawaii Five-0 cast members are still involved in big ways, but Season 10 could always change that, of course. Be sure to tune in when it debuts on CBS on Friday, September 27, at 8:00 p.m. ET.
Your Daily Blend of Entertainment News
Assistant Managing Editor
Nick is a Cajun Country native, and is often asked why he doesn't sound like that's the case. His love for his wife and daughters is almost equaled by his love of gasp-for-breath laughter and gasp-for-breath horror. A lifetime spent in the vicinity of a television screen led to his current dream job, as well as his knowledge of too many TV themes and ad jingles.