Simon Cowell's America's Got Talent Issues Aren't Stopping Him From Making Bank At Britain's Got Talent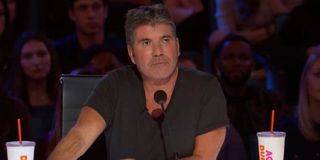 As controversy envelops America's Got Talent, judge and producer Simon Cowell has remained relatively unaffected. While NBC and the SAG-AFTRA labor union investigate the controversial firing of Season 14 judge Gabrielle Union, it seems Cowell's America's Got Talent issues aren't stopping him from making bank with Britain's Got Talent.
Simon Cowell is very close to signing a five-year deal with ITV for the United Kingdom's version of America's Got Talent, aptly called Britain's Got Talent. The record-setting deal is said to be the longest one Cowell has ever signed with ITV, which will bring the popular competition series to its 18th season.
Historically, the British broadcaster has combined Britain's Got Talent with The X-Factor, both of which have usually been signed on for three-year deals. However, The X-Factor is only set for one season under Simon Cowell's new deal with ITV and Deadline is reporting that an announcement for the deal should be coming at some point this week.
This is all happening in the midst of reports claiming America's Got Talent suffered from a toxic workplace environment. The allegations surrounding the firing of series judges Gabrielle Union and Julianne Hough, who recently spoken out about Union's firing, surfaced not long after their departure from the show was announced in November.
Per the reports, inside sources alleged that America's Got Talent harbored a work environment that made it difficult for the two women to do their jobs and get along with those behind the production. The claims alleged that Gabrielle Union and Julianne Hough were both heavily criticized over their physical appearance, among other things.
Sources also claimed that Gabrielle Union even reported a few incidents to NBC's producers, but that they never escalated the incidents to Human Resources. The incidents included comments made by Jay Leno and a racially-charged event involving a contestant.
The investigation is ongoing and doesn't seem to be going away anytime soon, with NBC working with Union to "hear more about her concerns." However, the controversy doesn't seem to have affected Simon Cowell's business relationship with America's Got Talent's producer Fremantle. In fact, the production company's Thames TV is co-producing Britain's Got Talent with Cowell's Syco Entertainment.
Simon Cowell has yet to officially break his silence regarding the aforementioned allegations, but he has reportedly hired a lawyer amid the investigation. While Cowell remains mum, however, former America's Got Talent judge Howard Stern had a few things to say about him, accusing the Britain's Got Talent judge of creating a "boys club" environment that ultimately led to Gabrielle Union's firing.
American's Got Talent and Britain's Got Talent are currently in their off-seasons, but Season 2 of America's Got Talent: The Champions is set to air — with Cowell remaining on as a judge — on January 6, 2020 on NBC. In the meantime, be sure to check out all the shows returning in 2020 with our winter and spring TV schedule.
Your Daily Blend of Entertainment News