Julianne Hough Speaks Out About Gabrielle Union's Firing From America's Got Talent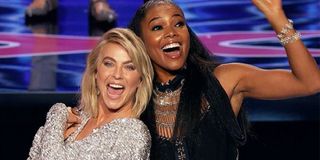 After just one season, Julianne Hough and Gabrielle Union were ousted from America's Got Talent, which preceded reports alleging a toxic workplace environment. Union recently met with NBC following her controversial departure from the show, and now the former Dancing with the Stars pro Hough is finally speaking out about her colleague's firing from America's Got Talent.
While promoting her upcoming NBC special co-hosted by brother Derek Hough, appropriately titled Holidays with the Houghs, Julianne Hough was asked about the ongoing controversy behind the scenes of America's Got Talent, and she immediately backed Gabrielle Union's comments about her NBC meeting, and applauded her efforts for change. Here's what Hough said:
The specific comment Julianne Hough is referring to is Gabrielle Union's tweet about her "productive" meeting with NBC. Although Hough's response was to the point, she avoided directly responding to questions regarding her own experience on the competition show. Though her own ousting was controversial, recent reports have been much more centered on Union's alleged problems with show creator Simon Cowell and others.
Speaking with the hosts of The Today Show, Julianne Hough did confirm that she's reached out to Gabrielle Union for some one-on-one time. However, they have not had a conversation just yet, and Hough cited their busy schedules as the reason.
The former judge later reiterated her praise for Gabrielle Union, and NBC, for willing to have an actual discussion about the alleged incidents and subsequent firing from America's Got Talent. Julianne Hough isn't the only one backing Union, either. The women of Hollywood quickly came to her defense after reading about the allegedly problematic work environment.
In the initial report, sources claimed that both Julianne Hough and Gabrielle Union were heavily criticized for their physical appearance, with Union's hairstyles being targeted for being "too black" for America's Got Talent audiences. Additionally, several sources alleged that Gabrielle Union filed complaints with NBC producers that were disregarded, including one about a racially charged incident involving a white contestant darkening his hands to emulate Beyonce, and Jay Leno's inappropriate comments.
Former America's Got Talent judge Howard Stern blamed judge and co-creator Simon Cowell for Gabrielle Union's firing, claiming that the environment was the "ultimate example of a boys club," and other former co-judge Sharon Osbourne backed up those comments. However, this marks the first time that Hough has openly discussed the controversy since the news of her and Union's firing.
NBC has vowed to "hear more about" Gabrielle Union's concerns and the SAG-AFTRA labor union is also launching an investigation into the allegations. However, it remains unclear whether Julianne Hough will further discuss the controversy in the near future.
America's Got Talent is currently in its off-season, but Season 2 of America's Got Talent: The Champions is all set to premiere January 6, 2020 on NBC. In the meantime, be sure to check out our complete guide to the TV shows premiering in the winter and spring of 2020.
Your Daily Blend of Entertainment News