Marvel's TV Studio Is No More, But It's Not All Bad News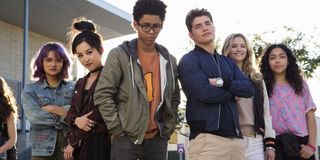 Following Kevin Feige's promotion to Marvel's Chief Creative Officer, and the impending exit of current Marvel TV boss Jeph Loeb, many fans were rightfully worried about the trajectory of all of the studio's comic book shows outside of the Marvel Cinematic Universe. It's now been made official: Marvel's TV studio is no more, but it might not be all bad news.
Let's start with the bad news first. The TV arm of Marvel Entertainment is being folded into Marvel Studios. In his expanded role, which was announced back in October, Kevin Feige's creative control now extends beyond the MCU and into Marvel TV, animation, and publishing. (Basically, everything that Marvel is doing with Disney+, as opposed to any other network or streaming service.)
The TV branch was responsible for Agents of S.H.I.E.L.D. and Netflix's previously cancelled Defenders shows — Daredevil, Jessica Jones, Luke Cage, and The Punisher — and . its shuttering means there will unfortunately be layoffs within the company, though how many remains to be seen. Meanwhile, former head of Marvel TV Jeph Loeb will oversee the transition before officially leaving the studio.
Now for the good news. According to THR, the transition doesn't mean the complete end of Marvel Television as we know it just yet. All projects currently in development are still happening, so fans worried about the dark adaptation Helstrom can take comfort that the series is currently still set to debut on Hulu at some point in 2020. And most of the animated projects in development are also still on the path to their debuts.
That doesn't mean it's all sunshines and rainbows for those shows, though. Production on the animated Tigra and Dazzler Show stopped recently after the showrunner left the project due to creative differences with Marvel. Still, plans remain in place for Tigra and Dazzler Show to continue on with Hulu.
However, the same can't be said for other Marvel TV shows whose fates were locked down before the recent studio update. Agents of S.H.I.E.L.D. is already ending with its seventh and final season, but there's no hope for all the other cancelled Marvel shows that were under Jeph Loeb's direction. Even the Ghost Rider series with Gabriel Luna, which was announced back in May, was later dropped by Hulu before production ever began, so it likely wouldn't have stood a chance under the new Marvel TV division.
Jeph Loeb ushered in a new era in his years stop Marvel TV, bringing several new shows to fans across a variety of TV networks and streaming services. (Many fans will forever argue that Daredevil is the best Marvel show of all time.) His departure and the subsequent folding of Marvel TV under Kevin Feige's leadership seemed imminent after Cloak and Dagger and Marvel's Runaways were also cancelled, so the announcement seems like more of a formality.
While it's understandable that Marvel wants to streamline their shared universe, the loss of Marvel TV is still a big one for anyone hoping to see lesser-celebrated characters. I imagine that Kevin Feige is more interested in bringing to Disney+ a batch of MCU-specific shows like WandaVision, Loki, and The Falcon and the Winter Soldier, rather than contending with Marvel's shows on other television platforms. Time will tell just how concerning that kind of decision-making could be.
Stay tuned to CinemaBlend for more on the transition of Marvel's TV branch. In the meantime, be sure to check out our guide to all the TV shows premiering in the winter and spring of 2020.
Your Daily Blend of Entertainment News
Your Daily Blend of Entertainment News
Thank you for signing up to CinemaBlend. You will receive a verification email shortly.
There was a problem. Please refresh the page and try again.