Marvel's Runaways Cancelled At Hulu, Season 4 Not Happening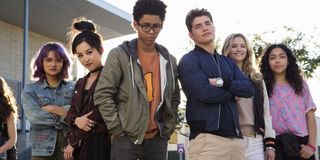 When Netflix began cancelling Marvel shows last year, including Daredevil and Luke Cage, no one knew that it was just the beginning of the end of Marvel TV as we knew it. On the heels of Freeform's cancellation of Cloak and Dagger comes the news that Hulu is axing Marvel's Runaways after Season 3.
Yes, Runaways won't be getting a Season 4 after all. The cancellation comes ahead of the show's Season 3 premiere, so at least fans know ahead of time that the show won't be coming back after that. Still, that doesn't mean the news is any less disappointing.
According to Variety, a source close to the Hulu series claims that the third season served as a "natural ending" to the show. However, it remains unclear how far in advance the Runaways' writing team knew that the show would be cancelled, especially since filming for Season 3 wrapped a while ago.
It's important to note that Runaways was one of the last live-action Marvel shows under the guidance of Jeph Loeb, who served as the head of Marvel Television for over a decade. Loeb essentially ushered in the age of Marvel TV and found ways to keep them connected them to the Marvel Cinematic Universe without being beholden to all of its rules.
With the news that Kevin Feige would be taking over for Marvel TV, his promotion brings a new era of MCU shows set to debut on the new Disney+ streaming service. These limited series, including WandaVision, Loki, and The Falcon and the Winter Soldier, all follow well-known MCU characters. With that in mind, it seemed like only a matter of time before all of Marvel's non-Disney+ properties would be cancelled.
This transition might explain why the solo Ghost Rider series was scrapped by Hulu earlier this year, much to the disappointment of Gabriel Luna. Luna originally played Ghost Rider for ABC's Agents of S.H.I.E.L.D., although he'd be playing a different version of the character for the planned solo series. For its part, S.H.I.E.L.D. was also cancelled and will air its seventh and final season in the summer of 2020. Of course, while the real reason behind all these Marvel show cancellations hasn't been confirmed, it's certainly suspicious enough to raise eyebrows.
Runaways Season 3 had fans excited because it was set to include a crossover with Cloak and Dagger and fans thought that was a good sign after the latter was cancelled after two seasons. If Runaways survived, that meant Cloak and Dagger could be folded into the Hulu series, right? While there's no chance of that happening now, the Season 3 trailer promises fans a good time. Check it out below.
Marvel's Runaways joins a long list of Marvel shows that were cancelled just this year, including Jessica Jones and The Punisher, though series star Jon Bernthal wouldn't mind transitioning his character to the larger MCU. It definitely feels like the end of an era for Marvel TV.
Runaways' third and final season will be available to stream on Hulu beginning December 13. For more on what to watch this season, be sure to check out our complete guide to every new and returning show premiering through the end of the year.
Your Daily Blend of Entertainment News