Things Aren't Looking Good For Marvel TV Outside Of The MCU Shows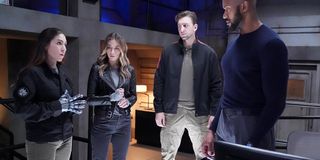 Last week, Marvel Studios made a bold move and expanded Kevin Feige's creative role. In addition to the Marvel Cinematic Universe, the Marvel Studios President will now be in charge of Marvel TV and animation, giving him almost complete dominion over the shared universe. However, with Feige's promotion to Marvel Entertainment's Chief Creative Officer also comes the loss of current head of Marvel Television Jeph Loeb, and that might not be a good thing for Marvel TV outside of the MCU shows.
While the number of Marvel's films have grown over the years, the world of Marvel television remained in its own bubble. While still connected to the shared MCU, Marvel television was scattered across different networks, including ABC (Agents of S.H.I.E.L.D.), Netflix (Daredevil, Jessica Jones, Luke Cage), Hulu (Marvel's Runaways), and Freeform (Marvel's Cloak and Dagger).
So, while Kevin Feige ventured into the television arena to head Marvel content for the new streaming service, Disney+, which will include WandaVision and Loki, hope still remained that Jeph Loeb would maintain his position as the head of Marvel Television. After all, this is the man who revitalized Marvel's television content for different demographics and brought about critically acclaimed shows like Agent Carter. However, Loeb's long-rumored exit seems to be happening and that doesn't bode well for Marvel TV in general.
Variety is reporting that Jeph Loeb will be leaving his role as head of Marvel Television in the coming weeks. While many clearly believe in Kevin Feige's overall vision for the Marvel universe, Loeb's departure could mean the death of Marvel TV as we've come to know it, especially now that Disney+ seems to be streamlining its own content, leaving network TV behind.
We've already seen the effects of this change, with Hulu scrapping all plans for a Ghost Rider series and the announcement that ABC's long-running and well-received Agents of S.H.I.E.L.D. will conclude in 2020 with its seventh and final season. It might not be long before other Marvel shows begin disappearing from their current streaming and cable homes.
That said, Jeph Loeb has had to work within the constraints of the network television landscape, whereas Kevin Feige isn't faced with the same limitations. For example, the Marvel Netflix shows cost $4 million an episode to produce, while the Disney+ series reportedly have episodic budgets up to $25 million and will overall cost between $100 million-$150 million per season. This certainly gives Feige fairly free reign over the content.
Though it sucks for long-time fans of Marvel TV, Disney wanting to keep Marvel-related content to its streaming service doesn't come as a surprise. There's still no telling what will happen to the Marvel shows currently airing, but things are definitely not looking up. Marvel Netflix has already been shuttered and the same could happen with Cloak and Dagger and Hulu's The Runaways.
Additionally, with the loss of Jeph Loeb, there's a chance that Marvel's lesser-known characters will be replaced with only characters from the MCU. After all, Marvel's Disney+ series seem preoccupied with focusing on already popular characters instead of introducing new ones. That's a shame, especially considering all the work Loeb and his television team put in to ensure all the series still fit within the scope of the Marvel universe.
Stay tuned to CinemaBlend for updates on what's going on with Marvel TV and all other Marvel universe news. Disney+ is set to launch on November 12, so be sure to check out our complete guide to every new show set to premiere on the new streaming service.
Your Daily Blend of Entertainment News