Does Criminal Minds' Final Season Promo Spoil A Big Premiere Moment?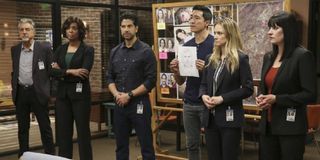 Following the Season 14 bombshell reveal that JJ had been in love with Reid for years, Criminal Minds' fifteenth and final season is set to raise the stakes even more. The Season 15 premiere picks up a few months after that major reveal and the Criminal Minds' final season promo may have already spoiled a big premiere moment. Is JJ's life in danger?
Criminal Minds' Season 15 premiere is right around the corner and it's looking to be packed with suspense. The promo for the new season is full of several quick snippets from the two-episode premiere, including the team finding a bomb and Reid, sounding worried, asking JJ about her location. The trailer ends on its own cliffhanger, with JJ seemingly shot by a mysterious woman. Check out the full promo below!
In the first look at the Season 15 premiere, Criminal Minds teased that JJ and Reid would be very touchy, which makes sense considering it's been months since JJ admitted her feelings to him. It's complicated because she's still wearing her wedding ring and Reid's getting a love interest in the show's final season, so whether or not they'll actually take the next step in their relationship remains to be seen, . But the promo is already setting them up for some hurt regardless.
In fact, the two-episode premiere concludes its first hour with a major "oh shit!" cliffhanger moment. Per TVLine, the first episode's ending will leave fans grateful that it's immediately followed by another episode. That sounds intriguing and it sure seems like this is in reference to JJ's fate at the end of the promo.
The synopsis for Season 15's second episode, called "Awakenings," backs up the suspicion, indicating that a member of the BAU is in the hospital. This implies that A.J. Cook's JJ will be shot at the end of the first hour and will be out of commission for most, if not all, of the second episode. For Reid's sake (and her family's), let's hope she survives!
In addition to all that, the season premiere will also include some tension between Paget Brewster's Emily Prentiss and Joe Mantegna's David Rossi. The Season 14 finale introduced The Chameleon, a serial killer and former criminal accomplice, and it seems Rossi has become even more obsessed with catching the villain.
Season 15 is a highly-anticipated one for fans of Criminal Minds and even moreso after CBS announced the show's final batch of episodes was being pushed to midseason. With the possibility of JJ being injured so early on in the season, the CBS show is barreling toward an "explosive and transformative" two-hour series finale, and the premiere can't come soon enough!
Criminal Minds two-episode Season 15 premiere airs Wednesday, January 8 from 9 p.m. to 11 p.m. ET on CBS. For more on what to watch in the new year, be sure to check out our complete midseason schedule to find out when your favorite shows will return.
Your Daily Blend of Entertainment News
Your Daily Blend of Entertainment News
Thank you for signing up to CinemaBlend. You will receive a verification email shortly.
There was a problem. Please refresh the page and try again.