When Criminal Minds' Final Season Will Premiere On CBS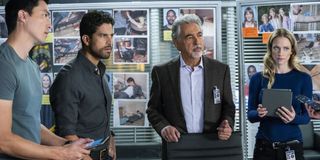 After a successful run, Criminal Minds is finally headed into its 15th and final season. The series, which usually premieres in the fall, was cancelled by CBS back in February and disappointingly held for midseason. Now that midseason is right around the corner, though, CBS has finally set the series' final season premiere date. Mark your calendars for January 8, 2020!
Criminal Minds is receiving a special two-hour Season 15 premiere on Wednesday, January 8 from 9 p.m. - 11 p.m. ET. Beginning January 15, however, the drama series will carry on with its regularly-scheduled hour-long episodes. CBS has also set Criminal Minds' two-hour series finale, which has been described by series star Aisha Tyler as "explosive and transformative," for February 19 at 9 p.m. ET.
The show's 15th and final season will consist of ten episodes, which is much less than the usual season order. Despite its cancellation, however, Criminal Minds showrunner Erica Messer says that the announcement came at the right time.
Erica Messer says she found out about the cancellation while still writing for Season 14. With only "10 episodes to wrap up the series," the showrunner thought Criminal Minds was treated with "incredible respect." After all, most shows are cancelled abruptly, so at least CBS gave the long-running show the heads up.
Little is known about how the show's final season will play out, though there is ample evidence that suggests the Chameleon (Everett Lynch), the villain introduced in Season 14's season finale, will be back to face off against the BAU and David Rossi (Joe Mantegna). However, the Chameleon's story will only run for four or five episodes of the ten-episode final season.
The ending of Criminal Minds (opens in new tab) is a sad one for fans, but the show's cancellation didn't come as much of a surprise despite its longevity. The series, which follows an elite team of FBI agents who profile the most dangerous criminals, saw a massive drop in ratings over time, among other things. Criminal Minds entered into Season 14 with its lowest audience to date, bringing in a measly 4.45 million viewers.
This fall, CBS even transitioned Shemar Moore's S.W.A.T. reboot into the Wednesday time slot that Criminal Minds had occupied before. Moore, who left Criminal Minds in Season 11, has since made several cameos on the crime drama. As of right now, though, there's no word on whether the actor will return in the show's final season.
Whatever showrunner Erica Messer has in mind for the Criminal Minds series finale, I'm sure it'll be well worth it for fans who have been with the series since the beginning. January 8 can't come soon enough! While waiting for the crime drama to premiere, be sure to check out our complete guide to every TV show premiering through the end of 2019.
Your Daily Blend of Entertainment News
Thank you for signing up to CinemaBlend. You will receive a verification email shortly.
There was a problem. Please refresh the page and try again.