CSI: Miami - Why The Major Cast Members Left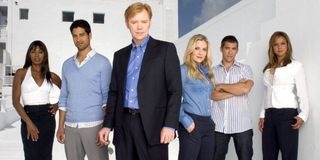 For 10 seasons and well over 200 episodes, CSI: Miami made itself home at CBS. Alas, nothing can last forever. The detective procedural drama, which started back in 2002, solved its final case in 2012. And in that time, not everyone stayed on-board to see the hit series reach its final episode. Indeed, several cast members called it quits before the ten seasons drew to a close, and there are different reasons why each TV actor left the show.
Naturally, you should expect major spoilers for CSI: Miami from this point forward. While the show hasn't been on the air for nearly a decade now, we figured we should give you the courtesy heads-up and fair notice before we proceed further with these particular character details.
Kim Delaney (CSI Lieutenant Megan Donner)
When CSI: Miami first began in 2002, Kim Delaney played one of the lead roles in the one-time freshman series. Her part was CSI Lieutenant Megan Donner, a woman who is deeply committed to her work to the point of getting emotional when cases involve dead or missing children. Alas, after a mere 10 episodes, Delaney left the series, with her character being written off-screen. It's not directly known why she left, other than the explanation given by the network and producers that her character was becoming "less integral to the series." There is speculation that suggests that she reportedly didn't have enough chemistry with her on-screen co-star David Caruso, thus prompting her exit. In any case, Delaney didn't stay long.
Rory Cochrane (CSI Detective Timothy 'Tim' "Speed" Speedle)
When CSI: Miami began, Rory Cochrane served as one of the regulars on the show. In the role of CSI Detective Timothy 'Tim' "Speed" Speedle, he was known for being short-tempered and generally moody with a sarcastic sense of humor. Alas, his stay on CSI: Miami wasn't meant to last. In the Season 3 premiere, Speedle gets distracted and gets shot in the heart and chest, later dying in his colleague Horatio Caine's arms. Eventually, later on, Speed returned as a hallucination for Detective Eric Delko (Adam Rodriguez) in the Season 6 episode, "Bang, Bang, Your Debt." From what Cochrane said in an interview after his exit, it sounds like it was his choice to leave the series.
Since leaving CSI: Miami, Cochrane has been seen in shows like 24 and Reprisal, and he acted in movies like Public Enemies, Argo, and Black Mass.
Sofia Milos (Detective Yelina Salas)
After making guest star appearances throughout the latter half of season one and the majority of season two, Sofia Milos was promoted to series regular in CSI: Miami's third season in the role of Detective Yelina Salas. Alas, the character wasn't a main character on Miami for long, however. Her character abruptly leaves for Brazil in the season finale, while only making scattered guest star appearances throughout the fifth, sixth, and seventh seasons of the hit CBS procedural program. Despite the odd circumstances of Milos' stay on the show, it appears that this was a creative decision.
Khandi Alexander (Coroner Alexx Woods)
In the role of coroner Alexx Woods, Khandi Alexander appeared on CSI: Miami since its first episodes. Alas, that changed towards the end of the sixth season. Alexx Woods was known for her happy demeanor, even despite her grim line of work, and she'll often have a tendency to call her corpses "sweetie," "honey," or "baby boy/girl." She also often notes that her patients were too young to die. But in Season 6, the character decides to leave her CSI position. From what's been reported, it was Alexander's choice to leave the series. Alexx Woods wasn't gone for good after that, however. Alexander did make brief appearances in both Season 7 and 8.
Megalyn Echikunwoke (Dr. Tara Price)
Similar to Sofia Milos, Megalyn Echikunwoke was promoted to series regular on CSI: Miami later in the game. Specifically, she joined the hit dramatic series in its seventh season as coroner Dr. Tara Price. Ultimately, however, the gig wasn't meant to last. Her entire character arc takes place over the course of one season, which leads to the character cheating death, getting into a good bit of trouble, and ultimately being incarcerated after providing her resignation from her position. From this point, we don't know what happens to the character, thus resulting in a short-lived residence on the show.
Eddie Cibrian (CSI Detective Jesse Cardoza)
Much like Megalyn Ecikunwoke and Sofia Milos, Eddie Cibrian came into CSI: Miami about three-quarters of the way into the series. Specifically, in the role of CSI Detective Jesse Cardoza, Cibrian entered the show during its eighth season and left shortly into its ninth. Known as a great cop who is well-liked and well-respected, Jesse Cardoza is known for his calm demeanor, his attention to detail, and his ability to do the "dirty work" whenever it is necessary. Alas, the character didn't have a long stay on the show either. Cardoza was poisoned by halon gas that spread over the crime lab in the eighth season finale, smashing his head on the glass in the process. They try to revive the character in the beginning of season nine to little avail. With that, Eddie Cibrian's tenure on CSI: Miami came to a swift end. Alas, as it has been demonstrated already, lots of characters don't always make it out.
According to Deadline, Eddie Cibrian's option wasn't picked up after his first and only season on the show. Their sources said the decision to let him go had to do with the intention for the show to focus on a core group of characters.
When it comes to the rest of the main cast members, a majority of them made it through from beginning-to-end. Notably, David Caruso as CSI Lieutenant Horatio Caine, Emily Procter as CSI Detective Calleigh Duqeuesne, and Adam Rodriguez were around until CSI: Miami called it quits with its nineteen-episode final season. Furthermore, while Jonathan Togo's CSI Detective Ryan Wolfe, Rex Linn's Sergeant Detective Frank Tripp, and Eva LaRue's CSI Detective Natalia Boa Vista weren't introduced until later seasons of the show as series regulars, they stayed on the show until its series finale as well. Even though several cast members had their time on the show cut short, serval others were able to find a comfortable home in Miami.
Who was your favorite CSI: Miami character? Which character's leave and/or death hurt the most? Let us know in the comment section below!
Will is an entertainment writer based in Pittsburgh, PA. His writing can also be found in The Playlist, Cut Print Film, We Got This Covered, The Young Folks, Slate and other outlets. He also co-hosts the weekly film/TV podcast Cinemaholics with Jon Negroni and he likes to think he's a professional Garfield enthusiast.
Your Daily Blend of Entertainment News
Thank you for signing up to CinemaBlend. You will receive a verification email shortly.
There was a problem. Please refresh the page and try again.