CSI: Why The Major Cast Members Left
CSI: Crime Scene Investigation had quite the cast...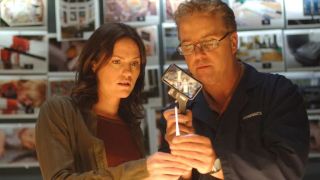 (Image credit: CBS)
Shortly after its premiere on October 6th, 2000, CSI: Crime Scene Investigation became one of the most ubiquitous TV shows of the early 21st century. The popular series had 15 seasons on CBS, spawned several spin-off series (including CSI: Vegas with its OG cast members), and played a major part in fueling our society's growing fascination with true and fictional crime stories. Suffice to say, the broadcast TV show has had a major legacy in our collective pop culture in the new millennium. But everything needs to wind down at some point, and the series met its end in 2015. Likewise, not everyone from the cast stayed on-board throughout CSI's 15-year stint. The show's ensemble rotated in regular fashion. There were only a select handful who stayed until the finale.
It's hard to stay attached to one project for a long period of time. Sure enough, most of the actors involved with CSI exited over the extensive course of its television run. Some departures from the hit series were perhaps a little more controversial than others. Some exits were graceful. Others were not. Nevertheless, only a very few of the actors stayed on CSI from beginning to end. Here are the various reasons why each major cast member left.
William Petersen (Gil Grissom)
From the very beginning, William Petersen was one of the main characters at the forefront of CSI. In the role of Dr. Gil Grissom, he stayed on the show for nine seasons between 2000 and 2010. Petersen opted to leave CSI in order to pursue more stage acting opportunities, according to EW. While the actor enjoyed the experience, he felt fortunate for the chance to pursue other projects. Though he no longer appeared on screen, Peterson stuck around as a producer on the series and even made a pair of returns prior to the show's conclusion. He would later return again for CSI: Vegas, but departed prior to the second season.
Marg Helgenberger (Catherine Willows)
Marg Helgenberger was another series regular from the very beginning in the role of Catherine Willows. Additionally, Helgenberger's departure from CSI mirrors William Petersen's exit. She came on-board in 2000 and stayed involved for 12 seasons. In 2012, however, she told CBS This Morning (via International Business Times) that she was leaving the program to explore other opportunities away from the show. While she did make a brief cameo in season 14, Helgenberger was away until the series finale, where she returned alongside Petersen. She would also reprise her role for CSI: Vegas during the show's second season.
Gary Dourdan (Warrick Brown)
As Warrick Brown, Gary Dourdan was similarly on CSI from the beginning. And similar to William Petersen, he left the series in Season 9. Unlike his co-stars, however, Dourdan didn't return to the show later down the road. That's because his character died during that season's premiere. As it was reported by EW back in 2008, it came down to contract negotiations. The parties involved reportedly couldn't meet a resolution, and it was announced that Dourdan would leave the show. He has bounced back and forth between movies and TV since he left the popular show for good, the most recent being And Just Like That… Season 2.
George Eads (Nick Stokes)
In the role of Nick Stokes, George Eads has remained a familiar face on CSI throughout its long-standing run on television. And he stayed on the show for a good while too. Specifically, he was involved until the 15th season, which makes him one of the very few actors who stayed on CSI throughout many seasons. There was a 2013 THR report that Eads had a nasty dispute with a writer, which likely soured him from the experience of returning to the famous CBS series. In any case, it didn't make a difference since the show wasn't renewed for a follow-up season. Despite his long tenure on the program, he wasn't in the series finale, the feature-length "Immortality," with William Petersen replacing him.
Paul Guilfoyle (Jim Brass)
Likewise, Paul Guilfoyle, who played Jim Brass, kept a long stay on CSI. The actor was involved in the debut season, and he stayed on-board until Season 14, though the producers reportedly decided not to bring him on for the show's final set of episodes. As THR reported, it was the producers decision to not let him participate in the show's final season, and there are reports that the actor made an emotional farewell speech on his final day of production. But it wasn't goodbye for good, evidently. Specifically, Paul Guilfoyle returned to reprise his famous role in "Immortality." After CSI came to a close in 2015, Paul Guilfoyle still stayed connected to CBS. The TV actor currently plays a role in CBS' All Access' The Good Fight. He was also one of the OG actors to return for CSI: Vegas in 2021.
Jorja Fox (Sara Sidle)
While she previously received notice for her guest appearance on ER and her work on The West Wing, it was Jorja Fox's role as Sara Sidle that made the actress/musician well-known to television viewers everywhere. The actress played a role throughout the show's extensive run, with only a portion of time between 2008 through 2011 where she temporarily left the show. That changed when she became a main character again in 2011, and she stayed on until it came to a close in 2015. Despite a short-lived absence from the dramatic series, Fox (mostly) stuck with her CSI job until the end. Fox also came back for CSI: Vegas a little more than a half-decade later.
Eric Szmanda (Greg Sanders)
While Eric Szmanda was more recurring than main during his first two seasons on CSI as Greg Sanders, the actor became a regular face throughout the show's weaving tenure. He officially became a main player during the show's third season, and that's what he remained until the show's final days. Like several of his co-stars, Szmanda was back in the fold for CSI: Vegas a few years later.
Robert David Hall (Al Robbins)
Likewise, Robert David Hall was only recurring throughout the first two seasons of the immensely popular CSI, but he was bumped up into the main cast around season three in the role of Al Robbins, and the TV actor remained one of the main players on the program until it came to a close in 2015.
David Berman (David Phillips)
It took a good while for David Berman's David Phillips to get the main cast treatment. He was a recurring character during the show's first nine seasons, but the commitment to the popular show paid off. He became a main player during Season 10; that is what he ended up being until CSI's series finale.
Wallace Langham (David Hodges)
Wallace Langham didn't start playing the part of David Hodges until well after CSI Season 3 was underway. Nevertheless, the actor became a permanent fixture on the show. He went from a recurring character to lead role in Season 8, and remained in that position until the show's finale. He even had a lead role in the first season of CSI: Vegas.
Jon Wellner (Henry Andrews)
As Henry Andrews, Jon Wellner didn't become a CSI fixture until its fifth season was well underway. Nevertheless, after an extended period of being a recurring character, he was bumped up to series regular in Season 13. From there, the actor stayed a regular until his final scene in CSI's series finale.
Louise Lombard (Sofia Curtis)
In the role of Sofia Curtis, Louise Lombard was first introduced to the world of CSI in Season 5. From there, the actress had an inconsistent record on the show. Specifically, she was a recurring character until Season 7, when she became a series regular. But it only lasted for one season. It was shortly thereafter that she served for a season as a recurring character before leaving the series after Season 8, only to make an appearance in Season 11. Nevertheless, Season 11 was the final time viewers saw Louise Lombard on the show.
Liz Vassey (Wendy Simms)
Similarly, Liz Vassey only had one season where she was a series regular on CSI. In the role of Wendy Simms, Vassey was first introduced in Season 6 and she was a recurring character until Season 10 when she was promoted into being a series regular for one season. She was a recurring character for a brief period in Season 11 before she left the show for good. Ultimately, according to Digital Spy, Vassey was let go when the show went in a new creative direction. It sounds like she ultimately didn't have a choice in the matter, with the producers rather unceremoniously letting the TV actress go.
Lauren Lee Smith (Riley Adams)
Lauren Lee Smith did get the opportunity to play a main player in Season 9 of CSI, but it was a short-lived experience. In the role of Riley Adams, the actress was introduced in the season's third episode and she left in that year's finale, never to return to the show. Ultimately, as one producer told TV Guide Magazine (via TV Fanatic), Smith was let go because she didn't find a balance in the ensemble. Neither the performance nor the character were blamed, however.
Laurence Fishburne (Raymond Langston)
There's no doubt that Laurence Fishburne was one of the biggest names to join the cast of CSI. The acclaimed actor of the stage and screen joined the show in Season 9 as Raymond Langston, and he served as a main character on the show until Season 11. It was ultimately Fishburne who made the decision to leave the program. He wanted to continue working on both the stage and the silver screen, and he left the world of TV behind, per Deadline.
Ted Danson (D.B. Russell)
Ted Danson also became one of the biggest names to join the ensemble of CSI. The television/film actor joined the CBS series in Season 12, shortly after Laurence Fishburne left, in the role of D.B. Russell, and he remained a fixture on CSI until the series finale. Danson stayed on the ship until its final docket, even though the actor was only a fixture for CSI's few remaining seasons. Danson opted to reprise his role of D.B. Russell in the second season of the short-lived CBS spin-off series, CSI: Cyber.
Elisabeth Shue (Julie Finlay)
Another one of the big names who entered CSI later in the game is Elisabeth Shue, who played the part of Julie Finlay. The acclaimed actress was a main character on CSI between Seasons 12 and 15. Nevertheless, Elisabeth Shue was nowhere to be found in the feature-length finale, "Immortality." It's not entirely clear why she didn't want to return.
Elisabeth Harnois (Morgan Brody)
Elisabeth Harnois joined the series later in its run and stuck with CSI until the end. The actress first appeared on the CBS drama towards the end of Season 11 in the role of Morgan Brody. But starting in Season 12, Harnois became a series regular and remained one until the big series finale.

While there are many actors who opted not to stay on CSI for its entire run, there were several actors who ultimately stuck with it until the end — even if they weren't there from the beginning. And while we wait for more on the return of CSI: Vegas this fall, check out the 2023 TV schedule for all the latest premieres.
Your Daily Blend of Entertainment News
Will is an entertainment writer based in Pittsburgh, PA. His writing can also be found in The Playlist, Cut Print Film, We Got This Covered, The Young Folks, Slate and other outlets. He also co-hosts the weekly film/TV podcast Cinemaholics with Jon Negroni and he likes to think he's a professional Garfield enthusiast.