12 Network TV Shows That Are Probably Going To Get Cancelled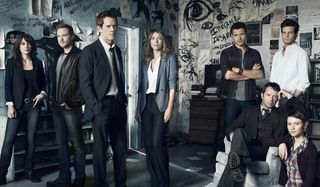 Our TV writers spend a lot of our day writing about television, which means we have pretty good insight when it comes to how fans and networks are looking at TV programs, as well as how many people are currently tuning in. While some expected cancellations have already occurred (rest in peace, Selfie and Red Band Society) and other shows have held on, at least for now, there's a slew of fall and especially midseason programming out there that probably won't make it through the end-of-season spring cleaning at the networks. Here's our list of 2014-2015 shows that are looking most likely to get cancelled right now.
Looking for a list of programs that have already been cancelled during the 2014-2015 TV season? No problem, head here.
Backstrom, Fox
Backstrom is a Hart Hanson project through and through, with a lead that's unlikeable but sort of grows on the audience despite his major character flaws. Unfortunately, not enough people got through the first couple of episodes to see Backstrom begin to play out a lot like Bones, minus the gross-out factor. Backstrom's probably not going to stick around next year, which is a bit of a shame, since Bones is now resorting to 1950s throwback episodes to entertain viewers.
Battle Creek, CBS
I hate to say it, but Vince Gilligan's CBS drama Battle Creek ain't Breaking Bad. Stilted by a late Sunday night timeslot when it premiered at midseason, Battle Creek has not picked up the audience numbers that CBS was probably hoping for, which is a shame because it stars the incredibly handsome Josh Duhamel and the beeper king himself Dean Winters as they take down criminals in a mid-sized town. Less than 6 million people tuned in for the last episode on CBS, making Battle Creek's chances of a Season 2 renewal look slim.
Constantine, NBC
Constantine's a weird one. While executive producer Daniel Cerone has been talking Season 2 pitches, NBC actually shut down production months ago without giving the series a full Season 1 order, which is typically bad news for a TV program. So, is Constantine cancelled? Will it come back for a limited run in Season 2? Chances of renewal are looking slim, but I'm guessing NBC will make us wait until May to find out.
Galavant, ABC
Galavant aired back-to-back comedy episodes for four weeks before disappearing from the schedule entirely, and it didn't have enough time to build an avid fanbase. Beyond this, the musical comedy continued to hemorrhage viewers as the episodes wore on. Galavant was billed as a "comedy extravaganza," but now it's looking more like a comedy flop, which sucks for the small faction of viewers who seemed to really like it.
Note: Some readers keep mentioning Galavant is a miniseries. That is not the case. The comedy was picked up for eight episodes last spring and then ABC decided to shove the episodes together to create 4 weeks of hour-long programming this winter to give Once Upon A Time a breather. There's a comprehensive article on this here if you want to learn more.
Stalker, CBS
Usually CBS really has to push the envelope to find programs to cancel, but this year, there are quite a few shows that may not be up to snuff. One of these is Stalker, a freshman drama that has been billed as violent, and happens to be the only Season 1 fall premiere that wasn't renewed a few months back. Stalker's prospects are looking as grim as its storylines.
Cristela, ABC
ABC's Cristela started out fairly strongly on the network—at least for a program that earned a Friday night slot. However, the show hasn't been able to keep up with veteran comedy Last Man Standing's ratings, and there's a good chance ABC might opt to try something new next year. ABC could do worse than 4-5 million total viewers on Friday nights, though.
The Following, Fox
Kevin Bacon may still be a big draw, but I'm not sure he's big enough to keep this floating ship from sinking. The Following started as a cat and mouse game between Bacon's Ryan Hardy and James Purefoy's Joe Carroll, but it has taken so many twists and turns at this point, it has gotten ludicrous, which is not usually an adjective used to describe a show that is only in its third season. Ratings are way down in Season 3, and we'd be a little surprised if this one returns next year.
Marry Me, NBC
The strange thing about including Marry Me on this list is that we probably could have included any number of NBC comedies. About A Boy made the fall version of this list, and new comedy One Big Happy hasn't been an extraordinary success for NBC, either. The network's whole comedy lineup is a bit of a mess, but Marry Me suffered a huge drop in the ratings when it returned in January, and now only a couple of million viewers are bothering to tune in.
Forever, ABC
Forever's had a pretty tough timeslot this year. The procedural, which follows an immortal man who solves crimes with the NYPD, has actually been received quite a bit better than you might guess. But thanks to its 10 p.m. Tuesday timeslot, a lot of its audience isn't staying up to watch. The show does solidly on DVR, but unfortunately, DVR numbers probably won't help it to earn a renewal.
Resurrection, ABC
It's amazing how quickly a TV series can falter. During its first season, Resurrection nabbed a huge Season 1 premiere and continued to do well through the spring last year. This year, it was given a full season order and popped up in the fall schedule. Regardless of the good news, it has struggled throughout the year to earn ratings even close to what the show was getting during Season 1. People are less interested in people coming back from the dead, or maybe some of Resurrection's audience has just switched to A&E's The Returned.
State Of Affairs, NBC
Katherine Heigl's new drama hasn't had the most solid audience on NBC. What it does have going for it is that most of NBC's lineup hasn't been doing great this TV season, with exceptions going to programs like The Voice and The Blacklist. Early reports indicate that State of Affairs is going to end its freshman season on a cliffhanger, so at least if the show goes out, it'll go out swinging.
CSI, CBS
CBS's CSI is one of the longest-running procedurals on television. Premiering in 2000, the CBS drama has already aired its Season 15 finale, and it looks like that will be the end of the road for the drama. While CSI still earns remarkably decent ratings for being so old, the show has now lost original series lead George Eads, who played Nick Stokes on the drama. It's probably time to cancel the beloved drama and give fresh new shows like Scorpion a chance to shine.
This poll is no longer available.
Your Daily Blend of Entertainment News
Reality TV fan with a pinch of Disney fairy dust thrown in. Theme park junkie. If you've created a rom-com I've probably watched it.
Your Daily Blend of Entertainment News
Thank you for signing up to CinemaBlend. You will receive a verification email shortly.
There was a problem. Please refresh the page and try again.