Henry Cavill Almost Blinded Himself Filming Netflix's The Witcher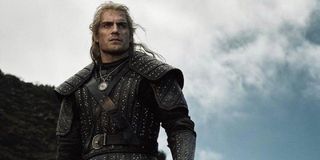 For Henry Cavill, a lot of preparation went into portraying The Witcher's Geralt of Rivia. In addition to doing a lot of grunting, Cavill went without water for a few days ahead of filming his shirtless scenes for the Netflix series, and more recently, the actor admitted to almost blinding himself during filming. It tuns out the contact lens needed to cover Geralt's eyes were to blame.
For his turn as Geralt, Henry Cavill had to wear colored contacts while filming The Witcher. However, as much as Cavill believed the contacts were fine, he was told that he should only wear them for a few hours at a time because there was a big chance they would blind him if he wasn't careful. Here's what Cavill had to say regarding Geralt's contacts and what his eye doctor told him would happen:
Did he heed that warning? Not exactly, or at all. The Witcher actor continued wearing the contacts without removing them as advised. Alas, while on location filming in the Canary Islands, things took a turn for the worse. Speaking with Metro.co.uk, Henry Cavill says that a lot of dust from the volcanic rocks got behind his contacts and it almost didn't end well. In his words:
That's why you should always listen to your doctor, Mr. Cavill! Thankfully, the issue was resolved and Henry Cavill's eyesight is intact. As much as the contacts made Geralt's eyes look witchy, let's hope that Cavill will be more careful when filming for The Witcher Season 2 gets underway soon. We'll assume that the contacts weren't his favorite part of the Geralt costume that he took home.
Season 1 of The Witcher, which was one of our favorite streaming shows from 2019, is currently available to stream on Netflix. For more on what to watch on cable and streaming, be sure to check out our 2020 midseason schedule to see when every TV show is premiering.
Your Daily Blend of Entertainment News