The 7 Best New Streaming Shows of 2019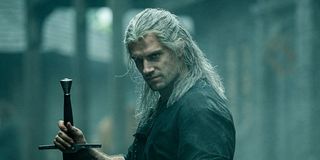 Streaming services continued their reign this year, offering a plethora of new and beguiling TV shows for 2019 audiences. The Disney+ streaming launch brought viewers a new chapter in the High School Musical franchise, Apple TV+ launched with the scandal-dramatizing The Morning Show, Amazon dove into hard fantasy with the Orlando Bloom and Cara Delevingne-starring fantasy Carnival Row, to name a few. (Even Pornhub felt the pressure.)
As the year comes to an end, I put together a list of the seven best new streaming shows of 2019. All of the listed series debuted this year across a variety of streaming platforms — Netflix, Amazon, DC Universe, Hulu, etc. — and have had only one season to charm viewers in the sea of streaming options.
All of the shows chosen stood out in one way or another, be it their inventiveness, depth, or clever twists on popular concepts, these streaming shows delivered over and over again. So here are the seven best new streaming shows of 2019! (Because everyone's mileage will obviously vary, let us know in the comments what your favorite new streaming shows are!)
Russian Doll (Netflix)
Speaking of shows delivering over and over again, don't be fooled by Russian Doll's Groundhog Day premise. This is not your typical live-die-repeat scenario, and the Netflix series masterfully employs the concept to explore childhood trauma and its lasting effects into adulthood. Really, though, the series is a long-overdue showcase for co-creator Natasha Lyonne, who stars as the cynical and deeply flawed Nadia. As the cycles progress, the story gets more ambitious, more thrilling, and far darker than ever, turning Russian Doll's simple concept into must-watch viewing, with co-star Charlie Barnett also standing out.
The Boys (Amazon)
In its opening scene, The Boys deconstructs the idea that superheroes are "good." Want them to save the day? Sure, but only if it's staged and approved first. The real heroes, in fact, are the titular vigilantes intent on bringing down the corrupt and corporate-backed superheroes calling themselves The Seven. The Amazon series magnificently explores the dark truth of what attractive marketing, a shit-ton of money, and lots of government lobbying can do. The Boys is also a masterclass in acting and satirical storytelling, supplying audiences a dark, gritty, and non-formulaic trip through the underbelly of corporate America and superheroes gone rogue. In Karl Urban and Jack Quaid, we trust.
Dead to Me (Netflix)
A woman walks into a grief support group session and befriends a new widow without telling her a dark secret. It's not a joke, but it's the basic premise of Netflix's delightful Dead to Me, starring Christina Applegate and Linda Cardellini. The mystery-tinged dramedy is anchored by the friendship between its two main characters, both of whom are struggling with different kinds of grief. Plus, Applegate and Cardellini are so good together that the show is well worth watching for that reason alone. Even beyond the two leads, Dead to Me makes for addictive viewing, taking viewers to dark places without ever losing its light.
Ramy (Hulu)
Hulu's Ramy is one of the rare TV shows that spotlights an Arab-American character, as created by comedian Ramy Youssef and it's both multi-faceted and unafraid to explore the multitude of experiences and challenges facing Ramy on his journey toward self-discovery. More specifically, Ramy navigates his morally gray life, searching for answers and making attempts to become a better Muslim. As the titular character, the attention-grabbing Ramy is obviously the focus of the series, but there are also various episodes in the first season dedicated to exploring the interiority of his mother and sister's lives.
The Witcher (Netflix)
Toss a coin to your witcher and check out Netflix's first major foray into the world of fantasy. The Witcher, based on the book series by Polish author Andrzej Sapkowski, is proof that TV adaptations can make for some of the most enthralling stories, even despite The Witcher's confusing timelines! (And even despite the polarized reactions to the show's first season.) Henry Cavill is oddly bewitching as Geralt of Rivia, and the series makes it a point to grant equal development time to Anya Chalotra's magic-wielding Yennefer and Freya Allan's Princess Ciri. The series cleverly weaves together three separate storylines, while also building a world that is as engaging as it is distinct.
Doom Patrol (DC Universe)
First brought to live-action in an episode of Titans, the Doom Patrol is a ragtag super-group that includes Brendan Fraser's Robotman, Diane Guerrero's Crazy Jane, and Matt Bomer's Negative Man among others. They were brought together under mysterious circumstances, and against all odds, Doom Patrol proved to be non-stop fun with some emotional heft. Doom Patrol is as far from a traditional superhero show as it gets, and its first season is just as much about exploring the characters' past trauma as it is about discovering why they were brought together to begin with. Chock-full of zany adventures and tight storytelling, Doom Patrol offers a unique twist by making heroes out of misfits who don't want the title.
The Mandalorian (Disney+)
After what felt like all the years in existence, Star Wars fans finally got a live-action TV follow-up to that Holiday Special, and Disney+'s The Mandalorian is just about everything we could have hoped for from Jon Favreau & Co. The show features a core cast of memorable characters, as led mostly by Pedro Pascal's helmeted stoic, and partially by the adorable puppet dubbed Baby Yoda. Delivering a mix of procedural adventures bolstered with serialized arcs, The Mandalorian taps into just about everything fans could be looking for, from action-packed battles to gorgeous costumes to familiar locations to odd-looking creatures and droids. Throw in some truly offbeat humor, and The Mandalorian is a pick-up-and-go show for just about anybody, regardless of one's Star Wars knowledge.
Honorable Mentions
Shrill (Hulu)
Good Omens (Amazon)
The Umbrella Academy (Netflix)
Sex Education (Netflix)
Pen15 (Hulu)
Harley Quinn (DC Universe)
Undone (Amazon)
Looking for more TV to watch? Be sure to check out more of CinemaBlend's lists for other streaming recommendations, including the eight TV shows worth streaming on Netflix, the ten funniest stand up comedy specials, as well as our 2020 midseason schedule.
Your Daily Blend of Entertainment News