The Witcher Season 1 Has A Cool Connection With Game Of Thrones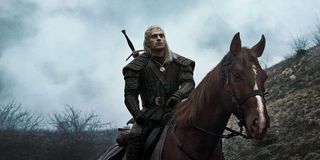 Coming only a few months after the end of HBO's Game of Thrones, Netflix's The Witcher has been met with its own comparisons to the show. While they do seem to share similarities on the surface, in terms of mythical creatures and fight sequences, the fantasy series are nothing alike. However, The Witcher Season 1 did have one very cool direct connection with Game of Thrones and it involved actor Valdimir Furdik.
It turns out that The Witcher's Season 1 fight choreographer was none other than Vladimir Furdik, who memorably played the Night King, Game of Thrones' villainous and seemingly immortal being who terrorized Westeros before finally being defeated at the hands of Arya Stark in Season 8.
Vladimir Furdik went from being in front of the camera to working behind the scenes on The Witcher. Of course, Furdik didn't just play the Night King on Game of Thrones; he served as a stunt performer and occasional stunt supervisor on the popular HBO series. As such, his transition to landing the gig of fight choreographer on The Witcher isn't surprising.
During Season 1, Vladimir Furdik was in charge of coordinating almost every fight scene on the show. The only fight he didn't choreograph was the famous Blaviken fight sequence, which took place in the very first episode and showcased the sword fight between Henry Cavill's Geralt of Rivia and Emma Appleton's Renfri. It's after that particular fight when people began calling Geralt the Butcher of Blaviken.
While Vladimir Furdik's involvement in The Witcher Season 1 unexpectedly creates a loose connection between the Netflix series and Game of Thrones, the fight choreographer and actor will apparently not be returning for Season 2 of the show. Asked by a fan on Instagram (via Redanian Intelligence) if he would be back, Furdik's response was a simple "no," though he didn't elaborate on whether it's because he's working on another project, or what the reason might be.
It's possible that Wolfgang Stegemann, who oversaw the highly acclaimed Blaviken fight scene and worked on stunts for Missions: Impossible - Fallout, might be Furdik's replacement in Season 2 of The Witcher, but there isn't much information to go on. The series, which was one of our favorite new streaming shows of 2019, has been praised for its fight scenes, so it is disappointing that Vladimir Furdik won't be coming back to the show, which could begin filming Season 2 as early as this spring.
Vladimir Furdik's other stunt credits include being a fight choreographer for the upcoming fantasy movie called Dampyr and he was previously a stunt performer on The Huntsman: Winter's War, and Christopher Eccleston's stunt double in Thor: The Dark World. I wonder if the actor knew that The Witcher almost had its own Game of Thrones coffee cup error.
The Witcher Season 1 is currently streaming on Netflix. For more on what to watch, be sure to check out our 2020 midseason schedule.
Your Daily Blend of Entertainment News
Thank you for signing up to CinemaBlend. You will receive a verification email shortly.
There was a problem. Please refresh the page and try again.