Expect More Walking Dead Crossovers With World Beyond Spinoff, But Not Big Ones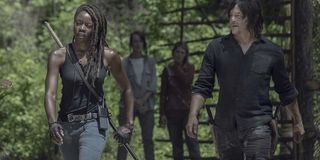 With The Walking Dead's second spinoff, titled The Walking Dead: World Beyond, coming to television this year, it was only a matter of time before the two shows crossed over at some point. Now, Chief Content Officer Scott M. Gimple confirms fans can expect the shows to crossover, it just won't happen in the way fans may want.
For some background, The Walking Dead already has CRM, a network of survivors who first appeared in Season 8 of the show before showing up in Season 5 of Fear the Walking Dead. It's not exactly a crossover in the traditional sense, but it does connect the shows in the same universe. In terms of the original series actually crossing over with World Beyond, here's what Scott M. Gimple had to say about the possibility of that happening outside of CRM:
So, while there will be small-scale crossovers, it sounds like it won't be happening in Season 1 of World Beyond. That makes sense, because the series needs to establish its own world and setting before branching out. Though the shows share similar mythology, Scott M. Gimple wants to differentiate World Beyond from the other two series, so they won't be "as involved with" the new series.
Speaking with EW, Scott M. Gimple continued, explaining how something as simple as an object could appear across the shows, confirming the shared universe without any of the characters crossing paths. He's definitely thinking small scale, because the in-world logistics alone also make it hard to have a traditional crossover.
Fans may not be able to get a full-blown crossover between any or all of TWD series, but it's still always good to see at least small nods to other shows that fill this expanding universe. If you love The Walking Dead, you'll take what you can get.
The Walking Dead: World Beyond will premiere on AMC in April. The Walking Dead Season 10 will return to AMC on Sunday, February 23 at 9 p.m. ET. For more on what to watch, be sure to check out our 2020 midseason schedule.
Your Daily Blend of Entertainment News
Thank you for signing up to CinemaBlend. You will receive a verification email shortly.
There was a problem. Please refresh the page and try again.