Norman Reedus Improvised A Walking Dead Scene That Made His Young Co-Star Cry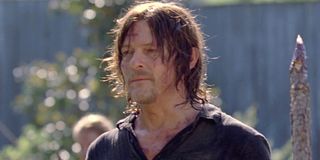 When it comes to providing comfort to other characters, The Walking Dead's Daryl Dixon is a pro. In the Season 10 episode "Silence the Whisperers," Daryl hugged Lydia after she broke down while discussing her father. Walking Dead fans believed the scene was written that way, but it turns out Norman Reedus improvised the scene and the unscripted moment made his young co-star Cassady McClincy cry.
In the scene from The Walking Dead Season 10's "Silence and Whisperers," Margo (Jerri Tubbs), Alfred (David Shae), and Gage (Jackson Pace) attack Lydia for the sins of her mother, the Whisperer leader Alpha (Samantha Morton). In a vulnerable moment after the attack, Lydia tells Daryl that she now understands that all her father was trying to do was protect her. Upset that she'd always believed him to be an abusive parent, Daryl comforts her by wrapping his arms around her in a tight hug.
According to The Walking Dead's "Facts and Easter Eggs" video, which reveals trivia from the episode, Norman Reedus "improvised the hug, and it made Cassady McClincy so emotional that she had to leave the room." So, in its own way, it was a true father-daughter bonding moment between the pair and made the scene that much more heartbreaking to watch.
It's a great little tidbit to know for The Walking Dead fans. As Lydia, Cassady McClincy was already teary in the scene and Norman Reedus, who believes The Walking Dead movie will reunite Daryl and Rick, seemed to respond to her emotions in an authentic way. It's also in line with the development of their father-daughter relationship, which has only continued to evolve.
This isn't the first time Norman Reedus has improvised an emotional scene with Cassady McClincy, though. Last season, Reedus tweaked a scene that was meant to have him standing in the interrogation room alongside Tara and Danai Gurira's Michonne, who left on a separate mission in the Season 10 winter finale. Instead, he stood outside the Hilltop's jail cell as the interrogation went on.
It's an interesting dimension Norman Reedus gives to his character, especially considering how easily Daryl shoots down romantic relationships. However, his relationship with Lydia is different and he sees her as a kindred spirit. Since they're both victims of abuse, it's not hard to see why.
I expect a few more scenes between Daryl and Lydia in the future, though fans will have to wait a while to see what happens with the remainder of The Walking Dead Season 10. The series will return to AMC in 2020. In the meantime, be sure to check out our complete schedule to find out what's coming to TV in the winter and spring of next year.
Your Daily Blend of Entertainment News