More Drama On The View? Meghan McCain Alleged To Be 'Lone Wolf'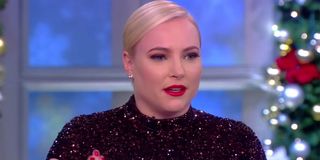 Over the last several months, most headlines related to The View have been about drama on the set. In general, Meghan McCain is often cited as a part of the drama and as long ago as July there were rumors the blogger and TV personality might be leaving the show. That hasn't happened, but the problems have seemingly persisted and now McCain is being called a 'lone wolf' by sources from the set.
Allegedly, those close to the show have recently felt Meghan McCain has made it "difficult to produce" ABC's The View, mostly thanks to the above alleged lone wolf personality. While the person in question wasn't willing to speak on the record with US Weekly, this feeds into a narrative that has already been brewing around the talk show for months.
The most interesting thing to me about this is that Meghan McCain and Whoopi Goldberg have seemingly had problems getting along during tapings. Goldberg's always been a straight shooter, but she generally doesn't get super heated during The View, at least compared to some of the other moderators and former moderators.
But she and Meghan McCain have had some trouble getting on the same page on air, including a now-famous December 2019 exchange between Whoopi Goldberg and McCain that this report mentions ended when the latter actually got up during the show and had to walk away from the table. This occurred after Goldberg said McCain should "stop talking" and tried to express that McCain was talking over the other panelists.
Outside of the on-air drama, this new report says the show would prefer to keep Meghan McCain around because she is a relevant TV personality, but it also alleges the actress is a lot of work. Although I'd assume it's difficult to want to get up and do the job when you are getting booed some of the time.
In other news, back before the latest TV cycle started, Whoopi Goldberg had talked about being on The View for ten years and not feeling as fulfilled with it as she could, noting to the New York Times:
There's been no official news coming from behind-the-scenes on the show, although Whoopi Goldberg did later downplay the "fighting" between co-hosts during a late night appearance. In addition, Meghan McCain unexpectedly missed a show this week, though she is expected back on Monday. Right now we are only at midseason in the TV cycle, which means there will likely be months before The View ultimately does or does not make any changes. In the meantime, we'll obviously keep you updated if any more 'lone wolf' conversations waft our way.
Originally created by Barbara Walters, The View has spent 23 TV seasons on the air and has outlived some of its competitors, including The Chew. It has weathered drama and cast shakeups before and doubtless it will do so again, although given Whoopi Goldberg and Meghan McCain are the really prominent personalities on the show right now (along with Joy Behar), a cast shakeup would likely mean a very different show next TV season.
Reality TV fan with a pinch of Disney fairy dust thrown in. Theme park junkie. If you've created a rom-com I've probably watched it.
Your Daily Blend of Entertainment News
Thank you for signing up to CinemaBlend. You will receive a verification email shortly.
There was a problem. Please refresh the page and try again.