Why Oliver Queen Won't Appear In Arrow's Last Episode Before The Series Finale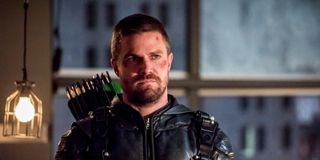 As the five-episode "Crisis on Infinite Earths" crossover approaches, Oliver Queen's death looms large. Since Arrow has already revealed the emerald archer won't make it out alive, the final two episodes of the eighth and final season are a bit confusing precisely because Oliver is presumably gone by that point. In fact, former Arrow showrunner Marc Guggenheim recently revealed that Stephen Amell's Oliver won't be in the penultimate episode at all.
By the time "Crisis on Infinite Earths" is over, Arrow will still have two more episodes to go before it ends for good in January. Now, according to executive producer Marc Guggenheim, one of the final episodes will be dedicated to being a backdoor pilot for the spinoff, Green Arrow and the Canaries, which Guggenheim helped write.
With the future kids currently in the present, though, Marc Guggenheim explained the details of the timeline post-"Crisis" and how it fits into Arrow's penultimate episode. It sounds like Mia Smoak will be back in her original timeline, after all. Here's how Guggenheim broke it down for fans on Twitter:
Marc Guggenheim seems to hint that the series finale won't be taking place in the present. Could Oliver really die for good in "Crisis?" After all, odds are Barry Allen will bite the dust (at least for a bit). Oliver Queen could follow in his footsteps.
To date, series star Stephen Amell, who fell asleep during his final scene with The Flash's Grant Gustin, has been in every single Arrow episode. To have him not appear in one of the final episodes of the series is a little off-putting, especially since the spinoff doesn't necessarily need a backdoor pilot.
After all, Mia (Katherine McNamara), Laurel Lance (Katie Cassidy Rogers) and Dinah Drake (Juliana Harkavy) are all currently characters on Arrow and need no introduction. I suppose the spinoff needs some kind of setup, though, since it's unclear what the effects of "Crisis" will be at this point.
Currently, Oliver Queen is on a mission for the cosmic being, The Monitor (LaMonica Garrett) and he's been doing his own version of a goodbye tour. While it's unclear where Oliver will be by the time "Crisis" rolls around, Arrow is definitely setting up a big payoff.
Oliver may be missing an episode, but I'm sure he'll be present throughout the series finale, which recently wrapped filming. While the events of the finale are still a big mystery, it's been confirmed that Emily Bett Rickards will be back as Felicity. It's only fitting and her reappearance might finally reveal where it was The Monitor took her in the Season 7 finale.
Arrow airs Tuesdays at 9 p.m. ET on The CW and its series finale has already been scheduled to air at the end of January 2020. For more on the network's midseason premieres, be sure to check out The CW's midseason schedule.
Your Daily Blend of Entertainment News
Thank you for signing up to CinemaBlend. You will receive a verification email shortly.
There was a problem. Please refresh the page and try again.