The Walking Dead: Why Each Of The Major Cast Members Left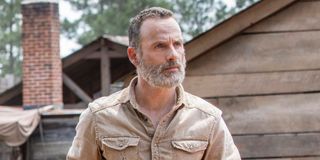 Of all the big and popular ensemble casts on TV, perhaps none have changed with the frequency and emotional trauma of The Walking Dead, which doesn't go a single season without at least one game-changing death or character exit. To be expected, not every former Walking Dead actor left the show in the same way as everyone else.
Below, we've rounded up all the major Walking Dead cast member exits from the past ten years, noting the reasons why each one had to go. Sometimes it's about the plot, sometimes it's about things that are completely outside The Walking Dead's influence, but it always affects the drama. Let's kick things off with the future-Punisher himself.
Jon Bernthal (Shane Walsh)
In fighting for the role of Rick Grimes' friend-turned-enemy Shane Walsh, actor Jon Bernthal knew that the character's Walking Dead shelf-life was limited. In fact, Robert Kirkman has stated that Shane's Season 2 death was planned even before the series' first episode was shot, and that the shocker would have happened in Season 1 if it had lasted for double its six-episode length.
While it wasn't exactly a cause-and-effect case, Jon Bernthal's exit on The Walking Dead was also somewhat expected by savvy TV viewers, since the actor had been announced as a lead in TWD co-creator Frank Darabont's cable drama Mob City, which only lasted for one season. Since The Walking Dead, Bernthal has portrayed an even more prominent comic book character for Netflix's The Punisher, which had its own controversial exit.
Lauren Cohan (Maggie Rhee)
Having joined The Walking Dead back in Season 2, Lauren Cohan quickly started crushing it when bringing the comic book's Maggie Greene to life, especially as the character's development expanded over the years. Cohan's exit in Season 9 was no doubt overshadowed somewhat by Andrew Lincoln's Rick situation, but it was recently revealed that she will be returning as a series regular in Season 11, and might even show up sooner.
Lauren Cohan made the decision to leave The Walking Dead in Season 9, having landed a starring role on the ABC drama Whiskey Cavalier. That gig coincided with publicized disputes between Cohan and execs over contract negotiations, but there don't appear to be any long-lasting hard feelings, considering her impending return. Unfortunately for Cohan and ABC and everyone who worked on Whiskey Cavalier, that genre-bending series earned lower-than-expected ratings, leading the network to cancel it, then offer up hope, and then cancel it again. But hey, more Maggie!
Sarah Wayne Callies (Lori Grimes)
As The Walking Dead's leading female character Lori Grimes, Prison Break vet Sarah Wayne Callies wasn't exactly a fan favorite during those first three seasons, and so it wasn't exactly a debilitating drawback for viewers when she was written out of the show in Season 3. That said, her death was indeed a gut-wrenching and gross one, as she succumbed to a prison-set C-section while giving birth to Judith.
Lori Grimes did indeed die in Robert Kirkman's comic book, although it happened differently there (and involved the infant Judith's death). This wasn't an instance where the actor had anything negative to say about getting killed off, though, as Sarah Wayne Callies went into the season saying that she also believed that Lori had to be killed off in order to provoke Rick's emotional downfall.
Chad Coleman (Tyreese Williams)
A fan-favorite character in both the comics and the TV show, Tyreese anchored completely different stories across the two mediums, entering the TV show much later in the timeline than the original version. (Comic Tyreese shows up in in issue #7, right after Shane dies.) The late introduction could have afforded Chad Coleman's Tyreese an extended stay on the AMC drama, but he was killed off as the back half of Season 5 started. Here's how Coleman said then-showrunner Scott Gimple explained killing Tyreese off:
Lots of other characters beyond Tyreese could have invoked similar feelings without having to lose Chad Coleman's peacekeeping, if unsettled, character. As cool as the various cameos were during the sequence, the manner in which it happened – he was bitten while on a side trek to find Noah's "of course they're dead" parents – didn't help win the death any points with fans. Thankfully, Coleman has kept his genre-heavy career up with shows like Arrow, The Expanse, and the now-on-Hulu The Orville, and while he quit watching The Walking Dead in recent years, he'd be down for a properly crafted return.
Lennie James (Morgan Jones)
Though he only appeared in a handful of episodes across The Walking Dead's first five seasons, Lennie James' Morgan Jones was nonetheless a hugely important element in the live-action universe, due in part to the character's larger presence in the comic book series. (And also due to James' excellence as an actor, of course.) Morgan's comic book existence came to an end long before Negan's introduction, so the character was seemingly living on borrowed time as soon as James became a series regular in Season 6.
But The Walking Dead's Powers That Be made a particularly rare move in removing Lennie James' Morgan from The Walking Dead not by killing the character off, but by making him the first living being to jump between the flagship series and the spinoff Fear the Walking Dead. James has been a part of Fear the Walking Dead for two full seasons now, though that show's most recent season finale's cliffhanger ending threw his future into question.
Laurie Holden (Andrea)
Though Laurie Holden's performance as The Walking Dead's Andrea was solid and well-regarded by fans, the character was unfortunately distanced from her comic book counterpart. She unfortunately got written into a hole in Season 3 as the Governor's lover – against all possible common sense – and the decision was made to kill her off in the finale. Robert Kirkman claimed there was a lot of back-and-forth talk between the writers about Andrea's fate, with the decision to kill her coming late in the game.
Laurie Holden stated she only found out about being written off less than a week before the episode filmed, and has later come out and claimed that the fan backlash over her Season 3 arc and death are what led to then-showrunner Glen Mazzara having to step down. Holden, who went on to have arcs in The Americans and Proven Innocent, also later called Andrea and the Governor's story "utter nonsense."
Scott Wilson (Hershel Greene)
A Hollywood great going back to the 1960s, Scott Wilson landed the Walking Dead role of Hershel Greene for Season 2's farm introduction. By the time of his decapitation in Season 4, he'd become one of the most sage members of Team Family, as well as one of its most tragic survivors. (The writers decided to forego an earlier decision to kill him off all the way back in Season 2, and fans were all the better for it.)
Scott Wilson, who went on to take roles in Bosch and Netflix's recently cancelled drama The OA, did not seem to have an issue with being killed off of the show, either, since he returned both for Robot Chicken's Walking Dead special and for the Season 9 Walking Dead episode that served as Rick's final installment. Sadly, he passed away in October 2018.
Tom Payne (Paul "Jesus" Rovia)
The Walking Dead's Jesus maintained a long stint as a fan favorite within the comic book series, and actor Tom Payne quickly won over TV viewers with his take on the ass-whooping protagonist. Unfortunately for most parties, TV Jesus didn't get to fully take on all of the original version's claims to fame, with the signature armor and hairstyle coming for Payne only in the end. Also, Comic Jesus never died in the first place.
Why The Walking Dead's Big Midseason Finale Death Didn't Really Bother The Star
TV Jesus did, though, and Tom Payne told CinemaBlend that he was a bit tired of the role's limitations in recent seasons, and that he felt the creative team saw where he was coming from. Which isn't to say that's the precise reason why Jesus was chosen to be the first of the Whisperers' victims in Season 9, before he could even start his comic relationship with Aaron, but it could be in the same foggy, forested ballpark. Luckily for the actor and his fanbase, Payne rather quickly scooped up the co-lead role on Fox's Prodigal Son, replacing the previously cast Finn Jones. Payne's Jesus appeared for the final time in a flashback for Episode 11.
David Morrissey (Philip "The Governor" Blake)
U.K. great David Morrissey joined The Walking Dead as the comic's most deadly villain at that point in the story, The Governor. Throughout Season 3's introduction to the Woodbury community, The Governor was a beast of a villainous leader whose past inspired the most reluctant kind of empathy. The Walking Dead's creative team unfortunately decided to introduce the prison flu side-narrative to open Season 4, and Morrissey only appeared in three more episodes before getting killed off in the midseason finale.
For all the respect he's given the show, the actor was possibly bothered somewhat by getting sidelined ahead of The Governor's death, especially since the villain was responsible for the heinous act of killing off Scott Glenn's Hershel. Still, Morrissey holds his Governor up as The Walking Dead's greatest villain, and he did make a final appearance in Season 5, as part of Tyreese's pre-death hallucinations, before joining other projects such as Britannia and Marvel's upcoming Black Widow feature.
Emily Kinney (Beth Greene)
After being a second-tier character in Seasons 2 and 3, Emily Kinney's Beth got developed more in the back half of Season 4 after Hershel died and she became a close companion for Daryl. Beth and Daryl became one of the biggest positive-minded topics within the fanbase, so it was that much larger of a gut-punch whenever The Walking Dead made her MIA for a short while and then killed her off in the Season 5 winter finale. Yes, there were backlashes.
Emily Kinney was having a blast on The Walking Dead, but it seems like the creative team specifically made her more prominent just to make her eventual death that much more memorable. Certainly not an unheard of move on this show or others, and it was helped by Beth not being a comic-sourced character. Still, the actress' exit was weakened somewhat by the lackluster Grady Memorial Hospital group. Kinney later returned in audio form for Rick's Season 9 exit, and has been seen since that 2015 death as a Flash villain, as a Conviction lead, and she's got the upcoming Netflix drama Messiah. (She no longer watches The Walking Dead, though.)
Steven Yeun (Glenn Rhee)
Until Andrew Lincoln's Rick Grimes got nearly killed off and taken away by helicopter, it seemed like no Walking Dead exit could ever top Negan murdering Steven Yeun's Glenn. The gory massacre was preceded by arguably The Walking Dead's most widely criticized creative choice, Glenn's dumpster-loving fake-out death, and concluded the rage-inducing cliffhanger that limited the TV show's promotional push for its full summer hiatus. It didn't help that the scene previous death made it seem like Glenn was safe. According to creator Robert Kirkman, discussions were had about how to keep Yeun's Glenn around:
Despite taking its visual cues from the comics, the savagery of Negan's actions in the Season 7 premiere turned a lot of fans away from The Walking Dead. The move also sparked some interesting reactions from Steven Yeun himself, who was of the opinion that the show's writers often didn't know what to do with Glenn as a character. Like others seen here, Yeun stopped watching the show at some point, and likely wouldn't be interested in returning to the role.
Michael Cudlitz (Abraham Ford)
An actor that seemed genetically created to take on the role of The Walking Dead's Abraham Ford, Michael Cudlitz's time on the TV show largely lined up with the comics for the character's earliest days. Cudlitz's Abraham lived beyond the comic version's death, which surprisingly went to Merritt Wever's Denise on TV, but Scott Gimple & Co. had Abraham join Glenn as Negan's big victims to kick off Season 7. It's something Cudlitz got more critical recently, saying:
When appearing on Talking Dead after the Season 7 premiere, Michael Cudlitz talked about initially surviving beyond Comic Abraham's death, and thinking he might have a future, considering he was getting closer with Sasha and working out some of his own demons. That clearly didn't happen, though. Cudlitz has found work outside of the Dead-verse, such as on the short-lived comedy The Kids Are Alright, but he now has three different Walking Dead episodes under his belt as a director, with more likely to come.
Corey Hawkins (Heath)
This entry is unique for this list, since Corey Hawkins didn't ever reach series regular status on The Walking Dead during his truncated stint. However, his character Heath was a big deal in the comics for nearly two-thirds of the issues, so he likely would have been, had Hawkins' career not exploded right around the time he got cast.
As Walking Dead fans started getting excited about Heath in live-action, Straight Outta Compton earned $200 million+ at the box office. Because Corey Hawkins only recurred as Heath, he didn't have to shy away from other roles, and he'd landed both Kong: Skull Island and Fox's short-lived 24: Legacy by the early days of 2016, sealing Heath's fate. Appearing in only four Season 6 installments, Hawkins returned for a single Season 7 episode, and inexplicably disappeared. Years after the fact, Walking Dead franchise overseer Scott Gimple confirmed that Heath plays into the helicopter trading system that Jadis is/was part of, so he still might show up again in the Rick Grimes movies. Unless some other project he has gets huge around that time.
Chandler Riggs (Carl Grimes)
As one of the TV show's biggest deviations from the Walking Dead comic book, Carl's doomed Season 8 fate was a major jaw-dropper. (Though it didn't help things that the character's death was stretched across the winter finale and spring premiere.) It turns out audiences weren't the only ones blindsided by the news of Carl's walker bite, either, as Riggs and his family were taken aback by then-showrunner Scott Gimple's narrative choices, as were some co-stars.
In the months ahead of Carl's death, Chandler Riggs had apparently purchased a house in Senoia, Georgia near The Walking Dead's filming locations, just in case anyone had any doubts about the actor's assumptions about his future on the show. Riggs said at the time that he was put in a bit of a pickle by the fiasco, and his dad also had some choice words for Scott Gimple. Riggs recently purchased a new house in Hollywood, though, having landed a role on ABC's A Million Little Things. Here's hoping he gets more foreknowledge about his fate on that show.
Sonequa Martin-Green (Sasha Williams)
While her onscreen lover Abraham took a bloody dive after being crushed by Lucille, Sonequa Martin-Green's Sasha took matters into her own hands. Rather than living as Negan's emotionally wrought prisoner, Sasha poisoned herself, with an end goal of surprise-attacking the villain after turning into a walker.
In real life, Sonequa Martin-Green also took the lead on her career path by securing the lead role in CBS All Access' Star Trek: Discovery, which necessarily meant she would need to step back as a Walking Dead lead. Which, of course, led to her character's exit, though Martin-Green made a peaceful return for Rick's final episode, similar to how Michael Cudlitz came back for Sasha's final ep. The actress is still going strong in Star Trek's universe, with Discovery set for Season 3 in 2020.
Austin Amelio (Dwight)
In joining The Walking Dead as the redemption-minded Dwight, Austin Amelio knew he was in for long hours in the makeup chair, given the character's facial burn scars. The actor also likely thought he was in it for the long haul, since Dwight's survival went on until fairly late in the comic book's narrative. So it was probably a huge surprise when Amelio got word from producers that his character was exiled by the Alexandria community and wouldn't be returning to The Walking Dead for the time-jumping Season 9.
Fans wondered what happened to Dwight after the All Out War between Team Family and the Saviors, and there wasn't a very straightforward definition given to explain why Austin Amelio wasn't around anymore. (Beyond the in-show goal of trying to find his wife Sherry.) That same set of fans was pleasingly shocked to discover that the Walking Dead universe wasn't done with Dwight yet, and Amelio joined Lennie James on the Fear the Walking Dead cast for Season 5. It's still not very clear why The Walking Dead completely changed up the character's comic storyline for TV, but it kept things refreshing for Fear's core ensemble.
Andrew Lincoln (Rick Grimes)
For years, Rick Grimes seemed like the most impossible-to-kill character in both the Walking Dead comic and TV universes, so when the news broke that Andrew Lincoln would be leaving The Walking Dead in Season 9, fan reactions were heightened across the board. The emotional backlash was somewhat sated by the news that there would be a trio of Rick Grimes feature films, but it was still a major blow to the show, which has continued falling in the ratings despite higher critical acclaim under showrunner Angela Kang.
The reason for Andrew Lincoln's departure didn't come from up high, but from the actor himself, who had initially intended to bow out of the show in Season 8. The way Lincoln explained things, he aimed to spend more time with his growing family in and around their U.K. home without being obligated to spend so many months out of the year filming The Walking Dead in Georgia. However, he also wanted to make sure Rick's story got a worthwhile conclusion, and his apprehension over exiting urged him to stick around for the first chunk of Season 9. Still no sign of when those Rick movies are happening, though.
Pollyanna McIntosh (Jadis)
Jadis, or Anne, has been one of The Walking Dead's most prominent original-for-TV characters in recent years, and Pollyanna McIntosh's word-mincing junkyard dweller developed a faithful fanbase that was rocked by her final episode in Season 9. Jadis not only took the franchise-crossing helicopter storyline to new heights (literally) in that episode, but she also saved Rick after his bridge sacrifice.
Because Jadis' self-imposed exit didn't involve her death, and because it was revealed Pollyanna McIntosh would also be a part of the Rick Grimes movies, not a lot of information has been shared about the specific reasons why the creative team went that way with Jadis' story. McIntosh has kept pretty busy while waiting for those Walking Dead films, though; she directed her first feature, the Jack Ketchum adaptation Darlin', and also starred in the second (and final) season of AMC's extremely unique Lodge 49.
Alanna Masterson and Katelyn Nacon (Tara Chambers and Enid)
Alanna Masterson's Tara and Katelyn Nacon's Enid weren't the most comparable survivors, to be sure, but the characters met such similar fates that it felt proper enough to group them together to cap this list off. Tara's journey from Governor-follower to Hilltop leader was an important one, as was Enid's rise from depressed orphan to a dependable and intelligent quasi-doctor, but both of them met severely dark fates in Season 9 (along with a bunch of other characters) as victims of Alpha's big fair massacre.
Executive producer and frequent episode director Greg Nicotero explained around that episode's airing why the creative team decided to kill off Tara and Enid.
Katelyn Nacon claimed that The Walking Dead's showrunner Angela Kang had alerted her of the possibility that Enid might not survive Season 9, but it wasn't until the week before the death episode went into production that the actress got the final word. Similarly, Alanna Masterson says she only learned of Tara's death in the days before the penultimate episode started filming. While Masterson has yet to land a regular gig outside of The Walking Dead, Nacon was recently in Season 2 of Hulu's Light as a Feather.
There's no doubt that even more Walking Dead stars will be vacating the show before it wraps up its extended run at AMC (which might not technically happen for at least another decade, depending on how network execs continue feeling about the show's drooping ratings in recent years. Until then, though, keep tuning into the zombie drama every Sunday night on AMC at 9:00 p.m. ET.