Netflix's You Season 2 Ending Explained: Should We Have Seen It Coming?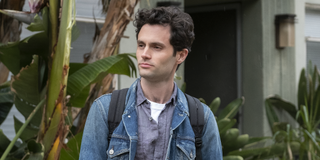 (Image credit: Beth Dubber / Netflix)
Be warned: Spoilers for the Season 2 finale of You and the ending are discussed below.
So, you have finished watching the second season of Netflix's smash hit, You, and you are still processing the crazy twist ending. The Penn Badgley starrer left fans (and Joe) with a lot to sift through in the aftermath of the penultimate episode. Then came the real stunner – the Season 2 finale. It is time that crazy twist ending was explained.
Was the stunning reveal that comprised Season 2's ending staring viewers in the face the whole time? You certainly set the stage for it not to entirely come out of nowhere. Just when you thought you knew the extent of things, You had one more twist coming.
It is time to dig into everything about the ending for Season 2! From the big Love twist to the shocking death that sent You's finale out, here it is!
What Love Did In The Season 2 Finale
Joe Goldberg thought that Love Quinn (Victoria Pedretti) was the woman of his dreams before she turned into something else in the penultimate episode. In You's Season 2 finale, Love fully reveals that she and Joe are one and the same. They have a will to kill if they feel it is necessary.
Love kills Candace (Amber Childers) after the latter beckons Love to Joe's secret lair where Delilah's body is. It turns out that Love is the one who actually murdered Delilah. Love returns to a caged Joe, reveals she is guilty of murdering Delilah, and that she murdered the au pair that sexually abused Forty (James Scully) when she was a teenager.
How Joe Handles The Big Twist
Joe is floored, and as Penn Badgley has pointed out, readily turns against her. He almost kills her when she opens the door to the cage. She tells him that she is pregnant, and he immediately stops. Joe is shocked and spares her. They then set about a tentative reunion. Love thinks Joe is truly reconciled with her. However, his narration tells You's viewers something different.
The two attend Lucy (Marielle Scott) and Sunrise's (Melanie Field) wedding, and Joe indicates that he is ready to move on with Love. Following the lift of a no-phone embargo, Joe and Love see that theirs are blowing up with texts from Forty. He tells Joe he knows everything.
Forty's Final Showdown
Someone is very convinced that Joe is a sociopath, and he wants an immediate breakup of his sister's relationship and to end Joe. Love and Joe head to Anavrin, where Forty is waiting. Love heads in first, and Forty wastes no time filling her in on all of Joe's crimes. She is not swayed by anything her twin brother has to say.
Joe goes into the grocery store after telling Ellie about Delilah's fate and warning her about the Quinns. He plays dumb to Forty's allegations, and Forty pulls out a gun. Love tries to calm Forty, but her twin is not backing down. Forty makes it clear that he plans to kill Joe, and that is when Love lays her baby bombshell on her brother.
Forty Makes His Choice
Forty is unmoved and reveals that he is fully aware of Love's true nature. He even tells her that she and he are just both as broken and expresses his disbelief that Love would be a good mother. Determined to end Joe's life, Forty has Joe get down on his knees. Joe complies, and without begging, accepts his fate.
That is when a shot rings out, and blood spatters on Joe's face. It is not his blood, though. Forty has been shot in the back by policeman David Fincher (Danny Vasquez) to save Joe. Love is devastated (along with this viewer) as You delivers yet another stunning twist and a lot of questions.
Joe And Love Start Their New Lives
You flashes forward months after Forty's death. He had become the prime suspect in the murder of Henderson (Chris D'Elia). According to Joe, the Quinns shut down the investigation. Thus, ending a potential trail to him being revealed as the actual killer. Joe and Love move into a lovely home replete with a picket fence in the Season 2 finale.
You's lead character seems to accept his fate, readying to read Crime and Punishment near the pool in the backyard. That is when he gets curious about "her." A seemingly engaged woman (note engagement-style ring on her ring finger) reading without any apparent clue that she has become Joe's next target.
How Season 2 Hinted At Love's True Nature
While a shocker, You foreshadowed the Season 2 finale twist to come with Love. Several subtle hints indicated Love was not who Joe or viewers thought she was. You first showed its hand when Love had an emotional reaction while hanging out with Ellie while Delilah was "missing." A clue that her guilty conscience was weighing on her.
There were other clues before Season 2's penultimate episode. Subtle hints were seemingly interwoven in You's narrative. Ones that go to the very core of what attraction means. Why would a woman be so drawn to Joe? Well, in Love's case, it was a tell-tale sign of her true nature. Here is why.
It Takes One To Know One
Back in You Season 2, Episode 1 ("A Fresh Start"), Love makes dinner for Joe. She has attempted to find his signature meal to please his palette. During their conversation, Love makes it clear that she recognizes herself in Joe. She says they have suffered the same pain. Looking back post-Season 2 finale, Love and Joe's interaction in that You scene takes on an entirely new meaning.
To believe that she is staring back at herself when she looks at Joe is telling. At first, it seems to be a reference to Joe's anguish over murdering Beck, while Love is mourning her husband's death. When you reflect on the situation, it seems to be a recognition of the pair's homicidal streak.
Love Pursued Joe
Much like Joe did with Beck, Love set her sights on Joe, and would barely let go of him. Joe was very much the hunter when it came to pursuing Beck, who had to be convinced to date him at every turn. At first, You seemed to just be shifting gears to freshen things up a bit in Season 2.
Not so fast! The show could have actually been giving viewers the potentially pivotal clue that Love is every bit like Joe was last season. He is her Beck. The twist is that unlike Joe's mostly unrequited attraction to Beck, Joe and Love are drawn to each other for a significant reason. They are two peas in a pod.
Other clues as to Love's true nature lie in her willingness to forgive Joe for lying about his identity. That would have been the end for many others. On that note, it is surprising that Love did not kill Candace right after she made the big reveal in You Season 2, Episode 6 ("Farewell, My Bunny").
Does this mean that Love is only willing to kill when push comes to shove? Maybe. You's Season 2 finale shocker has enough jammed into it to keep viewers talking for a long time. As for that mystery woman, Penn Badgley told BuzzFeed that he expects the role will probably get recast. More food for thought!
Netflix has not announced a release date for Season 3. It is expected to premiere in 2021. Here is hoping that the date will turn out to be January 2021. In the meantime, thank goodness for this winter's premieres! You Season 1 and Season 2 are currently streaming on Netflix (opens in new tab), along with lots of new 2020 content.
Your Daily Blend of Entertainment News
Like a contented Hallmark movie character, Britt happily lives in the same city she grew up in. Along with movies and television, she is passionate about competitive figure skating. She has been writing about entertainment for 5 years, and as you may suspect, still finds it as entertaining to do as when she began.
Your Daily Blend of Entertainment News
Thank you for signing up to CinemaBlend. You will receive a verification email shortly.
There was a problem. Please refresh the page and try again.