Netflix's You: 7 Questions We Have About Penn Badgley's Thriller After Season 2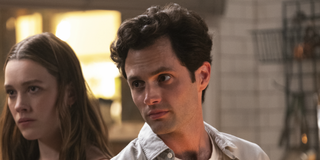 Spoiler alert: details surrounding the Season 2 finale of You are discussed below.
You better believe there are a lot of questions about Netflix's must-binge series following its Season 2 finale. You signed off with a dramatic twist that changed everything Penn Badgley's Joe thought he knew about his life. How? Well, to say that the season's ending was a game-changer would be a bit restrained.
You instead plunged viewers into another unexpected detour with the reveal that Joe's new obsession Love Quinn shared his homicidal streak. Did I mention that Joe and Quinn are expecting a child together? Well, there is that too. Now that Season 3 is officially confirmed and with TVLine reporting Love's return, there are a lot of questions to dig into. Time to begin!
Are The Police Curious Why Forty Wanted To Kill Joe?
After learning that his twin sister's boyfriend killed his ex-girlfriend, Forty Quinn was not about to let their relationship continue. Someone clearly didn't get You showrunner Sera Gamble's message that Joe is not a sociopath! Coming in and seeing Forty holding a gun to Joe's head, LAPD Officer David Fincher shot and killed Forty to save Joe.
In You's closing moments, it seemed that everyone was content with the shocking turn of events. Why does everyone think that Forty wanted to kill Joe, though? His motive could and should raise some questions in Season 3. Thus, dragging the truth into the light of day eventually. Curiosity tends to be contagious on You.
Will Ellie Be Willing To Keep The Truth Forever?
Joe strongly implied to Ellie that the Quinns were behind the death/murder of her sister Delilah. He subsequently helped her leave town, which she begrudgingly did. As You continued, it revealed that Joe was continuing to pay for Ellie's new life, months later. How long will Ellie be willing to actually stay quiet about her sister's fate?
Season 3 seems primed for Ellie to return and take down the Quinns. I cannot imagine her actually staying clear of Los Angeles for the entirety of You's next season when she knows her sister has not gotten justice. This is her sister we are talking about! It stands to reason that Ellie will return seeking revenge. Hopefully, to better results than Candace got.
Is Joe Seriously Going To Pursue His Neighbor?
As You's first Netflix season finale wound down, it seemed Joe would embrace or at least accept his white picket fence existence with Love. After all, she is basically his exact match. Joe's abilities to alter his ways showed no signs of changing as impending fatherhood beckoned. In fact, You revealed plans to the contrary.
Joe got a glimpse of his next-door neighbor (who is not his mom, according to what Penn Badgley told Bustle) through the fence and immediately became obsessed. Season 2 redux? Not quite. You switched things up with the big Love reveal. Who is to say that Season 3 might not shake things up further by not having him stalk someone else, after all? Fatherhood should take up some of his attention, right?
Is Dr. Nicky Really Going To Stay Content In Prison?
When Forty dropped by jail hoping to get the 411 on Joe, he did. Unfortunately for Forty, Dr. Nicky had no interest in going public with the fact he had been framed for Beck's murder. He claimed that he had ended up where he belonged due to his decisions before his arrest.
Is Dr. Nicky serious? Maybe he was acting out of concern for his family's safety and was scared Joe would go after them if he talked. Dr. Nicky actually accepting life behind bars without putting up any fight in You Season 3 would be personally surprising. I am ready for a post-Fuller House John Stamos to come back in full force!
Has Love Come Clean About All Of The Murders She Committed?
Is Love responsible for more deaths than she already admitted to Joe? You seemed to confirm all of her previous crimes without entirely shutting the door to the possibility. More could be revealed in Season 3. Why would Love keep that info from Joe?
If she killed her husband, as many You fans probably suspect, she may not want Joe to be scared of her. Remember, Love does not want to lose Joe, any more than he initially wanted to lose her. It seems feasible that she would hold some truths back to keep him close. It sounds a lot like something Joe would do.
Would Love Kill Joe, If Push Came To Shove?
Love is blissfully unaware that Joe has already found his next target when Season 2 ends. If she does find out and realizes that Joe is not really in love with her anymore, would she be willing to kill him? The super-dedicated Penn Badgley told TVLine that Season 3 sets them up in a way in which they "would be each other's arch nemesis."
You fans probably know what that could entail: Love turning on Joe. Between him fixating on another woman and not really being "in wolf" with her anymore, there is a lot that could potentially shift their dynamic. Not to mention if Love ever thought Joe would take away their child.
Will Will Be Back In Season 3?
Joe does not have a lot of friends. However, he seemed to make one in a crazy way thanks to You Season 2 newcomer Will. Joe kidnapped him and later assumed his identity before ultimately letting him go. Unless something drastic happens between Season 2 and Season 3, the unrecognizable Gotham star should be able to reprise the role.
The question is if he will. I enjoyed the character, and his dynamic with Joe brought something fresh to You's latest season. It would be neat if he somehow showed up and ended up getting involved in Season 3. Joe will probably need his help.
What is next for Season 3? A lot of crazy twists and turns are guaranteed when it comes to You. It is tough to imagine the Netflix hit topping its latest season, but it could happen! Joe is going to be a father, and Love Quinn is going to be a mother. That is a lot of action for one show to handle!
Season 3 seems poised to delve into more psychological suspense and shocking twists. I am curious about what will become of all of the various characters and who from Season 2 will return for Season 3. You has given fans a lot to consider in between now and its return. The wait is going to be a crusher.
Season 3 is expected to premiere in 2021. Yes, at least a year from now. Thank goodness for this winter's premieres! Hopefully that You return date is in January 2021, so all of these questions can be answered! For now, the first two seasons of You are currently streaming on Netflix, along with lots of new 2020 content.
Like a contented Hallmark movie character, Britt happily lives in the same city she grew up in. Along with movies and television, she is passionate about competitive figure skating. She has been writing about entertainment for 5 years, and as you may suspect, still finds it as entertaining to do as when she began.
Your Daily Blend of Entertainment News
Thank you for signing up to CinemaBlend. You will receive a verification email shortly.
There was a problem. Please refresh the page and try again.