Whoa, Did The Walking Dead's Robert Kirkman Finally Reveal The Cause Of The Zombie Outbreak?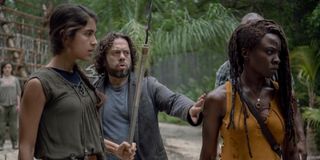 Robert Kirkman has famously never revealed the true reason behind The Walking Dead's zombie outbreak and it seemed like a mystery that would never be solved. Until now, that is. While Kirkman, who co-created The Walking Dead comic book series the AMC show is based on, has dodged the question in the past, he recently gave a direct response. So, what was the reason behind the zombie apocalypse? Check out his response below!
While it's nice to have some kind of answer, it's best to take Robert Kirkman's response with a grain of salt. A space spore being the conduit to a zombie apocalypse sounds facetious, but it's hard to tell with Kirkman, who likes to toy with The Walking Dead fans. And keep in mind that the response was for The Walking Dead comics and not for the AMC series, so the TV show might come up with a different reason for the existence of zombies altogether.
Robert Kirkman concluded The Walking Dead's comic book series without explaining the root of the zombie outbreak. So, it's no wonder fans are frustrated by the lack of information and it's impossible to tell whether Kirkman is being serious or not. In all fairness, The Walking Dead writer could have been making a reference to George A. Romero's Night of the Living Dead, but it's unclear.
Regardless, his most recent response is better than nothing at all. Just a couple of years ago, Robert Kirkman's answer to this question was much different, though he did joke that he could randomly reveal the reason for the zombie apocalypse one day. Was it a self-fulfilling prophecy? Maybe. Here's what his response was on Tumblr:
Whether or not a space spore did cause the zombie outbreak, I believe Robert Kirkman is right about one thing. Learning what caused the influx of zombies won't change the circumstances of The Walking Dead's characters or any of the events that have occurred.
The Walking Dead Season 10 returns with new episodes on Sunday, February 23 at 9 p.m. ET on AMC. For more on what to watch in the interim, be sure to check out our complete 2020 midseason schedule for updated premiere dates and times.
Your Daily Blend of Entertainment News