Comcast Is Dropping Starz Ahead Of Outlander Return, But You Can Pay More To Get It Back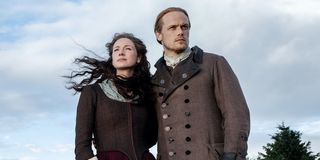 Being a TV lover and a cable subscriber is filled with ups and downs in the age of cord-cutting. For Comcast and Starz customers, it's at the lowest point right now. Back in October, it was announced that Comcast customers could stand to lose their access to Starz programming, which includes popular series like Power and Outlander. Now, Comcast is officially dropping Starz from all of its cable packages, and viewers will have to pay more to get it back.
The relationship between Comcast and Starz has been on the verge of a split for a long time. Last year, the two companies struggled to reach a fair market agreement that would allow Comcast to continue offering Starz programming to customers as part of its cable packages. On February 11, that split will be official following Comcast's announcement of a new programming agreement with Starz.
Per Comcast (opens in new tab), the company is reducing the number of Starz channels available to customers in December. While Starz is no longer part of a Comcast's standard packages or bundles, customers can still purchase Starz a la carte. There's a catch, however. Only the main Starz channels — including Starz, StarzEncore, StarzEncore Westerns, StarzEncore Black and StarzEncore Action, Starz On Demand and StarzEncore On Demand — are available to customers as add-ons. The remaining channels within Starz's line-up are no longer options.
Unfortunately for Comcast subscribers, the a la carte option means paying even more per month to keep the premium cable network. In an email to subscribers (via The Oregonian), Comcast is offering previously subscribed Starz viewers a discounted rate of $5 per month for the Starz channel add-on. Customers will have to pay $8.99 a month after that.
The news comes just as the hit drama Power, which is getting an impressive four spinoffs at the network, aired its series finale on February 9. However, the outage is coming ahead of Outlander's long-awaited Season 5 premiere on February 16. Those already suffering from Droughtlander may desperately need to add the a la carte option in lieu of finding other ways to watch the Starz show. Amazon Prime and Hulu, for example, also have add-on options for Starz access.
If customers don't add the a la carte option by February 11, all scheduled DVR recordings for Starz shows won't record. However, all previous recordings of episodes will still be available to customers. If customers wish to add Starz a la carte, they can do so online or by using their X1 TV box and voice remote. For those who aren't quite so extremely concerned, Comcast had added four EPIX channels and EPIX on demand to their programming packages in December as potential Starz substitutes.
Changes like this aren't new for cable subscribers, as they've long been subject to temporary blackouts when cable companies and networks/studios have struggled to reach agreements in the past. As an example, Comcast and CBS were close to ending their partnership because they couldn't reach a deal back in 2010. My how things have changed in a decade. At the end of the day, the ones who suffer the consequences of these failed agreements are customers. Let us know in the poll below how you all feel about it?
This poll is no longer available.
For more on what to watch on cable and streaming on Starz and other networks, be sure to check out our complete 2020 midseason schedule for updated premiere dates and times.
Your Daily Blend of Entertainment News
Thank you for signing up to CinemaBlend. You will receive a verification email shortly.
There was a problem. Please refresh the page and try again.