Droughtlander Is Gonna Be Even Longer As Outlander Star Confirms Long Break Between Seasons 5 And 6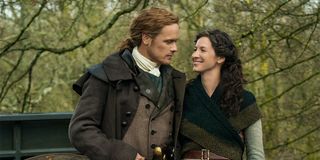 When Starz renewed Outlander for Season 5 and Season 6 ahead of the drama's fourth season, many believed that it meant the long wait between seasons — dubbed "Droughtlander" — would finally cease. However, it's been over a year since Season 4, with Season 5's premiere impending, and Outlander's Sam Heughan has confirmed that the break between Season 5 and Season 6 will be even longer. #Droughtlander continues.
Outlander's highly-anticipated Season 5 is right around the corner and the trailer hinted that the Frasers would be in a "really tough position" as the American Revolution approaches. Part of the excitement for Season 5 is due to the agonizing Droughtlander that preceded it, which stretched for over a year after the Season 4 finale in January 2019. Will fans have to wait just as long for Season 6, or even longer? Sam Heughan weighed in on the matter, and here's what he said:
It's unclear if Sam Heughan's just referencing the months of press (which would be a lot) or the break between filming schedules for Season 4 and Season 5. The former wrapped filming in July 2018 and production didn't begin on the upcoming fifth season until April 2019. In between that time, the actor was busy making movies and promoting Season 4.
For fans, however, the wait has been much longer than five to six months, and there seems to be no end in sight, even knowing when the premiere is. Personally, the wait seems much worse because Starz is nowhere near setting a release date for Season 6, leaving fans in the dark about how much older we'll all be when it arrives.
Sam Heughan, who recently revealed which Season 5 moment he really fought for, says he was able to shoot two movies during last year's hiatus, and it sounds like that might be the case this time around as well. He confirmed to Digital Spy and other media that he's "about to do another one."
That's unfortunate news for Outlander fan, and seriously, the wait is too long. Still, it's a great opportunity for Sam Heughan (who still thinks Jamie and Claire are "the sexiest couple" in Season 5) and the rest of the cast to work on other projects. For Heughan, doing things outside of Outlander reinvigorates his passion for the Starz series. In his words:
I suppose it's not all bad, because it's important for actors to remain excited about their projects. Leaving to do new things and returning to familiarity makes one more appreciative of what they have. That said, I'm still hoping that Starz announces an early 2021 premiere window for Season 6 sooner rather than later.
Outlander Season 5 premieres on Sunday, February 16 at 8 p.m. ET on Starz. Stay tuned to CinemaBlend for updates on Season 6. For more on what to watch, be sure to check out our 2020 midseason schedule for updated premiere and times.
Your Daily Blend of Entertainment News