The Masked Singer Group B First Impressions: Our Guesses For The Five Celebrities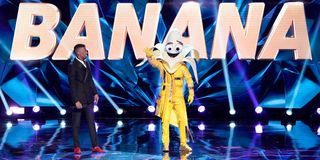 The Masked Singer Season 3 has concluded its first round of eliminations, and three singers from Group A will go on to compete in the Top 9 later in the season. Before that though, there are two other groups to work through. Now that Round 1 of Group B has concluded, it's time to start making some predictions about who the remaining competitors in this new group could be.
The following are our early guesses on the identities of The Masked Singer Season 3's remaining Group B contestants, and some information about them. Will one of these performers end up winning it all? I have no idea, but I'm excited to start figuring out who they are!
The Banana
The Banana definitely gave off some country vibes, especially with his southern twang being impossible to mask by the voice changer. There were other clues worth mentioning such as a cowboy hat, a "blue collar," and his reveal that he has a kid. We also know Banana is a talented singer based on how he rocked Elvis with "A Little Less Conversation." The judges guessed Darius Rucker, Ed Helms, and Bill Engvall, so they're all stumped. The only thing they all seem to agree on is this is a man with some southern charm, which I tend to agree with.
Darius Rucker was a good choice by Robin Thicke, though I'm not fully convinced he's The Masked Singer's Banana. My guess based on the voice was Billy Ray Cyrus, and I felt extra confident when he started talking about his daughter being the inspiration behind The Banana. To be fair Rucker also has two daughters, so Thicke certainly has more going for him with his guess paired with the blowfish in the video and the "hoot" comment by Banana. If the next episode happens to have some vague references to the state of Montana though, you know who told you Cyrus first!
The Frog
The Frog hopped right out the gate with a hip hop classic, and absolutely dominated M.C. Hammer's "U Can't Touch This." He even nailed the dance moves which impressed the judges, who were trying to make sense of his clue package. The judges were all over the place with guesses, naming Michael Johnson, Carl Lewis, and Ray J. The internet had a field day making fun of the Ray J guesses, so I'm willing to rule him out based on that alone.
While I did think the judges were onto something with the Michael Johnson guesses, I'm leery. Clue packages aren't known for their subtlety, but such an obvious mention of the 1996 Olympics in Atlanta would've instantly put folks on to the Olympian runner's identity and immediately expose him. I do like the guesses currently circulating for Bow Wow, with many saying the $106 was a reference to the Atlanta-living rapper's time on 106 & Park.
The Kitty
The Kitty had a really trippy clue package, with a lot of references to old Hollywood movies. She mentioned that singing was a new talent she's not used to showcasing to the world, though it appears she's familiar enough with the spotlight. The judges guessed Paris Hilton, Nicole Richie, and Julianne Hough, and I don't think they're anywhere close. The judges must really want the former stars of The Simple Life on this show, because I swear both Hilton and Richie have been guessed at some point every season.
I'm going to make a wild guess and say this is actress and Blue Crush star Kate Bosworth. She's a celeb with a sizable amount of name recognition, and has some singing experience searchable on YouTube. She also has heterochromia iridum, a.k.a. eyes of two different colors, and her eye colors match the exact eye colors of The Kitty. Of all the guesses I've made tonight, I'm feeling most positive about this one, even if I can't connect the shattered rose thing from her clue package yet.
The Mouse
The Mouse goes for gold, and apparently has a thing for football. Her clue package highlighted the numbers 1979, which may explain why her voice sounds a little older. Mouse has a fantastic voice, and one that fans will surely sniff out before too long. The judges guessed Darlene Love, Dionne Warwick, and Maya Rudolph. Is it obvious the last guess was made by Ken Jeong? I feel like it's obvious the last guess was made by Ken Jeong.
Robin Thicke was the one who guessed Dionne Warwick, and I'm inclined to agree with him. First off, it sounds like Dionne Warwick, and second, Robin Thicke is rarely wrong when it comes to guessing the identity of iconic singers of the past. He's clearly a student of the classics being a singer himself, and I'm willing to bet he's right yet again with this one. The Masked Singer is great at getting legendary singers and I commend the show for it, but can't someone be found who doesn't have quite so recognizable of a voice?
The Taco
The Taco is here to spice things up for the competition. He's a talented singer who killed "Fly Me To The Moon," and possibly someone who could very well win The Masked Singer Season 3. The judges guessed Regis Philbin, Martin Short, and Bob Saget. Again, this is a case where guesses were all over the place.
I'm not falling for all the Last Man Standing clues. This isn't Tim Allen. My thought is this person has potentially been a guest star on the series, though I don't have any great guesses for who. The internet has been giving some good arguments for former America's Funniest Home Videos host Tom Bergeron, primarily because of the home videos in his clue package and his goofy nature on stage. I could see it, especially after hearing the singing voice and knowing how Bergeron speaks, but I'm not quite ready to fully lock this pick in yet.
Got any guesses for who these Group B competitors are? Throw some suggestions down in the comments and be sure to tune in to The Masked Singer on Fox Wednesdays at 8:00 p.m. ET. As always, be sure to stick with CinemaBlend for all the latest news happening in television and movies.
Your Daily Blend of Entertainment News
Mick likes good television, but also reality television. He grew up on Star Wars, DC, Marvel, and pro wrestling and loves to discuss and dissect most of it. He's been writing online for over a decade and never dreamed he'd be in the position he is today.
Your Daily Blend of Entertainment News
Thank you for signing up to CinemaBlend. You will receive a verification email shortly.
There was a problem. Please refresh the page and try again.