Every Famous Person From The Fast And Furious Series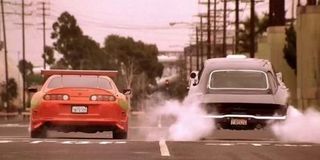 When your film franchise hits eight films over a decade and a half your overall cast list becomes a near phone book worth of names. The series made household names out of several of the key actors but it also included several people who wouldn't see stardom for a while and you may have even forgotten they were ever there.
Whether it was a cameo from an existing celebrity, somebody who became famous later, or all the people that became stars because of the Fast and Furious franchise, the stars are bright in this one. Here's a look at every big name that has ever taken part.
Ronda Rousey
While Ronda Rousey's name has been attached to numerous films in recent years, her Hollywood career is still in its infancy. She's best known for her run as UFC Women's Bantamweight Champion. In Furious 7 she played the role of Kara, the personal bodyguard of the billionaire who is in possession of a flash drive the team needs to obtain.
Iggy Azalea
There aren't a lot of gratuitous cameos in the Fast & Furious films, but musician Iggy Azalea got one of them in a scene during the return to Race Wars in Furious 7. It's her only real acting performance to date, and that's probably ok with most people. Her music is her real claim to fame.
Djimon Hounsou
Djimon Hounsou earned himself Oscar nominations for Blood Diamond and In America, but these days he's gone more mainstream, with appearances in Guardians of the Galaxy and The Legend of Tarzan, not to mention the villainous Jakande in Furious 7.
Gina Carano
Like Ronda Rousey, Gina Carano got her start fighting MMA. Unlike Rousey, she's built a solid career in acting since then. She played Riley, Gibbs reliable assistant who turned out to be a spy in Fast & Furious 6. You'll also know her for her role in last year's Deadpool.
Zachery Ty Bryan
For good or ill, Zachery Ty Bryan will likely always be known as one of the kids from TV sitcom Home Improvement. However, he made movies as well and was seen briefly as jock asshole Clay in the opening of The Fast and the Furious: Tokyo Drift.
Michael Ealy
These days Michael Ealy is a television mainstay that you've almost certainly seen in series like Almost Human, The Good Wife, or Flash Forward. Before all of those roles, he took on Paul Walker in the opening street race of 2 Fast 2 Furious He almost won too, then he crashed into a tree.
Luke Evans
You can see Luke Evans on screen up against The Fate of the Furious as Gaston in Beauty and the Beast, but before he was a Disney villain he was an antagonist for Dominic Toretto and family as Owen Shaw in Fast and Furious 6.
Tony Jaa
Tony Jaa is quite simply one of the best living martial artists on film. Earlier this year he worked alongside Vin Diesel in XxX: Return of Xander Cage, but before that, he was one of the henchmen of Djimon Hounsou's warlord of Furious 7.
Bow Wow
Rapper (Lil) Bow Wow got his start as an opening act for Snoop Dogg but showed he had some acting ability early on with roles in movies like Like Mike. In 2006 he played Twinkie in The Fast and the Furious: Tokyo Drift. Most recently he could be seen on the TV series CSI: Cyber.
Helen Mirren
Helen Mirren probably qualifies as the most accomplished actor to ever appear in a Fast and Furious movie. The Academy Award winner asked for her role in the film and she got it. She plays the mother of the Shaw brothers, Owen and Deckard.
Ja Rule
Another rapper with a solid history of acting, Ja Rule cameoed in the first Fast and Furious movie as Edwin, another street racer who loses the race between Dom and Brian, and in the process loses out on a very exciting night with a couple of excited women.
Charlize Theron
Charlize Theron came into The Fate of the Furious as a fully formed movie star thanks to roles in films like Mad Max: Fury Road and _Monster, _for which she won an Oscar. She'll be seen in the newest entry in the franchise this weekend, followed by action film Atomic Blonde later this summer.
Scott Eastwood
Last summer the son of Clint Eastwood was a soldier in Suicide Squad. This year, he's working alongside Mr. Nobody in The Fate of the Furious. Then next year you'll see him in the sequel to Pacific Rim.
Rita Ora
Add Rita Ora to the list of musicians who have appeared in the Fast and Furious movies. The British singer had a brief cameo as a race starter in Fast and Furious 6. More recently she has been seen in the role of Mia Grey in the 50 Shades of Grey film franchise.
Eva Mendes
Following her breakout role in Training Day, Eva Mendes took the role of the female lead in 2 Fast 2 Furious. While much of that supporting cast became series regulars, Mendes has only appeared in a post-credits scene in Fast Five since.
Kurt Russell
Kurt Russell has been part of some of the most popular movies of all time, from The Thing to Escape from New York. He joined this franchise as the mysterious Mr. Nobody in Furious 7 and will return in The Fate of the Furious. He'll also be seen this summer in Guardians of the Galaxy Vol. 2.
Lucas Black
Lucas Black had the unenviable task of leading The Fast and Furious: Tokyo Drift, the fist film without Paul Walker or Vin Diesel. He was brought back into the story thanks to a brief appearance in Furious 7 almost a decade later. He can regularly be seen on television as part of the cast of NCIS: New Orleans.
Gal Gadot
The entire world is about to know the name of Gal Gadot thanks to her role as DC's Wonder Woman later this summer. Before that, however, she played the role of Giselle in her very first film, Fast & Furious. She reprised the role in two more entries before moving on to become the most popular woman in all of comics.
Jason Statham
Jason Statham is one of the best action stars in recent years thanks to great roles in movies like the Transporter series. Seeing him join this franchise was only a matter of time. He plays Deckard Shaw, the brother of Luke Evans' Owen and one of the most dangerous people the team has ever gone up against.
Tyrese Gibson
Tyrese Gibson was brought in to play sidekick to the Vin Diesel-less 2 Fast 2 Furious but the character was so popular he was brought back to become a permanent member of the team. He's also known for his role in another over the top franchise, Michael Bay's Transformers movies.
Dwayne Johnson
The Fast and Furious franchise changed with the fifth entry and a large part of why was the introduction of Dwayne 'The Rock" Johnson as Lucas Hobbs. You might know him from his days in the WWE or his time spent in every other movie that gets released these days. He's one of the hardest working guys in Hollywood. This franchise is just one of the many he's involved in.
Jordana Brewster
After getting her start in soap operas in the mid-199s Jordana Brewster transitioned directly into the original The Fast and the Furious. She continued with the role of Mia Toretto all the way through Furious 7. Since then she's been back on television on series like Lethal Weapon.
Ludacris
While a few rappers have made appearances in the Fast and Furious films, none have made it a career the way Ludacris has. While the massive afro didn't last long, the man has become a key part of the franchise as the resident hacker of the family.
Michelle Rodriguez
Even death couldn't keep Michelle Rodriguez's Letty from continuing on with the Fast & Furious franchise. The original installment was Rodriguez's third movie ever and she's still going strong. Since then she's been part of everything from the TV series Lost to James Cameron's Avatar.
Paul Walker
Paul Walker was the workhouse of the Fast and Furious franchise as well as its heart and soul according to many. The actor only missed a single installment of the series from the first until the seventh. Tragically, he died while filming Furious 7, though the movie gave him a lovely send off in order to say goodbye.
Vin Diesel
The star of several other franchises including the Riddick and XxX movies, Vin Diesel has made the Fast and Furious movies the center of his universe for the foreseeable future. He'll be heard, though not seen, later this summer as the voice of Groot in the Guardians of the Galaxy Vol. 2.
Your Daily Blend of Entertainment News
Content Producer/Theme Park Beat
CinemaBlend's resident theme park junkie and amateur Disney historian. Armchair Imagineer. Epcot Stan. Future Club 33 Member.
Your Daily Blend of Entertainment News
Thank you for signing up to CinemaBlend. You will receive a verification email shortly.
There was a problem. Please refresh the page and try again.